Economists at Harvard University recently reported that geography is a particularly powerful predictor of economic mobility in the United States. For those of us who work in health care, this should not be surprising: we already have abundant evidence that where you live matters a lot when it comes to health and the quality of care you receive. Increasingly, the U.S. is not one country, but two―divided geographically by persistent, troubling differences in people's access to affordable, high-quality health care.
This is a clear message of The Commonwealth Fund's state and local scorecards on health system performance, which have documented these divisions over much of the past decade. And the message will be reinforced in our newest health system scorecard, which focuses on low-income populations in the U.S. (look for it next month). Certain regions of the country―the Northeast and Northwest, parts of the Midwest, the North-Central states―regularly perform well. Other regions―generally the South, Southeast, and Southwest―perform poorly. The former have health outcomes that are among the best in the industrialized world. Results in the latter look more like those of developing countries in South Asia, South America, and Latin America.
Troubling as these findings are, geography is not destiny. Particular areas within the worst-performing states do relatively well. Austin, Texas, scored in the top half of regions in The Commonwealth Fund's local scorecard―an outlier in a state that ranked 46th in our last state scorecard. Similarly, the Greensboro and Hickory areas of North Carolina ranked among the top half of regions of the U.S., much better than the state as a whole, which placed in the bottom fifth of states. But these oases of high performance in otherwise poor-performing regions are not sufficient to change the overall patterns.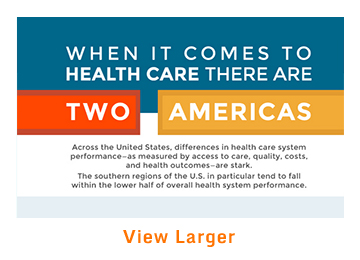 And while we can take some comfort in positive outliers, the sheer variation in cost, quality, and overall health system performance across the country is reason for significant concern. Our recent local scorecard documented consistent 10-to-20-percentage-point differences between high- and low-performing regions on a host of measures related to health care access, quality, and costs. Gaps between the best- and lowest-performing areas are staggering. For example, the proportion of adults with health insurance in the leading regions is more than 50 percent higher than in the lagging areas, while the rate of potentially preventable mortality in the best region is one-third of that in the worst.
The reasons for regional disparities in health and health care are not yet fully understood, and we must understand them before we can address them. Poor-performing regions tend to have much higher proportions of uninsured citizens. This could get somewhat better because of the Affordable Care Act (though not if states in those areas don't take advantage of the law). Other explanations undoubtedly lie outside the realm of health care, in education, poverty levels, diet, and lifestyle.
Unfortunately, many of the states that lag in health care performance are choosing not to expand eligibility for Medicaid under the Affordable Care Act. We know that insurance coverage, including Medicaid, improves access to care and results in improved health for previously uninsured people. States skipping expansion will also miss an opportunity to lower the costs of uncompensated care for their hospitals and forgo an infusion of federal dollars for traditionally underserved and rural areas. Uneven implementation of the ACA, therefore, could increase preexisting disparities in the health and health care available in high- and low-performing areas of the U.S.
Persistent differences in health care across the country matter for all of us. In the end, we are one nation and one people. When some of our citizens suffer, we all suffer. If some regions lag economically because of health care deficits, we will all feel the downward tug on employment, tax revenues, GDP, and our international competitiveness. We are stronger as a country when all of us are strong.
The U.S. health care divide deserves much more attention than it has received. The Commonwealth Fund remains committed to tracking the two "health care Americas," an undertaking that will continue next month with the release of our new scorecard on health system performance for low-income populations. Bringing the troubling variation in health outcomes within our country to light is a crucial step toward closing the chasm between these two Americas and ensuring that everyone has the opportunity to live a long, healthy, and productive life.
Publication Details
Publication Date:
August 14, 2013
Citation:
D. Blumenthal, Two Americas, The Commonwealth Fund Blog, August 2013.