As the nation looks toward establishing some semblance of post-pandemic normalcy, the economic inequity and health disparities laid bare by COVID endure. Yet despite a broad national consensus that economic and social factors, known as drivers of health (DoH), can affect health outcomes and costs, as well as intensify health inequities, standardized measures to identify DoH remain largely absent from federal programs.  
The Centers for Medicare and Medicaid Services (CMS) is poised to change that.
In March 2022, the first-ever federal DoH measures — focused on screening for food insecurity, housing instability, transportation problems, utility needs, and interpersonal safety, including intimate partner violence — advanced through the final stages of external stakeholder review for potential inclusion in Medicare programs. Public comments showed an outpouring of support.
These measures are derived from the Center for Medicare and Medicaid Innovation's Accountable Health Communities (AHC) model and have been field-tested for five years with nearly 1 million patients across 644 clinical sites in 21 states. The National Quality Forum's (NQF) Measure Applications Partnership (MAP), which enlists stakeholders to provide feedback to CMS on potential measures for Medicare programs, voted to conditionally support both measures for two key Medicare programs: the Merit-Based Incentive Payment System (MIPS) and the Hospital Inpatient Quality Reporting Program. Out of nearly 3,000 total measures considered by CMS in the past decade, these would be the first standardized federal measures addressing food, housing, interpersonal safety, or other social needs.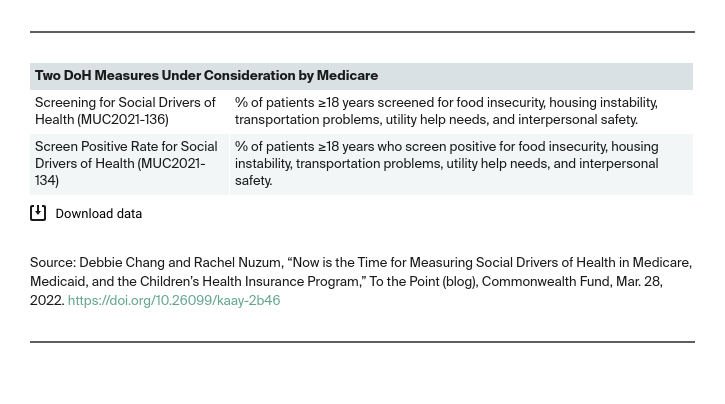 The next step in the process is for CMS to move these measures through the administrative rulemaking process this spring. At the same time, CMS must determine whether to similarly standardize DoH measurement for Medicaid and the Children's Health Insurance Program (CHIP).
The annual review process for CHIP and Medicaid's Child Core Set and Adult Core Set of quality measures is currently underway. While the workgroup tasked with updating the core sets have identified DoH measurement as a key gap in each of the past two measure review cycles, such measures have not advanced. It appears likely we will see the same outcome this year.
Medicaid and CHIP serve families and individuals with limited incomes, who are most at risk of having health-related economic and social needs. CMS issued guidance last year encouraging states to incorporate DoH measures into Medicaid and CHIP. More than 20 states already require managed care organizations or their contracted providers to conduct DoH screenings yet lack standardized ways to report whether those happen or what they find. CMS is committed to aligning measures across quality programs and to continuing to collaborate with state Medicaid and CHIP programs, which have led the way on health care delivery innovation. As such, CMS could take this opportunity to develop standardized DoH measures across Medicare, Medicaid, and CHIP.
Without measurement, the social factors promoting or inhibiting health are invisible, and this can have particularly negative consequences for communities of color. Providers are left on their own to identify and address unmet needs, policymakers and payers are unable to develop models that create financial incentives to address the root causes of poor health, and communities are hamstrung in efforts to mobilize resources needed to build the workforce and partnerships necessary. In short, DoH measures are foundational to the changes needed to invest in health.
People with social and economic risk factors have worse health outcomes, lower MIPS scores, increased use of health care, significantly higher health care costs, poorer mental health, and are more likely to experience racism. A growing body of evidence has established that addressing DoH can improve health outcomes more cost-effectively and equitably than medical interventions alone. Focusing on traditional measures of value-based care without addressing DoH and health equity may exacerbate access barriers and worsen racial disparities.
Adopting these new DoH measures across Medicare, CHIP, and Medicaid programs would represent an historic shift in national efforts to standardize such measures, as well as progress in aligning our collective resources to achieve equitable health outcomes for all.