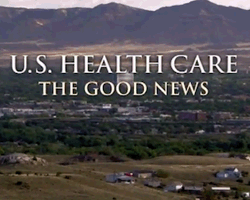 Cosponsors The Commonwealth Fund, CUNY–TV, and the Columbia Journalism Review hosted an advance screening of the new documentary "U.S. Health Care: The Good News," with correspondent T.R. Reid, on January 23.

This documentary examines how some doctors and hospitals are accomplishing what many thought impossible--providing quality health care at a reasonable cost. The film will be followed by a panel discussion on the New York City perspective on achieving a high performance health system.
When:
Monday, January 23, 2012
4:30–7:30
4:30 Reception
5:45 Screening
6:30 Panel discussion
Where:
CUNY Graduate Center
Elebash Recital Hall
365 Fifth Avenue at 34th Street
New York, NY

Who:
Panelists
James R. Tallon, Jr., President, United Hospital Fund (moderator)
Neil Calman, M.D., President and CEO, Institute for Family Health
Trudy Lieberman, Contributing Editor, Columbia Journalism Review
T.R. Reid, Correspondent
Herbert Pardes, M.D., Executive Vice Chair, New York Presbyterian Hospital
Health Care: The Good News is produced by Photopia Productions, LLC in cooperation with Rocky Mountain PBS.
Coming to PBS Thursday, February 16, 2012, 9 P.M. EST.