Racial And Ethnic Minorities Lag Behind In Access, Coverage, Health Status, And Representation In Health Professions
A comprehensive new Commonwealth Fund report of minority Americans' health care experiences paints a stark picture of the health status of and health care received by racial and ethnic minority groups. U.S. Minority Health: A Chartbook, by Fund staff Karen Scott Collins, M.D., Allyson Hall, Ph.D., and Charlotte Neuhaus finds that minority Americans lag behind on nearly every health indicator, including health care coverage, access to care, life expectancy, and disease rates. The authors also note that as the nation's population becomes more diverse, examining the range of health care experiences within minority groups is increasingly important. The chartbook, which compares findings from several Fund surveys and other national data sources, as well as presenting new information, also reveals that despite substantial overall improvements in Americans' health, racial and ethnic disparities persist across age, sex, and income categories. Some striking examples include black infant mortality rates, which are twice as high as for all U.S. infants; higher mortality rates from breast cancer for black women than for white women (even though black women have a lower incidence rate); and nearly twice as many Hispanic as white adults reporting they do not have a regular doctor. "Minority Americans fall behind on a wide range of health-related measures, including many indicators of avoidable mortality and morbidity," said Karen Davis, president of The Commonwealth Fund, speaking at today's Grantmakers in Health forum. "Lower rates of health insurance coverage mean less access to care, higher infant mortality rates, greater rates of chronic and acute disease in adulthood—and ultimately higher mortality rates for minority Americans. At every stage of life members of minority groups pay a high price for disparities in the health care system."
Minority adults are more likely to lack health insurance than white adults, a trend that has held constant over the past 10 years. Nearly two of five (38%) Hispanic adults, one of four (24%) black adults, and one of four (24%) Asian-American adults are uninsured, compared with one of seven (14%) white adults. According to several measures, minority Americans also experience greater difficulties obtaining access to health care. Nearly two of five (39%) black adults, and nearly half (46%) of Hispanic adults report that they do not have a regular doctor, compared with one of four (26%) white adults.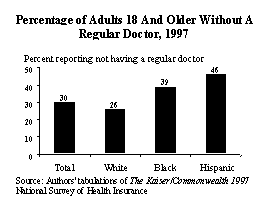 Minority elderly people also experience disparities in access to care and health status, attributable in part to the fact that Medicare covers only about half the health care expenses of older Americans. More than two of five Hispanic (43%) and black Americans (41%) age 65 and older rate their health status as fair or poor, compared with less than one of four (23%) white Americans age 65 and older. Minority Americans age 65 and older are also less likely to have a regular doctor or to see a specialist for a chronic illness. Cost barriers are also greater for minorities, and they have less choice among medical care facilities. Nearly half (45%) of Hispanic adults, two of five (41%) Asian-American adults, and more than one of three (35%) black adults report difficulty paying for medical care, compared with one of four (26%) white adults. Hispanic (30%) and black (28%) adults are nearly twice as likely as white adults (16%) to report "very little" or "no" choice in where to go for medical care. Some improvement, however, has been found on some measures. Rates of black women receiving mammograms and Pap tests, for example, have increased. But black women are more likely to die from breast cancer than white women—despite the fact that black women have a lower incidence of breast cancer—an indication that they get treatment at later stages. "While lower socioeconomic status and less access to health care contribute to higher rates of chronic and acute disease, as well as higher mortality rates for many minority Americans, these variables do not fully account for racial and ethnic disparities in health outcomes," said Karen Scott Collins, M.D., assistant vice president at the Fund. "Issues such as routine access to preventive care, cultural competence in providing health care, and proportional representation of minorities in the health professions must also be addressed to eliminate inequities."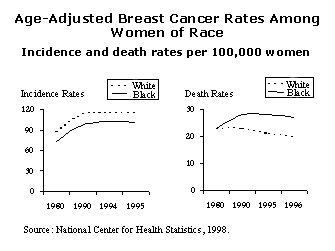 Minorities are underrepresented in medical education and in the health care delivery system. Although blacks, Hispanics, and Native Americans make up nearly one-fourth (24%) of the U.S. population, only 7 percent of physicians, 5 percent of dentists, and 6 percent of medical school faculties are from one of these minority groups. About one of ten (11%) U.S. medical school graduates are black, Hispanic, or Native American, and the percentage of new entrants who are members of these groups is declining at a rate higher than for new entrants who are white. Violence also plays a role in lower life expectancy for many minority Americans: homicide is the first or second leading cause of death for black men ages 1 to 44. "There is a need for continued, increased attention to the health care experiences of minority populations and ethnic sub-populations," said Allyson Hall, program officer at the Fund. "More systematic data collection and analysis of barriers to health care would enable us to better understand how to eliminate inequities as we move toward a more racially and ethnically diverse nation."