Many Midlife Americans Experience Health Problems And Economic Insecurity Those Disabled And Out Of The Labor Force Are At Highest Risk
Challenging the common perception of midlife as a time when most Americans enjoy the best of both worlds—good health and comfortable economic circumstances—a new report by The Commonwealth Fund reveals that for many Americans, the middle of life is a risky time when the onset of health problems or the loss of employer-based health care coverage are frightening but real prospects. "Lack of health care coverage and access to health care during midlife can have a lasting negative impact," said Karen Davis, president of The Commonwealth Fund, who presented findings at a meeting of the National Academy of Social Insurance at the National Press Club on January 27. "This report raises warning signs for the future health and economic well-being of millions of Americans who will be entering their retirement years over the next two decades." Midlife is a time of heightened risk for chronic and acute disease, according to the report, Risks for Midlife Americans: Getting Sick, Becoming Disabled, or Losing a Job and Health Coverage. Nearly one of three (30%) Americans ages 55 to 64 rates his or her health as fair or poor. Those with health problems are also more likely to have difficulty meeting their health care needs. Of midlife adults who rate their health status negatively, more than half (53%) could not pay medical bills, one of five (20%) was uninsured, two of five (40%) rated their insurance coverage as fair or poor, and two of five (40%) went without needed care in the past year.
One of eight adults ages 45 to 64 lacks health insurance. Those who have retired for health reasons or are unemployed are at even greater risk: more than one of five (22%) midlife adults without a worker in the family are uninsured, as are more than one of five (23%) with incomes less than $35,000. Uninsured midlife Americans are at great risk for experiencing health care problems as well as financial instability. During the past year, three of five (59%) uninsured Americans ages 45 to 64 did not get needed health care. Seven of 10 (72%) had problems paying medical bills or gaining access to health care—a rate nearly three times as high as that for insured midlife Americans (26%).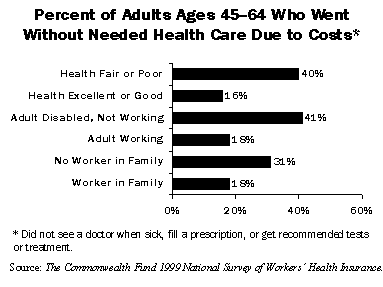 Lower-wage workers in this age group are also far more disadvantaged in terms of their access to health care, coverage, and ability to pay bills. One of three (34%) adults ages 45 to 64 with incomes less than $20,000, and one of five (19%) with incomes from $20,000 to $34,999, have no access to health coverage through their jobs. In comparison, one of 10 in this age group with incomes of $60,000 or more was unable to get health insurance through work. A majority of midlife Americans earning less than the median income are struggling financially. Nearly three of five (58%) with incomes less than $35,000 have a hard time meeting basic living needs. "Americans in this group are in a double bind," said Janet Shikles, executive director of The Commonwealth Fund Task Force on the Future of Health Insurance for Working Americans, which produced the report. "Health care is often neglected when budgets are tight, but poor health may make it difficult or impossible to keep a job that provides health care coverage. Midlife adults living on low or modest incomes are the most likely to report health problems and the most likely to be uninsured—adding to their struggle to pay for daily living expenses." The report is based on The Commonwealth Fund 1999 National Survey of Workers' Health Insurance, which consisted of interviews with 5,002 adults ages 18 to 64. The survey was conducted by Princeton Survey Research Associates from January through May 1999.