Older, Poorer, And Sicker Beneficiaries Already Spend Over Half Of Income For Health Care
Medicare beneficiaries will have to pay substantially more out of their own pockets for health care in the future, according to a new report by researchers at the Urban Institute conducted with support from The Commonwealth Fund. Those with low incomes and health problems will be at even greater risk than average beneficiaries for costs such as Medicare premiums, medical services, and prescription drugs. In Growth in Medicare and Out-of-Pocket Spending: Impact on Vulnerable Beneficiaries, authors Stephanie Maxwell, Marilyn Moon, and Misha Segal estimate how expected health care cost increases will affect various groups of beneficiaries under existing program guidelines. "Beneficiaries are often left out of the equation when proposals to change Medicare are considered," said Marilyn Moon, senior fellow at the Urban Institute. "These findings suggest that shifting even more expenditures to beneficiaries should not be the total solution to the problem generated by the increase in overall health care spending." Out-of-Pocket Spending Increases Will Overly Burden the Most Vulnerable Beneficiaries Average out-of-pocket costs today for services not covered by Medicare-including premiums, medical services, and prescription drugs-are $3,142. By 2025, average out-of-pocket costs will rise to $5,248 (in 2000 dollars). Even more important is the projection that by 2025, older low-income women in poor health will be hit with out-of-pocket costs of $9,378 (in 2000 dollars)-an increase from $5,969 in 2000. When out-of-pocket cost increases are calculated as a proportion of income, the disproportionate burden on the most vulnerable is even more striking. Because health care costs will rise faster than the incomes of Medicare beneficiaries, by 2025 all elderly Americans will pay nearly one-third (29.9%) of their income on out-of-pocket health care costs, an increase from about one-fifth in 2000. Older low-income women in poor health are projected to spend nearly three-fourths (71.8%) of their income for health care-or forgo needed care.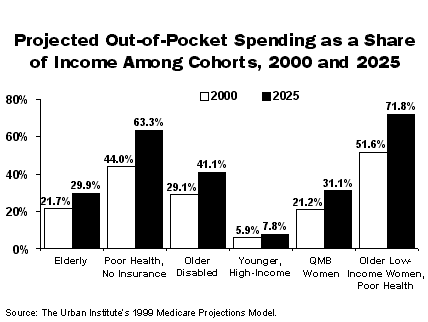 "These projections sound a clear warning about the ability of Medicare to keep its promise of protecting elderly Americans from impoverishment," said Karen Davis, president of The Commonwealth Fund. "If we do not address cost burdens and the adequacy of benefits, many beneficiaries-especially those with multiple chronic conditions and those with low incomes-will be forced to make choices between basic necessities such as food or housing, and health care." The authors note that between 2000 and 2025 the Medicare population will increase dramatically-from about 40 million to 70 million-and the program will have to deal with escalating health care costs. These pressures on Medicare cannot be resolved by simply shifting costs to beneficiaries. Other revenues are likely to be necessary.