Many Eligible Low-Income Seniors Are Not Enrolled In Drug Assistance Programs; Federal Role Needed To Fill Gaps
New York City, December 5, 2002—While New York State has one of the largest and most effective senior drug assistance programs in the country, nearly one in five seniors living in New York had no coverage for medications in 2001, according to a new report from The Commonwealth Fund. As a result of lack of coverage or inadequate benefits, one-fifth of all New York State's seniors and one-third of seniors without drug coverage report that they skipped doses of medication or did not fill a prescription due to cost concerns. One-fifth of the 2.4 million seniors in New York report monthly out-of-pocket expenses of over $100 for prescription drugs. Of seniors with some supplemental coverage, Medicaid or retiree benefits provide the best protection against high costs, and Medigap provides the least protection.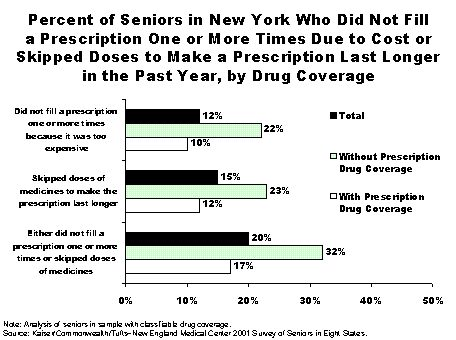 "New York State's Medicaid and Elderly Pharmaceutical Insurance Coverage (EPIC) programs play a crucial role in providing coverage to the state's low-income seniors, but the state cannot bear the entire burden alone," said Karen Davis, president of The Commonwealth Fund. "Even in New York, which has done an outstanding job of reaching out to help low-income seniors afford needed drugs, there is an important role for the federal government to step in and fill the large gaps in the Medicare safety net." In New York Seniors and Prescription Drugs: Seniors Remain at Risk Despite State Efforts, an analysis of findings from the Kaiser/Commonwealth/Tufts-New England Medical Center 2001 Survey of Seniors in Eight States, the authors note that New York's two key public programs to supplement Medicare for seniors-Medicaid and EPIC-in combination reached one-third of seniors with incomes below 200 percent of the federal poverty level. Yet, the survey finds evidence that New York's public programs are failing to reach all seniors eligible to participate. Many seniors are not aware of the state's EPIC program: only 60 percent of seniors with incomes that would potentially make them eligible for EPIC had heard of it. New York Medicaid drug benefits covered fewer than half (45%) of seniors with incomes below poverty. One-third (34%) of poor seniors who have heard of Medicaid but are not enrolled in it think they have too much money to qualify. Levels of access to needed medications and protection against high out-of-pocket costs varied markedly by source of drug benefits. Medicaid provides the best protection against high drug costs, followed by employer sponsored coverage (e.g, retiree benefits). Just 4% of seniors with Medicaid and 12% with employer coverage spend $100 or more per month on drugs. In contrast, over one-third (35%) of seniors who rely on Medigap purchased to supplement Medicare spend $100 a month or more on drugs.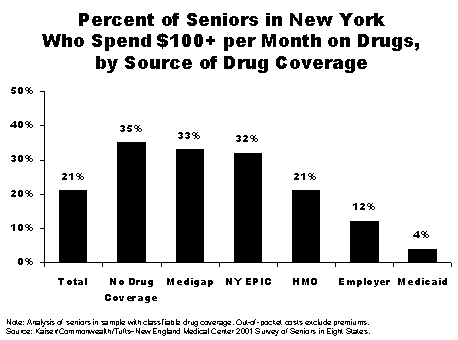 "The lack of prescription drug coverage places seniors' health and financial security in jeopardy," said David Sandman, assistant vice president at the Fund and lead author of the report. "Rising drug costs could wipe out retirement savings and force more seniors to forgo potentially life-saving medications."