New Survey Shows Percentage Would More Than Double With Subsidy Workers Prefer Employer-Based Coverage But Lack Confidence In System
New York City, August 29, 2002&#8212A new survey of working Americans by The Commonwealth Fund shows that only one in four would be very likely to continue their health insurance coverage through COBRA if they became unemployed, and cost appears to be the main reason. Findings from the 2002 Workplace Health Insurance Survey also reveal that the percentage opting for coverage would more than double if a subsidy were available to help pay part of the cost, an option that has been considered by Congress for some groups of displaced workers. The survey also found that for those who lacked health insurance in 2001, job loss was the primary reason. Two of five workers reported getting squeezed on health benefits in 2001, experiencing increased premiums or cost-sharing, or both, during the year. Despite this, support for employer-based coverage remains strong. Employer coverage is the preferred source of coverage among working-age adults. Yet, many workers are not confident that employer-based health insurance will continue to be available to them, and are even more uncertain about their ability to get good health care in the future.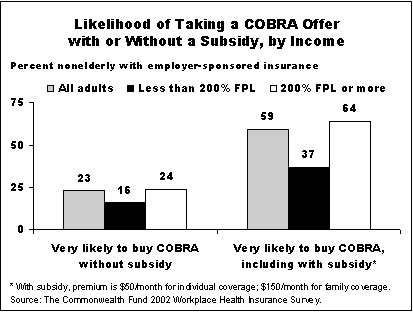 "The survey signals storm warnings for the job-based system of health insurance coverage, especially as both unemployment and health care costs are rising," said Karen Davis, president of The Commonwealth Fund. "Working Americans prefer this system but they have concerns about whether coverage will be there for them in the future, and also about whether they will have access to good quality health care."
COBRA Coverage Unaffordable for Many
The survey found that just one-fourth (23%) of workers with employer health insurance would be very likely to continue coverage if they lost their job, and cost is a barrier. Employees with low incomes were even less likely to say they would continue coverage on their own-just one of six (16%) said they would continue their coverage if they lost their job. However, those percentages double when workers are asked if they would take COBRA coverage with a premium subsidy. Three of five (59%) would be very likely to enroll in COBRA with a subsidy that would reduce premium share to $50 a month for individuals and $150 a month for families, an amount roughly equal to a 75% subsidy for the average group employer rate. Among low-income employees, nearly two of five (37%) would be very likely to buy COBRA coverage with premium assistance. "A relatively small subsidy can make a big difference in helping unemployed workers afford to continue their health insurance coverage," said Jennifer Edwards, director of health policy, research, and evaluation for the Fund.
Employees Faced Rising Costs and Reduced Benefits in 2001
Two of five (41%) adults with employer-sponsored coverage reported paying more for their premiums, shouldering more of their health care costs, or receiving reduced benefits. One third of all workers said they had seen an increase in cost sharing or decrease in benefits in their health plan in the past year. Premiums shares were also up, especially for lower wage workers. One-third (34%) of low-income workers said their premiums increased more than a little in 2001, compared with one-fourth (25%) of higher-income workers.
Unemployment Leading Cause of Health Insurance Loss in 2001
With unemployment rising during last year from 4.2% to 5.6%, it's not surprising that a majority of working-age adults (52%) who lost health insurance coverage in 2001 said it was because they or their spouse lost their job. One of ten (12%) became uninsured because they lost public health insurance coverage, another one of ten (10%) could not afford premiums, and another tenth (11%) were no longer eligible to be covered by a family member's plan. Among those who were uninsured at some point during the year, two-thirds (65%) had been covered previously by an employer plan.
Workers Support Job-Based Health Insurance But Feel Uncertain About Future
Employer-based health insurance is the top preference of working-age Americans. Over two of five (43%) working-age adults favor employer-based coverage, while one of five (22%) favor individually purchased insurance, one-sixth (15%) a new government program for the uninsured, and one-tenth (10%) Medicare or Medicaid.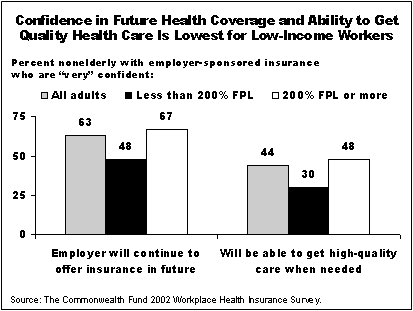 However, confidence in the future of the employer-based system is eroding. Just three of five workers with this coverage were very confident that their employer would continue to offer benefits in the future, and fewer than half of low-income employees are very confident they could get benefits in the future. Even lower percentages were confident in their ability to get high-quality health care in the future-fewer than half of all employees, and three of ten with low incomes feel certain they will be able to get high-quality health care in the future. The survey findings are detailed in the report,
The Erosion of Employer-Based Health Coverage and the Threat to Workers' Health Care: Findings from The Commonwealth Fund 2002 Workplace Health Insurance Survey
, by Jennifer Edwards, Michelle M. Doty, and Cathy Schoen, all of The Commonwealth Fund.