A coalition of eleven nursing homes stabilized staff turnover and eliminated serious quality deficiencies on state inspections, all without additional cost, according to an evaluation of the Wellspring quality improvement method sponsored by The Commonwealth Fund. The Wellspring model represents a voluntary effort by a confederation of 11 free-standing, not-for-profit nursing homes in Wisconsin to improve quality of care for residents through training efforts and organizational change that makes them more attractive as workplaces. The member facilities share staff training and form multidisciplinary staff teams that develop and implement interventions to improve care. "The success of the Wellspring model shows that training and listening to staff at all levels is key to improving quality," said Karen Davis, president of The Commonwealth Fund. "Valuing the role and experience of staff, from the nursing assistant to the director of nursing to the CEO, creates organizational change that benefits both residents and the workforce."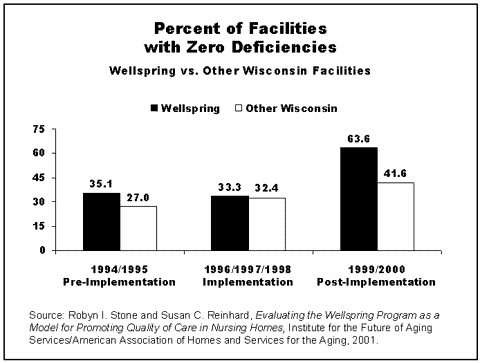 The success of the Wellspring approach derives from the use of clinical experts who train teams from the eleven nursing homes on best practices to achieve high quality care, giving front-line staff flexibility to address residents' needs, regular monitoring of quality indicators, and involvement of top managers in comparing quality performance across nursing homes in the alliance. Findings from the report, Evaluation of the Wellspring Model for Improving Nursing Home Quality, by Robyn I. Stone and colleagues at the Institute for the Future of Aging Services, were presented by Stone on August 15th at the annual meeting of the Pioneer Network, an organization whose mission is to improve the experience of aging.
Wellspring Improved Quality of Care
Before implementing the project, one-third of Wellspring facilities had no deficiencies, according to federal inspections. By the end of the implementation period, the percentage of Wellspring facilities with no deficiencies had nearly doubled. In addition, all eleven facilities had reduced serious deficiencies to zero after implementing the Wellspring method.
Staff Turnover Stabilized
Wellspring sites had lower rates of staff turnover and did better than non-Wellspring sites in slowing the increase in staff turnover, a major problem affecting quality of care and costs in nursing homes. Over the four-year period from 1995 to 1999 staff turnover rates increased 6% in Wellspring sites, compared with 13% in other nursing homes in the state. For RNs, the turnover rate actually decreased by 6% in the Wellspring sites, while increasing 7% in the comparison sites. "The positive Wellspring evaluation results are exciting because they are the first provider-based quality indicators subjected to this level of rigor," said Robyn Stone, executive director of the Institute for the Future of Aging Services. "Now that the Wellspring model has been shown to be effective we hope that more facilities will adopt it and replicate that success."
Wellspring Is Cost-Effective and Sustainable
Another significant finding of the evaluation was that the Wellspring facilities did not have higher total per resident expenditures than the non-Wellspring facilities. Expenditures on direct care of patients in Wellspring facilities were parallel with the comparison facilities. Reduced staff turnover and higher occupancy rates-both results of improved quality-may have a positive impact on costs. Key elements of the Wellspring method include:
The Wellspring alliance - An alliance of nursing homes with top management committed to making quality of resident care a top priority.
Geriatric nurse practitioner (GNP) - Shared services of a geriatric nurse practitioner (GNP), who teaches staff at each nursing home how to apply nationally recognized clinical guidelines.
Care Resource Teams - Within each nursing home interdisciplinary teams that receive training in a specific area of care and are responsible for teaching other staff at their respective facilities.
Staff sharing - Involvement of all departments within the facility and networking among staff across facilities to share what works and what does not work on a practical level.
Staff empowerment - Empowerment of all nursing home staff to make decisions that affect the quality of resident care and the work environment.
Review of performance data - Continuous reviews by CEOs and all staff of performance data on resident outcomes and environmental factors relative to other nursing homes in the Wellspring alliance.