Health Affairs Article Raises Questions About Reform Proposals That Aim To Make Medicare Run More Like Private Insurance
New York City, October 9, 2002—Recent debates about the future of Medicare have included a range of proposals that would restructure the program to operate more like private insurance. However, according to survey findings reported in the article, "Medicare versus Private Insurance: Rhetoric and Reality," by Commonwealth Fund president Karen Davis and colleagues, Medicare out-performs private sector plans in terms of patients' satisfaction with quality of care, access to care, and overall insurance ratings. The survey found that elderly Medicare beneficiaries are 2.7 times more likely than enrollees in employer-sponsored plans to rate their health insurance as excellent and less likely to report negative experiences with their insurance plans. Medicare beneficiaries are also one-third as likely to say they couldn't get health care because of cost than are those covered by employer private insurance plans. The survey also found that elderly Medicare beneficiaries were more likely to report being very satisfied with the care they received compared to those with private insurance (62% vs. 51% respectively). The findings of better satisfaction, access, and security experienced by Medicare beneficiaries indicate that would-be Medicare reformers need to be cautious if they want to make the program more like the private sector, conclude Commonwealth Fund president Karen Davis and her colleagues, the authors of the article. Medicare was systematically more likely than employer coverage to be rated as excellent across income and health status categories.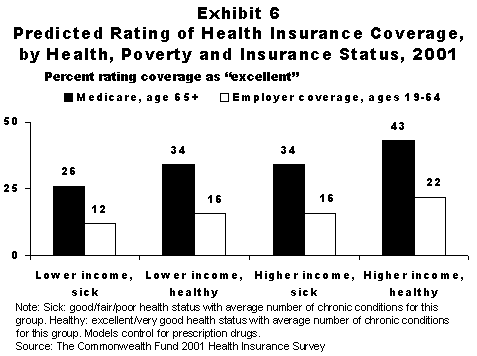 "Medicare beneficiaries" more positive access experiences and ratings of their care indicate that their coverage is working relatively well in providing choice of services and access to needed care," Karen Davis concludes. "Medicare provides a level of security not typically found in employer or individual coverage. Thus, attempts to reform Medicare that would pattern coverage on private employer coverage run the risk of undermining the confidence of the people it is designed to serve." The findings were based on interviews with 3,457 Americans age 19 and older in July 2001. Among the findings of the survey:
22 percent of the privately insured people found that their plan did not pay for care that they thought was covered, compared to 9 percent of elderly Medicare beneficiaries
9 percent of the privately insured people had difficulty getting a referral to a specialist, compared to 2 percent of elderly Medicare beneficiaries
Medicare beneficiaries were one-third as likely to report access problems such as not visiting a doctor when needed, not getting recommended specialist care, skipping recommended test or follow-up as those covered by employer plans.
Medicare beneficiaries were twice as likely to be very confident in their ability to get care in the future as those covered by employer plans.
33 percent of privately insured people were unable to pay their bills or had been contacted by a collection agency, compared to 18 percent of elderly Medicare beneficiaries
The absence of prescription drug coverage, however, creates major access and bill problems for Medicare beneficiaries. The authors write that the latter finding underscores the need for prescription drug coverage under Medicare. Medicare beneficiaries without drug benefits were notably more likely to report high out of pocket costs, high costs relative to their incomes and problems not filling prescriptions.
Publication Details
Publication Date:
October 9, 2002