Nearly Two of Five College Grads and Half of High School Grads Who Don't Go to College Have a Time Uninsured in Year After Graduation
New York City, May 21, 2003—A new report from The Commonwealth Fund reveals that nearly two of five college graduates and half of high school graduates who don't go on to college will have a time without health insurance in the first year after graduation. Young adults are often dropped from their parents' policies or public insurance programs at age 19, or when they graduate from college, and then struggle to find jobs with health benefits. They are far more likely to be uninsured than older adults: more than four of 10 young adults between the ages of 19-29 can expect to be uninsured at some time during the year—twice the rate of adults ages 30 to 64. The problem has worsened over the last decade, with young adults from low-income households the hardest hit. "At a time of life when people start families and establish life-long health habits, young adults far too often can't get the health care they need," said Karen Davis, president of The Commonwealth Fund. "It's a cruel irony that young men and women who stay in school, graduate, and enter the job market are simply dropped from the health care system."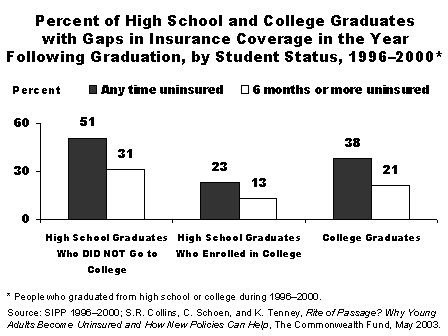 "Conventional wisdom says that young people are healthy, but the fact is they have health care needs that can't be ignored," said Sara R. Collins, senior program officer at the Fund and lead author of the report. "Three and a half million women in their 20s become pregnant every year, and young adults are far more likely than older people or children to sustain injuries that require trips to the emergency room." Jobs available to young adults are often low-wage or temporary, and typically do not provide health insurance, according to the report,
Rite of Passage? Why Young Adults Become Uninsured and How New Policies Can Help,
by Sara R. Collins, Cathy Schoen, and Katie Tenney of The Commonwealth Fund. The report points to targeted policy options that could extend coverage to more young adults and help others keep it.
Young Adults Who Do Not Go to College Full Time Are at Highest Risk
Half of high school graduates who do not go to college are uninsured for some time during the year after graduation—two times the rate of high school graduates who go to college. This is because young adults who enter the labor market do not have access to university health plans, and few are likely to be eligible for their parents' coverage or to have a job with benefits. Those previously insured under Medicaid or the Children's Health Insurance Program have even fewer options: both programs reclassify 19-year-olds as adults, which means nearly all teenagers become ineligible for public coverage on their 19th birthdays whether they go to college or not.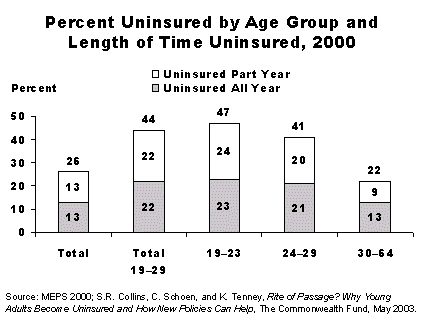 Lack of Coverage Disrupts Access to Health Care and Creates Financial Stress
Although young adults are on average healthier than older adults, they too need access to both preventive and acute health care. Contrary to conventional wisdom, they are well aware of the risks of going without insurance—when young working people are offered health insurance they take it up at nearly the same rate as older workers. And they suffer when they don't have coverage. Half of 19- to 29-year-olds without insurance coverage go without needed care because of cost and half have problems with medical bills, including being contacted by a collection agency. Policy Options Could Improve Coverage for Young People Apart from system-wide changes that would expand access to insurance coverage for all Americans, the authors point to targeted policy changes that could improve coverage for young adults:
Extending eligibility for dependents under private coverage through age 23 could cover 500,000 to 1 million unmarried, dependent young adults.
Extending eligibility for Medicaid/CHIP coverage to age 23 could cover 2.6 million uninsured young adults ages 19 to 23 with incomes under 100 percent of poverty.
State mandates to require colleges and universities to offer coverage to all full-time and part-time students, and require all full-time and part-time students to have health insurance, could help cover up to 1.8 million uninsured students.