Study Points To Expanding Coverage To Low-Income Working Families As Effective Way To Eliminate Coverage And Access Gap
New York City, April 8, 2004—Low-income working minorities lack private health coverage at higher rates than whites—contributing substantially to high uninsured rates for minorities, a new Commonwealth Fund report says. These racial disparities in health insurance coverage undermine access to health care for minority Americans. The report, Unequal Access: Insurance Instability Among Low-Income Workers and Minorities, by Michelle M. Doty and Alyssa Holmgren, points to solutions such as creating new and affordable health insurance options for low-income working adults to help close the gap in access to health care for minority Americans. "Minority Americans in low-wage jobs work hard and play by the rules, but are too often shut out of the health care system because they are not offered coverage through work, or if coverage is offered it's unaffordable," said Commonwealth Fund President Karen Davis. "Policy solutions to help low-income working families afford coverage would be an effective way to address these persistent inequities in health coverage and access to health care."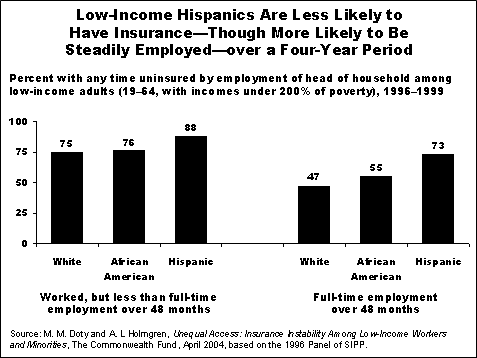 Even full-time employment is no guarantee of coverage, especially for Hispanics, the report says. Even when the head of household is steadily employed full-time over a four-year period, nearly three-fourths of low-income Hispanics—with incomes below 200% of poverty—were uninsured at some point during 1996-1999, compared with nearly half of low-income whites. The federal poverty level for a family of four averaged over the years 1996-1999 was $16,531. Looking at employment history for low-income workers over four years also reveals that gaps in employment or fluctuations in hours increases the risk that families will have intermittent health coverage. Nearly nine of ten (88%) low-income Hispanic adults who worked, but not continuously over the four-year period, were uninsured during the four years, as were three-quarters of African-Americans and whites. While racial and ethnic disparities in coverage persist across all incomes, low-income adults have much higher uninsured rates. Low-income Hispanics are especially vulnerable: 80 percent with incomes under 200% of poverty had a time uninsured during the four-year period studied.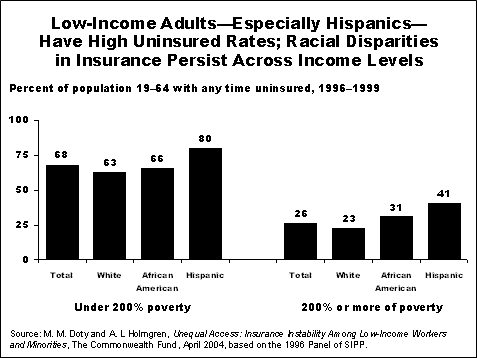 The vast majority of long-term uninsured minority Americans live on low incomes. Seventy percent of African Americans and 72 percent of Hispanics who were uninsured for 13 or more months had incomes below 200 percent of poverty, compared with 46 percent of uninsured whites with low incomes. "There are few options for low-income working adults who are uninsured. In the past, some states have responded to the lack of options for low-wage workers by expanding eligibility for public insurance to low-income working parents," said Doty, senior analyst at the Fund and lead author of the report. "It is clear that additional reforms are needed to provide affordable health insurance to low-income working adults if we, as a nation, want to close the health gap for minority Americans."
Publication Details
Publication Date:
April 8, 2004