More Than 40% Of Midwestern Adults Reported Problems Paying Medical Bills
New York City, March 30, 2004—More than two in five Midwestern adults say they had problems with their medical bills or were paying off accrued medical debt, says a Commonwealth Fund report released here today at a forum on the uninsured. Nearly a quarter of Midwesterners said they had difficulty paying or were unable to pay medical bills. Other problems reported included being contacted by a collection agency about the bills, having to change their way of life in order to make payments, or paying off medical debt that had accrued over the last three years. In addition, the survey, released at the Harvard Forums on Health, found that almost one in three Midwesterners reported their share of medical bills had increased by a lot or a moderate amount in the last 12 months.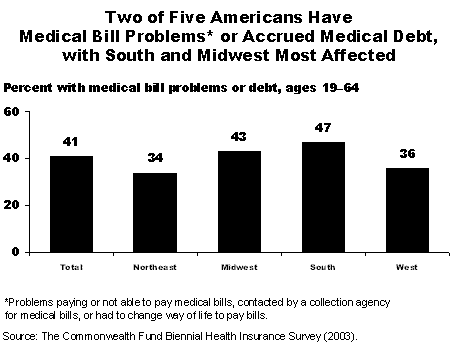 "Families are coping with medical bills and lingering medical debt at the same time that there is substantial job insecurity in the economy," says lead survey author Sara Collins, Ph.D., Senior Program Officer at the Fund. "When rising health care and insurance costs are coupled with job instability, families are facing a future laden with financial risk," she told an audience of policymakers gathered for the forum on the uninsured at Chicago's downtown Gleacher Center moderated by journalist and Harvard University professor David Gergen. The report, From Coast to Coast: The Affordability Crisis in U.S. Health Care, is drawn from The Commonwealth Fund Biennial Health Insurance Survey. The survey is based on a nationally representative sample of 4,052 adults ages 19 and older living in the continental United States. It was conducted from September 2003 through January 2004 by Princeton Survey Research Associates International. Researchers examined where the public stands on financing broader coverage, the stability of Americans' health insurance, the quality of their benefits, and whether they can afford the care they need and pay their medical bills.
Adults Report Not Getting Needed Health Care Because of Cost
The survey shows that slightly more than one-third of people living in the Midwest were unable to obtain the care they needed because of cost; this included not filling a prescription, not seeing a physician when needed, skipping a medical test treatment or follow-up visit recommended by a doctor; or not seeing a specialist. The percentage of adults in the Midwest citing cost-related access problems was comparable to those in other parts of the U.S. except the South, which had the highest rate of residents who did not obtain medical care they needed (41%). "Americans already pay more out-of-pocket than citizens in any other industrialized nation and there has been concern that increases in cost-sharing would prevent people from getting the care they need," said Fund President Karen Davis, Ph.D. "These findings underscore that concern by indicating that many adults are in fact forgoing recommended care because of cost." About one in five Midwestern adults were without coverage during the year, which is somewhat better than adults in the South and West, where 3 in 10 had a time uninsured. One possible reason for the difference is that manufacturing jobs are more likely than jobs in other sectors to come with health benefits. But like insured adults in the rest of the country, adults in the Midwest report an erosion in the quality of their health benefits. Half of Midwesterners surveyed report that they have seen their premiums increase "a lot" or a "moderate" amount in the past year, benefits cut or limited, or share of medical bills increased a lot or a moderate level. That's comparable to the nation. Slightly more people reported increases in their share of bills in the Midwest (32%) compared with the Northeast and West (25%).
Majorities of Americans Coast to Coast Voice Support for Health Care Reform
Nationally, more than half of voters surveyed say that presidential and congressional candidates' views on health care reform will be very important in their vote in November. On the important issue of financing coverage, voters overwhelmingly agree that the burden of financing health coverage should continue to be shared between individuals, employers, and the government. In fact, more than 60% of adults surveyed said they would be willing to give up the federal tax cuts enacted into law in the past two years to pay for coverage. When people were asked whether they would favor capping the tax cut to no more than $1,000 per person, support climbed to around 70%. Majorities of adults supported diverse approaches to providing coverage to more uninsured adults, including those that have been proposed by presidential candidates. More than 7 in 10 adults in each region were in favor of four policy options: letting uninsured adults participate in Medicare or state public insurance programs like Medicaid and CHIP, offering tax credits for people to purchase coverage on their own, or requiring employers to contribute to the cost of their employees' health insurance. "Concern about health care is consistent from coast to coast as majorities of Americans express support for health care reform," adds David Blumenthal, MD, director of the Harvard Forums on Health. "By providing a public forum for Americans to discuss their concerns about health care, this year's presidential and congressional elections may help move the nation towards consensus on how to make health insurance both more stable and more affordable." Copies of From Coast to Coast: The Affordability Crisis in U.S. Health Care, by Sara Collins and Alice Ho, can be obtained through the Commonwealth Fund website (www.commonwealthfund.org) or by e-mailing
[email protected]
Publication Details
Publication Date:
March 30, 2004