Two-Thirds Face Medical Bill Problems or Barriers to Care Due to Cost Two of Five College Grads Uninsured During Year After GraduationNew York City, May 4, 2005—Over 13 million young adults ages 19 to 29 lacked health insurance in 2003, a jump of 2.2 million since 2000, a new Commonwealth Fund report finds. Young adults without coverage are also far more likely to experience medical bill problems or forego needed care due to cost than their peers with insurance, says the 2005 update of Rite of Passage? Why Young Adults Become Uninsured and How New Policies Can Help. About two of five (38%) young adults who graduated from college between the years 1996 and 2000 had a time when they were uninsured in the year following graduation. The report, by Fund Senior Program Officer Sara R. Collins and colleagues, says more than 30 percent of 19-29 year olds are uninsured, nearly double the rate for working-age adults over 30. The report is being released in connection with Cover the Uninsured Week, May 1-8, 2005.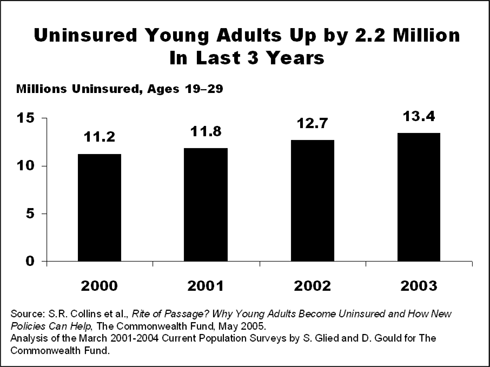 "There are gaping holes in our health care system that leave too many young adults vulnerable to risks that could jeopardize their future health and economic security," said Collins. "To start, we could expand public and private coverage for dependent children to age 23, instead of cutting off coverage at age 19." About 60 percent of employers who offer coverage do not cover dependent young adults over 18 or 19 if they are not full-time students. Young adults from low-income families are especially at risk: half (48%) of 19-29 year-olds living in households under the poverty level are uninsured. "Many of the jobs available to younger workers are low wage or temporary, which typically do not come with benefits," said Fund President Karen Davis. "Solutions targeted to providing coverage for young adults just starting out can help ensure a healthy and productive workforce for the future." Two-thirds (66%) of young adults without insurance report missing needed care or treatment and/or having problems paying medical bills. About half (49%) of uninsured young adults report being unable to pay medical bills, being contacted by a collection agency, or significantly changing their way of life to pay medical bills, compared to one-quarter (25%) of insured 19-29 year-olds. Over half (56%) of uninsured young adults did not see a doctor when they were sick, did not fill a prescription, or skipped a recommended test, treatment, or follow-up because of cost, vs. to one-third (33%) of insured young adults. Young adults with a time uninsured in the past year faced bill and access problems at rates similar to those who were uninsured all year.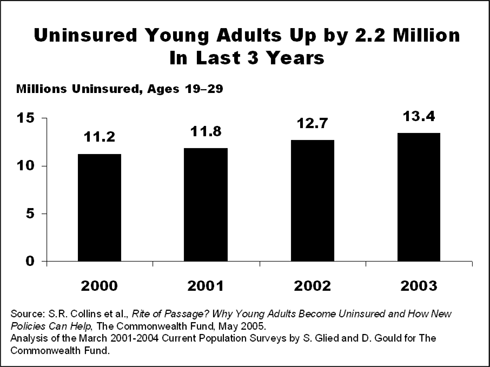 The authors propose policy options to address the growing problem of uninsured young adults, including:
Require employers and insurers to extend coverage for unmarried dependent children through age 23. Some private employers already provide this coverage voluntarily, and the state of Utah mandates dependent coverage through age 26.
Congress could allow or require states to extend eligibility for Medicaid and CHIP coverage to age 23.
States could ensure that colleges and universities require full-time and part-time students to have health insurance, and to offer health insurance to both. Premium subsidies could help offset the costs to students.