A new breed of primary care companies is promising to bring "concierge-level" care to the sickest and neediest patients including the frail elderly, those who are dually eligible for Medicare and Medicaid, and those with multiple chronic conditions and behavioral health problems, among others. At the same time new population health companies are helping primary care practices reconfigure their operations to better serve complex patients. The emergence of these players is driven in part by the spread of value-based payment models and the interest of primary care physicians looking for a more satisfying way to practice.
Boutique primary care practices that cater to young, healthy professionals by combining the conveniences of modern technology (e.g., through virtual visits) with concierge-level customer service have gotten a lot of attention because they offer a glimpse of what a health care system designed around the needs of patients looks like. But efforts to redesign primary care around the needs of patients with more complex needs—the frail elderly, those who are dually eligible for Medicare and Medicaid, and those with multiple chronic conditions and behavioral health problems, among others—have received less attention though they may have a more dramatic impact on health care spending and outcomes.
In this issue of Transforming Care, we look at companies such as ChenMed, ConcertoHealth, Iora Health, and others that are building new primary care models for these populations from the ground up, as well as companies like Aledade and Alignment Healthcare that are helping existing primary care practices reconfigure their operations to better serve complex patients. The emergence of these players is driven in part by the spread of value-based payment models that give providers incentives and flexibility to invest in new approaches to primary care—and to be rewarded for keeping patients stable and out of hospitals and emergency departments.
The models also are gaining traction because, for some physicians, they offer a more satisfying way to practice and help to counter the frustration that many primary care doctors experience working in traditional models. Much of this frustration is rooted in the still-dominant fee-for-service system, in which providers have limited time to spend with the neediest, chronically ill patients.1  Under the prevailing model many primary care physicians "feel like they are failing and see the gap every day between what they wish they could do and what they are actually doing," says Richard J. Baron, M.D., president and CEO of the American Board of Internal Medicine.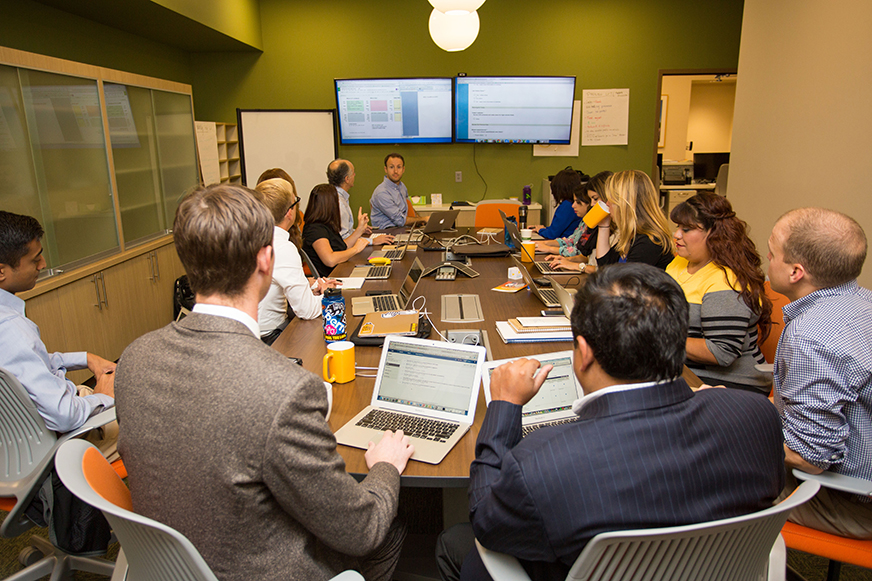 Staff including health coaches at Iora Health's clinics take turns leading morning meetings to discuss patients coming in that day. Source: Iora Health
---
In contrast, organizations like Iora Health, ChenMed, and others "are taking a more sophisticated approach to workplace culture," says Andrew Morris-Singer, M.D., president of Primary Care Progress, a nonprofit that seeks to revitalize primary care by offering leadership tools and training to medical students, residents, and other health professionals. These companies give staff room to experiment with new approaches, in contrast to the training in most academic medical centers, he says. "We've been taught unless you know the answer, unless it's data-based, you don't do it. Places like Iora Health are creating safe spaces where they are constantly experimenting and iterating on how to most effectively take care of their population and the patient in front of them."
Common Features of New Models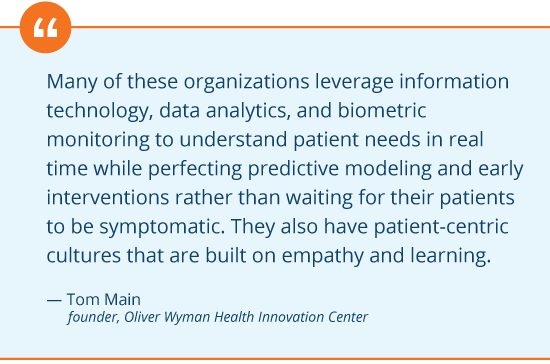 The models used by these companies share certain characteristics, says Tom Main, founder of the Oliver Wyman Health Innovation Center, including relying on interdisciplinary teams, offering care outside of clinics (often in patients' homes), and tailoring the scope of services to patients' needs, which may include supports such as free transportation or cell phones to stay in touch with care teams. They've also invested in technology to track and engage patients and identify those most in need of attention (see sidebar on use of health information technology.) Together, these elements have led to more proactive and comprehensive services, often delivered by a wide array of professionals, including health coaches and social workers who focus on problem-solving.
This issue of Transforming Care offers examples of the care models, financing, and results achieved by three primary care innovators, ChenMed, ConcertoHealth, and Iora Health that have had some success in developing new care models and spreading their approach to different markets. It also describes two population health management companies, Alignment Healthcare and Aledade, that seek to transform health care delivery by working within the traditional system of primary care.
PROFILES OF INNOVATIVE PRIMARY CARE ORGANIZATIONS
ConcertoHealth
Based in Irvine, California, ConcertoHealth serves approximately 6,000 patients. Nearly all (95 percent) are eligible for both Medicare and Medicaid. The patients have multiple chronic illnesses (an average of 3.5), often accompanied by behavioral health problems. A third are homebound, with a wide range of problems including serious mental illnesses, addictions, and developmental disabilities.
The company focuses on building trust by addressing patients' social challenges as a way to engage them. "It's demonstrating value right off the bat—giving them a gift card for going to a comprehensive evaluation with their doctor or giving them a ride to and from the clinic," says Colin LeClair, senior vice president for product and business development. "It can be extraordinarily simple and it's so often overlooked."
Care model: To make care as accessible as possible, ConcertoHealth locates its primary care clinics—there are four in Detroit and three in the greater Seattle area—in patients' neighborhoods, near retail districts, and on major bus routes. Field teams visit in their homes those who are unable to make it to the clinics.
New-patient visits and postdischarge visits typically last two hours, while regular ones are one hour. Patients first see a primary care provider (often a nurse practitioner) who focuses on screening, prevention, and disease management. Social workers assess other risks, including lack of access to food, medication, and transportation. Every patient is assigned a case manager who is a registered nurse.
Nurse practitioners and social workers lead teams that serve homebound patients. Physicians visit patients who are admitted to hospitals and skilled nursing facilities. Nurses, nurse practitioners, and social workers provide care management via telephone. The company looks for staff who are compassionate and focuses their training on problem-solving. "You are not going to solve everything at once," LeClair says. "You set small, near-term goals." For patients with behavioral health needs, the company contracts with a narrow network of behavioral health providers who are both accessible to patients and willing to collaborate with primary care providers.
Funding: ConcertoHealth is a relatively new entity. In September 2015, it was spun off from a small regional health plan that had developed care management skills in managing risk for its many members who are dually eligible for Medicare and Medicaid. It receives global capitation payments for over 95 percent of patients. As it expands, the company will continue to pursue contracts in which it takes on full financial risk for the total costs and health outcomes of patients.
Results: Before joining ConcertoHealth, patients had average hospital admissions exceeding 375 per 1,000. Thirty-day all-cause readmission rates were greater than 25 percent and the average length of stay was almost 30 days. Within 12 months of enrolling in a health plan served by ConcertoHealth providers, admissions for patients dropped to less than 250 per 1,000, readmissions fell to 15 percent, and the average length of stay decreased to fewer than 15 days. In Michigan, ConcertoHealth leads the state on the number of new patients having health risk assessments within 45 days of enrolling in a plan it serves—a key lever for engaging patients and proactively treating their conditions.
Biggest challenge: ConcertoHealth's greatest challenge is to find further efficiencies when designing a care model for a heterogeneous patient population. "With seniors who have diabetes it's easy to develop evidence-based guidelines, but with patients who need long-term services and supports, that's not the case. They have very diverse needs," LeClair says. Establishing narrow networks of high-performing specialists in underserved communities has also proved challenging.

---
ChenMed
Based in Miami, Florida, ChenMed serves 60,000 moderate- to low-income seniors in six states, mainly in the Southeast. Three-quarters of ChenMed's patients have five or more major chronic conditions. More than 30 percent are dually eligible for both Medicare and Medicaid, and three-quarters are minorities.
The company markets its services primarily by going to community events, senior centers, churches, and community organizations. "Our message is simple: 'Do you find health care complicated? Does your doctor not have enough time for you? Are you having trouble getting an appointment? Do you have a lot of different doctors and they don't talk to each other?'" says Christopher Chen, M.D., ChenMed's CEO. It recruits physicians using a similar approach. "We say 'Are you frustrated with the way medicine is practiced today? We are going to allow you to practice medicine the way you thought you were going to when you went to medical school,'" says Chen. "We never have to explain what that means."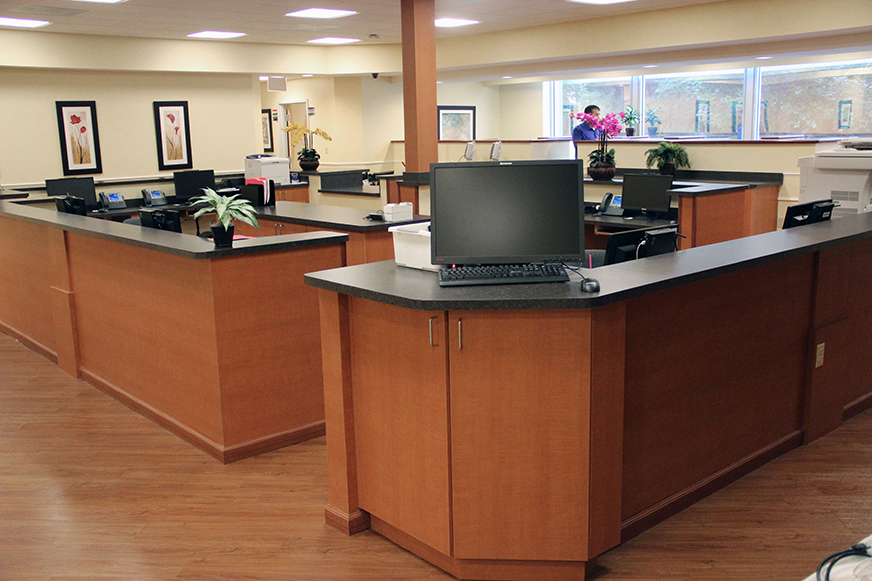 Physicians at ChenMed clinics work in open office space, making it easy for them to discuss patient cases. Source: ChenMed
---
Care model: Primary care physicians serve relatively small patient panels (about 350 to 450) generally through monthly visits plus same-day appointments when needed. On-site pharmacies fill prescriptions within 15 minutes of ordering, so doctors can hand patients their medication and discuss how to take it as part of the visit. Certain specialists, such as cardiologists, optometrists, podiatrists, endocrinologists, gastroenterologists, and oncologists, see patients at the clinics to promote easy access and facilitate collaboration among providers. All physicians, as well as social workers and acupuncturists, work in a shared open space (see interview with ChenMed primary care physician Terrell Bacchus, M.D.)
Interview: ChenMed primary care physician Terrell Bacchus, M.D.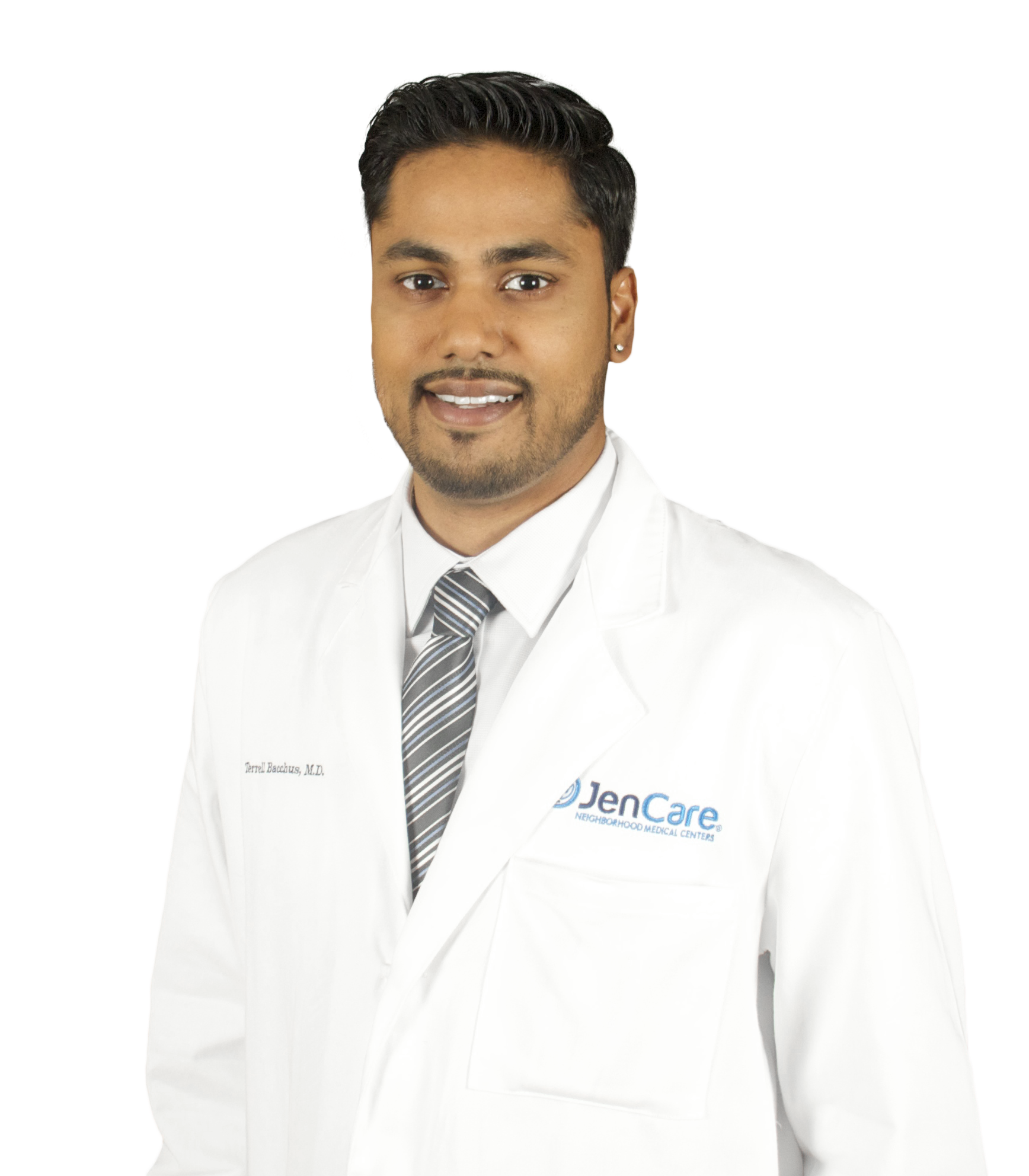 Terrell Bacchus, M.D., joined one of ChenMed's Atlanta clinics in 2013, right after completing his family medicine residency. He'd heard about the company from a professor, and jumped at the chance to serve a panel of just 450 patients. "It was an opportunity to practice medicine the way I was hoping to practice and not get bogged down with administrative work and coding."
As a young physician, Bacchus appreciates ChenMed's collaborative work culture: the clinic's layout—with physicians sharing an open office space—gives him opportunities to "lean my chair back" and ask colleagues for advice, or invite on-site specialists to join certain patient visits, he says.
Bacchus also appreciates the thrice-weekly case review meetings with colleagues in which they discuss the care of every hospitalized patient to see if there were ways to prevent the admissions. After one of his patients with chronic obstructive pulmonary disease (COPD), a smoker, wound up in the hospital one weekend struggling to breathe, another physician suggested he could prescribe him an "emergency pack" with an antibiotic and steroids to take at home to try to prevent worsening of exacerbations. "I wouldn't have thought of this," Bacchus says, noting that the clinic now has a policy of giving high-risk COPD patients a preventive package of antibiotic and steroids to keep at home. If they are having symptoms, they can call the 24-hour on-call doctor for instructions on if and how to take them.
All physicians meet three times a week to review the cases of patients who've experienced complications or hospitalizations. "We believe something else could have been tried to prevent every hospitalization," says Chen. "We know that's not always true, but the answer can't be nothing could have been done." Doctors also rely on clinical protocols, which they can access via a custom mobile app.
Funding: ChenMed accepts capitated payments from Medicare Advantage plans and is at full risk for patients' total health care costs. In 2011, it partnered in a joint venture with the insurer Humana to develop clinics in markets other than South Florida (Richmond and Norfolk, Va.; Louisville, Ky.; New Orleans, La., Chicago, Ill., and Atlanta, Ga.) in order to test whether its model could be spread. It has also received venture capital funding to support its growth.
Results: A Health Affairs study found that, compared with the national average of 1,712 total hospital days per 1,000 Medicare patients in 2011, seniors served by Chen Neighborhood Medical Center in Miami, Fla., during the same year had 1,058 total hospital days. 
In 2013, seniors served by Chen Neighborhood Medical Center in Miami-Dade County had 1,234 fewer total hospital days per 1,000 than the CMS average of 2,420 per 1,000 seniors in the county. Seniors served by Chen Neighborhood Medical Center in Broward County had 700 fewer total hospital days per 1,000 than the CMS average of 1,961 per 1,000 seniors in the county.
A 2015 American Journal of Medical Quality study examined the effect of ChenMed's point-of-care medication delivery on diabetic patients. Ninety percent of such patients said it improved their understanding of their medications and 80 percent said it improved communication with their physician.
ChenMed asks its patients how likely they would be on a scale of 0 to 10 to recommend the company to a friend or colleague (a metric known as the Net Promoter Score). In 2015, ChenMed's average score among 37 flagship centers was 90 percent. The average score among health insurance companies in 2015 was 12 percent, with the highest score only 31 percent.2
Biggest challenge: The reductions in Medicare Advantage payments may impact ChenMed's ability to innovate and expand. "Medicare Advantage has been a tried and true platform for health care organizations that want to be accountable for patient outcomes and value," Chen says. "The cuts heighten the barrier to entry for similar physician groups and may diminish innovation."

---
Iora Health
Based in Boston, Massachusetts, Iora Health launched opened its first practice in 2012; it now serves some 40,000 patients in 29 practices in 11 states, with 20 more practices set to open this year. Iora Health customizes its approach in each of its markets to fit the varying needs of patients (and also works under different payment models). For example, it serves an uninsured immigrant population in Jackson Heights, New York, through a direct-pay model. It creates clinics near the worksites of self-insured clients, including members of the hotel and casino workers union in Las Vegas, Nevada, as well as employees and families of Dartmouth College in Hanover, New Hampshire. Finally, it contracts with Medicare Advantage plans to provide comprehensive care through capitated payments for Medicare beneficiaries, including many who are dually eligible for Medicare and Medicaid. Iora Health serves a greater range of patients—from relatively healthy to relatively sick—than ChenMed or ConcertoHealth.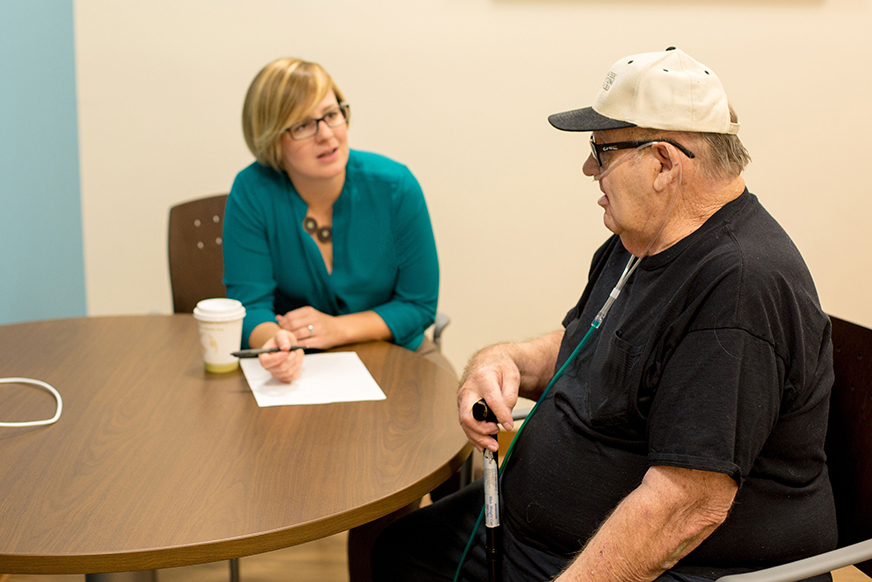 Health coaches meet with patients before and after each clinic visit at Iora health. Source: Iora Health
---
Care model: Across its clinics, Iora Health's focus is on providing patients with the support they need to follow recommended treatment and improve their health. To do this, they rely heavily on nonphysician staff, particularly health coaches (Iora Health's term for community health workers), who provide practical and emotional support to patients.
The clinics are designed to be small, typically staffed by two to three primary care providers; six to nine health coaches; a clinical team manager, usually a nurse; and a social worker. Health coaches greet arriving patients in a living room–like setting outside the examining room to see how they're feeling and review their agenda for the visit. During the visit, coaches serve as patients' advocates and doctors' scribes, then remain behind after the doctor leaves to review the treatment plan and provide education and coaching. "They say things like, 'O.K. you are going to exercise. When are you going to exercise? How are we going to make sure you do that? What are the barriers? What can we do to avoid them?' and so on," says Rushika Fernandopulle, M.D., Iora Health's cofounder and CEO.
Coaches also spend time checking in with patients between visits, visiting them in their homes, and leading exercise groups such as yoga or tai chi. While Iora Health's physicians each care for about 1,000 patients, health coaches manage only a few hundred people.
All staff meet each morning for a "huddle" to review patients coming in that day, and to discuss patients with high "worry scores"—a measure based partially on clinical data and partially on the care team's instinct.
Funding: Iora Health accepts risk-adjusted capitated fees for its services, in some cases supplemented by incentives for meeting patient experience, quality, or utilization targets and/or shared savings arrangements. It also has received venture capital funding to support its growth.
Results: For Medicare patients, Iora Health had substantially lower emergency department use than county averages. Adjusted for the acuity of the population, Iora Health had emergency department visits that were only half of the aggregated Medicare market averages. It also had one-third fewer hospitalizations than aggregated market averages among Medicare beneficiaries, adjusted for acuity.
Across all practices, patients gave Iora Health a Net Promoter Score of 93 over the past two months.
Biggest challenge: Iora Health's greatest challenge is finding sponsors willing to invest up front in its unique care model. It must also maintain its workplace culture and commitment to customizing services to meet patients' needs as it continues to grow.

Population Health Management Companies
In addition to primary care companies that are customizing models to better serve high-need patients, new entities are cropping up—known generically as "population health management companies"—to help primary care providers better serve high-needs patients so that practices can flourish under value-based care contracts.
Orange, California–based Alignment Healthcare was founded in 2013 by a small team led by John Kao, who spent the previous decade working with CareMore, a health care provider and Medicare Advantage plan (now owned by the insurer Anthem) that is well known for its innovative approach to coordinating care for frail, chronically ill seniors. Kao's goal for Alignment Healthcare is to spread that model through partnerships with health systems as varied as the University of North Carolina, a large academic medical center; Ascension Health, the country's largest nonprofit health system; and HCA, the largest for-profit system. In these partnerships, Alignment Healthcare acts as an intermediary: it's neither the insurer nor the primary care provider, but it assumes some responsibilities from both.
For example in Florida, the state's Blue Cross and Blue Shield plan pays Alignment Healthcare to take on full risk for a designated group of its Medicare Advantage plan members who are cared for through Ascension Health providers. Alignment Healthcare then hires its own clinicians, including nurse practitioners, physician assistants, and hospitalists, to provide supplementary medical services to the 20 percent of seniors who are at highest risk of complications. Alignment Healthcare clinicians also offer services such as wound care and diabetes education, or medication management for patients with heart disease or high blood pressure. They sometimes work out of rented space in Ascension's primary care providers' offices, and sometimes, if there is enough demand, the company creates freestanding care centers. Patients see Alignment Healthcare's clinicians while they continue to see their Ascension primary care provider, as often as needed, at no additional expense to them.
Alignment Healthcare's model, which serves about 30,000 patients in all, is powered by its "command center" in California, where information technology staff, nurse practitioners, and physicians combine clinical, claims, lab, pharmacy, and demographic data to track patients' health and identify those potentially at risk. Alignment Healthcare gives a subset—the sickest of the chronically ill patients—wireless monitoring devices such as scales, blood pressure cuffs, and oximeter/pulse readers so clinicians can keep track of patients at home. These patients also are given tablets, which they can use to hold video calls with their care teams and complete daily surveys about how they're feeling and how well they understand their treatment plan.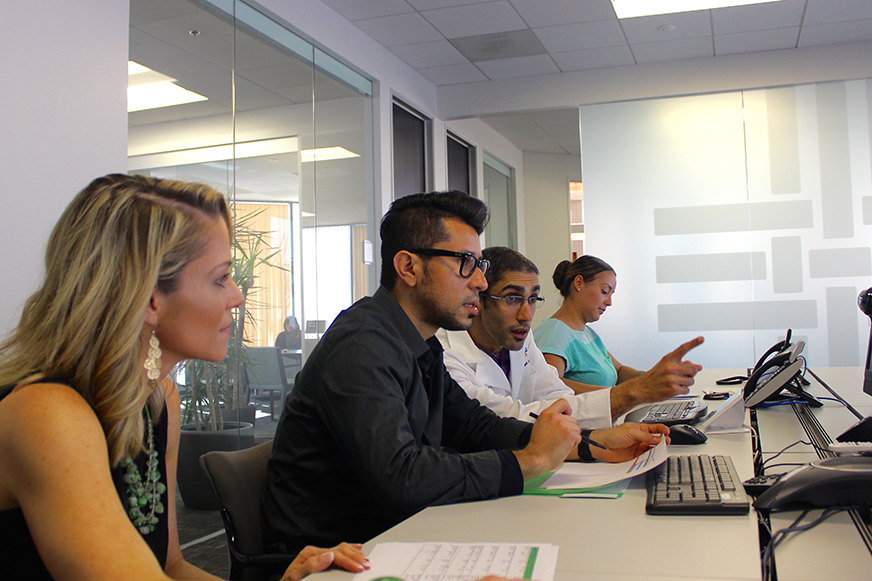 In Alignment Healthcare's "command center" (above and below), physicians, nurse practitioners, and information technology staff use clinical, claims, lab, pharmacy, and demographic data to track patients' health and identify those potentially at risk. Source: Alignment Healthcare
---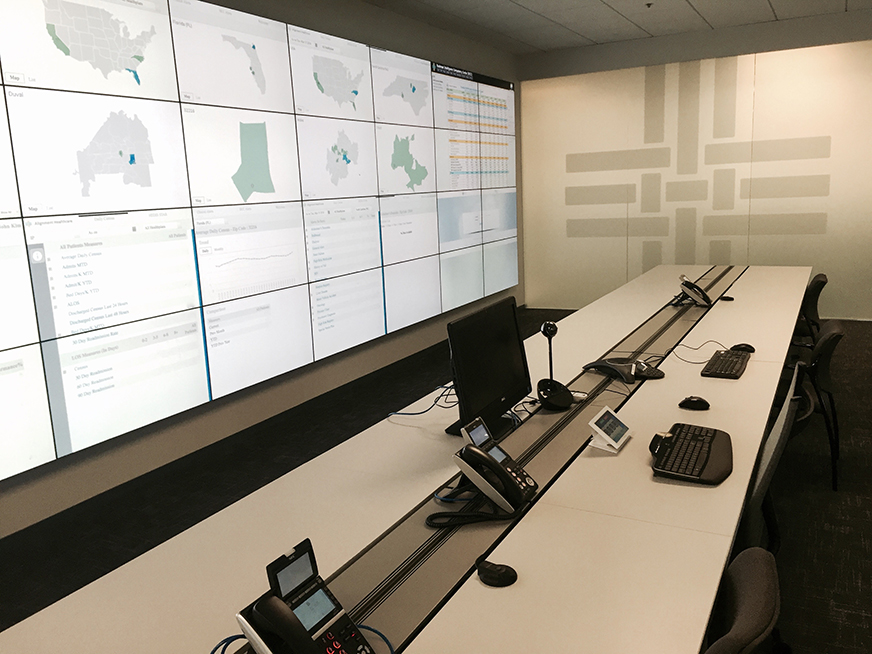 Every day, command center staff hold virtual rounds with Alignment Healthcare clinicians in the field to alert them to potential problems and arrange interventions at the first sign of trouble.3  "The secret sauce for us is being able to identify patients with chronic disease earlier and then making sure that patients are taken care of in real time," says Kao.
Another population health management company, Bethesda, Maryland–based Aledade, founded in 2014 by Farzad Mostashari, M.D., the former national coordinator for health information technology, helps independent primary care practices band together as accountable care organizations (ACOs). Its operating theory is that most small practices don't have the experience or resources needed to proactively manage patient populations under ACO contracts—but together they can share resources and create economies of scale, functioning as a virtual network that Mostashari describes as an "IPA for the new age." Aledade charges its 110 client practices a membership fee for strategic consulting, analytics, cloud-based population health management software, and training, and in return shares in the profits the practices earn from their shared savings contracts. The 110 practices now work in seven ACOs that collectively serve some 100,000 Medicare beneficiaries.
In this way, Aledade is seeking to buck the health care industry trend toward consolidation and enhance the ability of independent primary care providers to thrive in an emerging health care economy based on the value, not the volume, of care. Initially, Aledade is working with practices it identifies as high performers (based on quality and other measures), but Mostashari says there are thousands of practices that can be successful in ACOs. Some of their first steps are to teach providers how to segment their patients according to their level of risk.
In one case, an Aledade staffer gave a physician with a panel of 2,600 patients a random list of 30 and asked her to identify each as low, medium, or high risk. "She knew every one of those patients, their social, family, and medical history, and was able to say things like 'Yes he's a diabetic but he's meticulous about his diet,'" Mostashari says. "Our algorithm is not going to do better than that." By partnering with primary care providers like her, Aledade is hoping to leverage physicians' knowledge and personal experiences to design better risk-prediction algorithms and other tools because even the best doctor "can't go through lists of all 2,600 patients every day," he says.
By focusing on prevention and early intervention, the 110 Aledade practices have collectively reduced hospital readmissions among high-risk patients from 33 percent to 20 percent. Aledade aims to increase providers' take-home pay by as much as 50 percent by enabling them to lower the total costs of care and therefore earn shared savings payments under ACO contracts.
Primary Care, Ten Years On
These efforts reflect two different approaches: one that attempts to innovate from within the fee-for-service system and move incrementally toward value-based care and the other that uses the flexibility of capitated payments to develop new care systems—in some cases relying on venture capital funding to help. Their varying approaches also reflect two opposing views in the debate over health care delivery reform and how best to create a system that achieves better outcomes at lower costs: is it better to make incremental improvements to our current system, or scrap it and start anew?
Over the next decade, there will likely be more initiatives on both sides: disruptors from outside the system and innovators from within. Either way, health care delivery reform is likely to continue to focus on primary care because it's a key lever for change and a relatively low-cost one at that, because spending on primary care accounts for just 5 percent of total costs, Baron says. "Primary care can create value in a way that is difficult in other parts of the system," he says.
---
1 A recent Health Affairs study found that in 2013, 95 percent of physician payments were fee-for-service.
2 For information on the Net Promoter Score and how it's calculated, see https://hbr.org/2003/12/the-one-number-you-need-to-grow. For benchmarks, see https://www.satmetrix.com/nps-benchmarks/.
3 The command center communicates with physician practices via an online portal and by phone as needed.