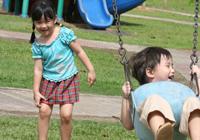 Services that support young children's healthy mental development can reduce the prevalence of developmental and behavioral disorders. Unchecked, social, emotional, and behavioral development delays have high costs and long-term consequences for health, education, child welfare, and juvenile justice systems—and for children's futures.
In January 2004, the second Assuring Better Child Health and Development (ABCD II) Consortium was formed. It provided five states (California, Iowa, Illinois, Minnesota, and Utah) an opportunity to develop and test strategies for improving the delivery of developmental services to young children at risk for or with social or emotional development delays, especially those in need of preventive or early intervention services. The states sought, by different means, to improve the identification of children in need of developmental services and improve the likelihood that those identified with a potential need received appropriate follow-up services, including intensified surveillance, assessment, and treatment. By the end of the three-year consortium, all produced data indicating success.
Identification: There is evidence in the literature that physicians who use an objective screening tool will more effectively identify children who may be at risk for, or have, a developmental delay than physicians who do not use such a tool. All five ABCD states were able to increase screening using an objective screening tool in selected practices in which they tested their approaches to encouraging this practice. Two states also increased screening for perinatal depression in those same practices.
Referral for follow-up services: Most ABCD II states also demonstrated an increase in the percentage of children referred for services such as secondary developmental surveillance, assessment, rehabilitation, child psychologist evaluation, early intervention, and school services.
Receipt of follow-up services: The ABCD II states had less success in measuring whether their interventions improved the likelihood that children received appropriate follow-up services. This is likely due both to problems the states encountered in measuring children's receipt of follow-up services1 and a lack of resources for those services.
The five states made vital progress and learned valuable lessons. The purpose of this paper is to provide an opportunity for other states interested in improving child development services to benefit from the experiences of these five states. The paper updates a previously released report on interim accomplishments and lessons.
Key Accomplishments
Among the key accomplishments, states:
Identified validated screening tools and promoted pediatric provider use of these tools through activities such as modifying Medicaid provider handbooks and holding training sessions.
Improving the Delivery of Health Care that Supports Young Children's Healthy Mental Development
Helped primary care providers integrate validated screening tools into their practices through education, training, and support activities.
Identified resources and facilitated appropriate referral to follow-up services.
Identified and addressed policy barriers in Medicaid and other state programs, such as early intervention.
Formed key partnerships with other state agencies, clinicians, and provider organizations to achieve project goals.
Used quality improvement projects to produce and sustain improvements.
Lessons Learned
Among the lessons learned during the project were:
Screening with a standardized tool for potential social and emotional development delays is an important step in ensuring young children's healthy mental development.
Screening is just the first step; there must also be access to follow-up services. Efforts to identify and help families and clinicians access resources for assessment and treatment were critical to project success.
States can facilitate access to follow-up care for young children who are identified by pediatric providers as experiencing or being at risk for delays in social or emotional development. States can provide direct assistance, improve coordination among programs, and help practitioners develop links with local resources.
Demonstrations can inspire and test policy change. Pilot sites were an effective method of testing whether new ideas work and ensuring that policy changes were grounded in real-life experience.
Active partnerships with pediatric clinicians are critical to improving the care delivered to children. Clinicians played key roles in developing and communicating state recommendations for screening tools, identifying needed policy changes, providing assistance to pilot practices, and spreading improvements throughout the state.
Developing successful partnerships with providers takes effort and a willingness to follow as well as lead.
Measuring screening, referral, and treatment rates for young children at risk for developmental delays is challenging, must be carefully planned and, ideally, piloted.
States can improve care by leveraging existing resources and partnering with other stakeholders. New funding or legislation is not a requirement.
Publication Details
Publication Date:
February 1, 2008
Citation:
N. Kaye, and J. Rosenthal, Improving the Delivery of Health Care that Supports Young Children's Healthy Mental Development: Update on Accomplishments and Lessons from a Five-State Consortium, The National Academy for State Health Policy and The Commonwealth Fund, February 2008.
Experts
National Academy for State Health Policy
Senior Program Director, National Academy for State Health Policy