An abstract is available at:
http://psychsoc.gerontologyjournals.org/cgi/content/abstract/63/5/S328
Synopsis
This study, which reviewed data from the Medicare Current Beneficiary Survey from 2001 through 2003, of 1,120 community-dwelling Medicare beneficiaries diagnosed with dementia found that use of anti-dementia medications was approximately 30 percent higher among non-Hispanic whites compared with other racial and ethnic groups.
---
The Issue
An estimated 3.4 million Medicare beneficiaries have Alzheimer's disease or other forms of dementia—a chronic disease with a worldwide societal cost of more than $315 billion. Some studies have found that dementia is often undiagnosed or misdiagnosed among African Americans, Latinos, and other ethnic groups, despite evidence that the condition may be more prevalent in minorities. Minorities with a diagnosis of dementia may have poorer access to anti-dementia medications compared with whites.
---
Key Findings
About 26 percent of all survey respondents reported using at least one anti-dementia drug.
Nearly 30 percent of white respondents reported using at least one anti-dementia drug, compared with approximately 20 percent of blacks, 17 percent of Hispanics, and 12 percent of other respondents.
Those who reported taking anti-dementia drugs from all racial and ethnic groups tended to be older and less likely to be living in poverty than non-users.
Respondents using anti-dementia drugs were more likely to be married and more likely to be living in an urban or suburban area.
Users of anti-dementia drugs were more likely to have prescription drug coverage and to use other medications, such as antidepressants. This group also had lower utilization of hospital, hospice, or skilled nursing facility services compared with non-users.
Factors associated with lower use of anti-dementia medications included being single, lacking supplemental prescription drug coverage, and use of hospice services.
---
Addressing the Problem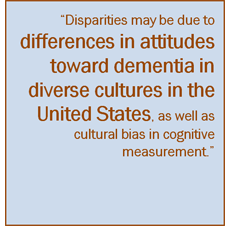 The finding of lower prevalence among minority Medicare beneficiaries was extremely robust; it persisted even after the researchers adjusted for demographic, economic, health status, health care access, and utilization factors. Additional research is needed to explore the cultural and psychosocial factors that may reduce access to anti-dementia treatments among older minorities. These studies should include larger numbers of minorities, consider cultural factors, and examine different types and severity of dementia among older people living in the community and in institutional settings, such nursing homes.
---
About the Study
The authors reviewed data from the Medicare Current Beneficiary Survey (MCBS) from 2001 through 2003 for 1,120 seniors living in the community with a reported diagnosis of dementia. The MCBS interviews Medicare beneficiaries or their proxies in their homes three times per year, for a period of up to four years, using computer-assisted personal interviewing technology. The survey seeks information on demographics, health status, pharmaceutical and other health care utilization and expenditures, and health insurance coverage. Survey information is linked to Medicare Parts A and B diagnostic claims and payment information.
---
The Bottom Line
Disease burden falls disproportionately on minorities, including the elderly. Use or non-use of anti-dementia medications among those with dementia may be another indicator of the disparity in access to health care across racial and ethnic groups, but the reasons for the disparity need to be more fully explored.
Publication Details
Publication Date:
November 1, 2008
Citation:
I. H. Zuckerman, P. T. Ryder, L. Simoni-Wastila et al., "Racial and Ethnic Disparities in the Treatment of Dementia Among Medicare Beneficiaries,"
Journal of Gerontology,
Oct. 2008 63B(5):S328–S333.
Experts
Associate Research Professor, University of Maryland School of Pharmacy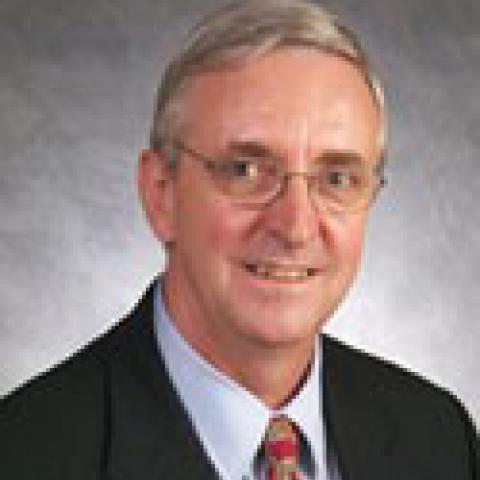 Professor of Drug Therapy and Aging, University of Maryland