Synopsis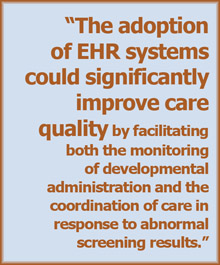 A study evaluating the use of electronic health records (EHRs) in six early-adopting health care organizations found that EHRs can facilitate the screening of young children for developmental delays and can help flag patients with abnormal results. The results suggest that the widespread adoption of EHR systems could improve monitoring and follow-up for children.
---
The Issue
Developmental delays such as speech impairments, learning disabilities, and emotional and behavioral problems occur in 12 percent to 16 percent of children. Because early intervention leads to better long-term outcomes, the American Academy of Pediatrics recommends that child health practitioners screen for such delays at regular intervals. Yet as many as 50 percent of children fail to get adequately screened. EHRs can help improve the quality and coordination of care by prompting practitioners to conduct screenings and initiate follow-up care. The authors of this study examine the use of EHRs at six health care organizations to evaluate the feasibility of implementing developmental service measures within EHRs and to identify barriers to their full use.
---
Key Findings
All six health care organizations were able to use their EHR systems to record whether a developmental screening took place during a well-child visit. The methods for reporting information differed, however, with organizations using a combination of billing codes, procedure codes, and free-text entries.
Three of six organizations recorded abnormal screening results through free-text fields, manual entry, and scanned information, rather than through structured data. The lack of structured data makes it more difficult to measure quality, because the information needs significant processing before it can be analyzed.
None of the organizations could electronically document whether a primary care provider had reviewed a medical specialist's notes, although most of the organizations could capture some of the necessary data.
---
Addressing the Problem
The organizations included in this study have developed sophisticated EHRs that can facilitate developmental screening and quality measurement. However, there are wide variations in the way the organizations capture data. Further, the American Academy of Pediatrics has approved nine different screening tools—varying in format, sensitivity, and modality—making it difficult for results to be communicated consistently across organizations. The authors recommend that medical providers and vendors agree on a common screening tool and use it in an electronic format. Such a tool would let families complete an Internet-based assessment at home, before a well-child visit, or in the waiting room using a hand-held device—potentially improving physician office workflow and boosting screening rates. The authors also recommend adding an "audit trail" function to EHRs to help track whether physicians are reading specialists' notes.
---
About the Study
The authors selected three indicators (whether children received a developmental screening, whether results of abnormal screenings were reported, and whether primary clinicians reviewed notes written by specialists) developed by experts in child development, technology, and quality measurement. The authors then conducted monthly telephone interviews with representatives from six organizations that were early adopters of EHRs: Park Nicollet Health Services, Kaiser Permanente Northwest, the Nemours Foundation, the Billings Clinic, Geisinger Health System, and Boston Medical Center.
---
The Bottom Line
EHRs can easily collect simple information about the frequency and results of development screenings by pediatric clinicians, but they must be refined to track more complex measures, including care coordination.

Publication Details
Publication Date:
December 1, 2009
Citation:
R. E. Jensen, K. S. Chan, J. P. Weiner et al., "Implementing Electronic Health Record-Based Quality Measures for Developmental Screening,"
Pediatrics
, Oct. 2009 124(4):e648–e654.
Experts
Johns Hopkins Bloomberg School of Public Health, Associate Professor in the Department of Health Policy and Management
Johns Hopkins Bloomberg School of Public Health, Professor of Health Policy and Management