Synopsis
A new study identifies lessons learned by organizations that help small physician practices adopt and use electronic health records (EHRs), providing important insight for a new $643 million federal initiative to create a program of regional extension centers that will help practices convert to EHR technologies to improve patient care and safety.
The Issue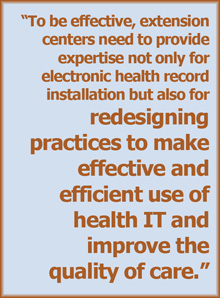 For the U.S. health care system to harness the power and potential of health information technology, the nation's small medical practices — where most physicians work — must adopt and use electronic health records (EHRs). Small practices, however, are less likely than large medical groups to have the resources to purchase health information technology (IT) systems or the capacity to select and install a system, redesign clinical practice, and incorporate quality improvement methods. The American Recovery and Reinvestment Act (ARRA) of 2009 addresses this problem, in part, by making available about $643 million to create a program of regional extension centers that would provide technical assistance to small medical practices (i.e., those with 10 or fewer professionals). To learn how extension centers can be most effective, the authors of this study reviewed 29 existing programs around the country that assist physician practices with EHR adoption and use.
Key Findings
Current programs providing health IT assistance form one-on-one relationships with practice clinicians and staff to overcome implementation barriers — such as lack of technical expertise, isolation, and practice disruption — and to increase odds of successful practice transformation.
Practice consultants need direct experience with small practices, the technical expertise to manage relationships with vendors, knowledge of software implementation, and know-how around work-flow change and quality improvement methods. Program leaders warned of a shortage of such individuals and remain concerned about finding sufficient qualified staff.
A significant barrier to successful implementation and use of health IT is underestimating the effort and upheaval that accompany implementation.
Most assistance programs can provide only limited help with selecting software and hardware, yet this is a critical decision for practices.
Practice redesign and quality improvement methods are integral to using health IT to its full capabilities. Program leaders stressed addressing practice redesign prior to, or simultaneously with, health IT implementation.
Addressing the Problem
New health IT assistance programs created under ARRA would be well served to combine practice redesign and quality improvement methods with EHR implementation support. The researchers also note it will be critical for regional health IT extension centers to help practices set realistic expectations about the implementation and funding available through ARRA incentive payments, which target "meaningful use" of EHRs — including electronic prescribing and quality reporting — and improving individual and population health. But the sustainability of regional extension centers, beyond ARRA's temporary funding, is in question, say the authors. With ARRA funding, regional extension centers will be operating on a much larger scale (i.e., supporting more practices with far fewer resources per practice) than have prior programs. The authors note that the Agency for Healthcare Research and Quality's Health Information Technology Program Resource Center will play a critical role in helping primary care physicians successfully make meaningful use of EHRs.
About This Study
The authors surveyed 29 initiatives that help smaller medical practices adopt and use EHR technology, including some regional extension centers. They obtained information from program leaders, Web sites, and published reports.
The Bottom Line
To be effective, extension centers must provide physicians with expertise on redesigning their practices so they are able to make effective and efficient use of health information technology.
Publication Details
Publication Date:
April 6, 2010
Author:

Phyllis Torda, Esther S. Han, M.P.H., and Sarah Hudson Scholle, Dr. P.H.
Citation:
P. Torda, E. S. Han, and S. H. Scholle, "Easing the Adoption and Use of Electronic Health Records in Small Practices," Health Affairs, April 2010 29(4):668–75.
Experts
Vice President for Product Development, National Committee for Quality Assurance