Synopsis
Vermont's newly passed single-payer health care law will produce annual savings of 25.3 percent compared with current spending, cut employer and household spending by $200 million, create 3,800 jobs, and boost the state's overall economic output by $100 million, according to this Commonwealth Fund–supported analysis in Health Affairs.
---
Background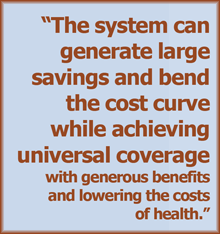 Vermont is the first state to enact single-payer health care legislation, successfully navigating the competing interests of businesses, providers, and the public while overcoming legal constraints and limited state budget resources. The law, which passed in May 2011 and is expected to become operational in 2015, creates a public–private, single-payer system financed through payroll taxes and offering a generous standard benefit package. The authors of this article, who were among the experts providing recommendations to the state, provide estimates of savings, costs, and impacts on employers and families, using financial statements from hospitals and insurers, all-payer claims data, and other sources.
---
Key Findings
When fully implemented, Vermont's single-payer system is expected to lower health care spending levels by 25.3 percent. The anticipated savings after 10 years would result from lower administrative expenses (7.3%), reduced fraud and abuse (5%), greater integration of the delivery system (10%), and malpractice reform (2%), among other sources.
In 2015, the program's first year, savings will total $580 million, the authors estimate. Moving providers to a uniform payment rate will save an additional $56 million.
Achieving universal coverage is expected to cost the state $252 million in 2015. The authors project additional costs to recruit providers and update facilities.
Employer spending will drop by $100 million by 2016, or $260 per employee. Vermont employers that now offer coverage to their workers would see a decrease of $1,429 in the cost of health benefits per employee. Employers not offering health insurance will see costs increase by $1,422 per employee.
The net benefit to households is estimated at $100 million in 2016, or $370 per household. Households below 133 percent of the federal poverty level would see a net gain of about $500; those between 133 percent and 400 percent of poverty would see gains of $1,100.
The new system is expected to create about 3,800 new jobs in 2015.
The reform will increase Vermont's total economic output by more than $100 million in 2015.
In 2015, the total tax rate required to finance the system will be 14.2 percent of the adjusted payroll, with employers paying 10.6 percent and employees paying 3.6 percent.
---
Lessons for Other States
Although Vermont's new system might not be politically viable elsewhere in the United States, the authors contend that its experience holds two important lessons for other states. First, states must have a "credible and convincing plan when fortuitous political windows appear," they argue. In Vermont's case, this included strong grassroots support for single-payer health care, a state legislature controlled by Democrats, and a Democratic governor elected on a single-payer platform. Second, states can adopt components of Vermont's plan even if political opposition to a single-payer plan appears insurmountable. These components include: 1) a comprehensive all-payer claims database, with records from all private payers and from Medicare and Medicaid, to help reduce fraud and abuse; and 2) a "single-pipe" system of payment, with uniform payment methods and rates, as well as uniform claims processing, to reduce administrative inefficiencies.
---
The Bottom Line
Vermont's single-payer health care system is expected to lower health care spending by 25 percent, cut employer and household health care costs, create jobs, and boost the state's economic output.
Publication Details
Publication Date:
July 7, 2011
Author:

William C. Hsiao, Ph.D., Anna Gosline Knight, Sc.M., Steven Kappel, M.P.A., and Nicolae Done
Citation:
W. C. Hsiao, A. G. Knight, S. Kappel et al., "What Other States Can Learn from Vermont's Bold Experiment: Embracing a Single-Payer Health Care Financing System," Health Affairs, July 2011 30(7):1232–41.