Improving the health status of minority Americans and ensuring access to good-quality, culturally appropriate care requires trained, dedicated physicians willing to take on leadership roles within local communities, at the state and national level, and beyond. Since 1996, the Commonwealth Fund/Harvard University Fellowship in Minority Health Policy has played an important role in addressing these needs. Under the direction of Joan Reede, M.D., M.P.H., M.S., Harvard University's first Dean for Diversity and Community Partnership, the fellowships have provided young physicians with an intensive year of graduate work at the Harvard School of Public Health or John F. Kennedy School of Government, as well as special program activities—all with an emphasis on minority health issues. Forty-two fellows have successfully completed the program and accepted positions within federal health agencies, academic and community health centers, and health departments.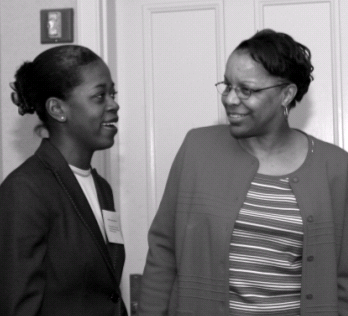 Joan Reede, M.D., M.P.H., M.S. (right) directs the Commonwealth Fund/Harvard University Fellowship in Minority Health Policy.
Your medical background is in pediatrics and child psychiatry. How did you become interested in minority health policy and in launching a fellowship program?
Joan Reede:
Before I arrived at Harvard, I worked in community health centers, juvenile prisons, and public schools in the Boston area. These experiences really exposed me to the health issues that particularly affect minority and inner-city communities. And then several years ago, [Commonwealth Fund president] Karen Davis noted that in discussions about health policy—particularly policies that affect minorities—often there were no people of color at the table. She and other members of the Fund approached me, and we started talking about the need for training programs to prepare people of color for leadership roles. Next we held focus groups and examined what kind of need was out there.
What did you find from this research?
Reede:
We found that there clearly was a need to train minority physician leaders. While the proportion of minority physicians is now at 6 percent, this is nowhere near population parity. Many of the minorities that do go into medicine go into clinical practice. But there's been less emphasis on minorities moving into policy and faculty positions. Also, lack of mentoring is a problem. For most careers, advancement requires making connections, building networks, getting the right support. So in addition to formal coursework, our fellowship aims to connect people of color to leaders in the field.
How has the fellowship program evolved?
Reede:
It's definitely become better known over the years. I've found that individuals still in medical training are starting to look ahead to the fellowship. Those who want to address health disparities think of the fellowship as a way to do it.
What do fellows tell you they've gained from the program?
Reede:
The program is built in such a way that fellows write papers together, teach each other, and make connections across multiple years, so they forge an internal support system. For many of the them, it's one of the first times they've had the chance to talk about minority health issues, leadership issues…the challenges of being a person of color in medicine.
How has the program helped shape fellows' career paths?
Reede:
It seems to open up their sense of what's possible. In medical school, if they're interested in health policy they might think, "I could be an academic, or health commissioner, or surgeon general." For example, one of our fellows is leaving for the Centers for Disease Control and Prevention as an Epidemic Intelligence Service Officer. Another fellow recently hosted a conference on measuring health care quality for American Indians and Alaska Natives. Another leads California's efforts in quality improvement related to pediatric asthma care. Coming into the program, the fellows all have a strong commitment to social change and the elimination of racial disparities. And I think it's pretty clear from their initial career trajectories that they have much to contribute.
Spring 2003