By Karen Davis
At a time when most Americans favor an overhaul of the health care system, it's important to look closely at what other countries are getting right. A growing number of health care stakeholders, including policymakers and insurance industry officials, are recommending that we look across the Atlantic to explore the health systems in countries that cover all of their citizens.
The Commonwealth Fund's 2007 International Health Policy Survey released in October—our 10th annual international survey—reveals that, while no one health system provides an ideal model, we have much to learn from the other countries. The complete results of the survey of 12,000 adults in Australia, Canada, Germany, the Netherlands, New Zealand, the United Kingdom, and the United States were published as a Health Affairs Web Exclusive authored by Cathy Schoen, Robin Osborn, Michelle M. Doty, Meghan Bishop, Jordon Peugh, and Nandita Murukutla.
Affordability
The survey found that financial barriers prevent many U.S. adults from getting the care they need. Thirty-seven percent of all U.S. adults surveyed skipped medications, did not see a doctor when sick, or did not obtain recommended care because they could not afford it. Despite going without care, 30 percent of U.S. adults reported paying more than $1,000 in out-of-pocket medical costs in the last year. By contrast, only 5 percent of adults in the Netherlands and 8 percent in the U.K., reported problems accessing care due to costs. And only 5 percent of adults in the Netherlands and 4 percent of adults in the U.K reported paying more than $1000 in out-of-pocket costs.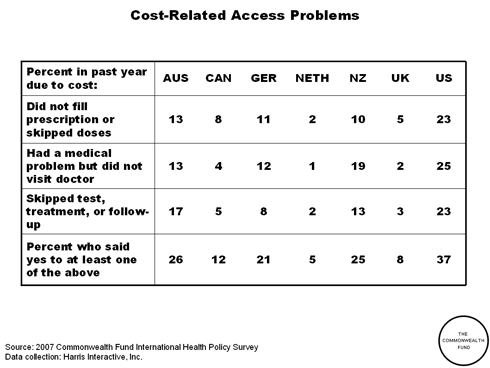 The large number of U.S adults going without coverage likely explains why so many people here forgo health care. All the countries surveyed, except the U.S., have universal health coverage. Universal coverage is achieved in different ways, however. In the U.K., for example, the government-funded National Health Service (NHS) covers everyone for a comprehensive set of benefits, including primary care, dental care, mental health care, and medications. Nonprofit and for-profit insurers also offer private insurance to supplement NHS care; about 12 percent of the population receives such coverage.
As of last January, all residents and taxpayers in the Netherlands have been required by law to purchase private health insurance. To make this possible, private health insurers must accept all residents in their coverage area—and charge everyone the same premiums for the same plans. About half of the premium is financed by taxation, and plans receive risk equalization funds to adjust for the health status of those they enroll. People with low incomes receive government subsidies to help pay premium costs. The government covers premiums for all children up to age 18.
Patient Safety and Care Coordination
U.S. adults report the highest rates of lab test errors and among the highest rates of medical or medication errors, with the most errors among those seeing multiple doctors or with multiple chronic illnesses. One-third of U.S. patients with two or more chronic conditions reported a medical, medication, or lab test error in the past two years, compared with 28 percent of patients in Canada, 26 percent in Australia, and fewer patients in the other countries. Among adults with multiple chronic conditions, error rates were lowest in Germany, at 16 percent.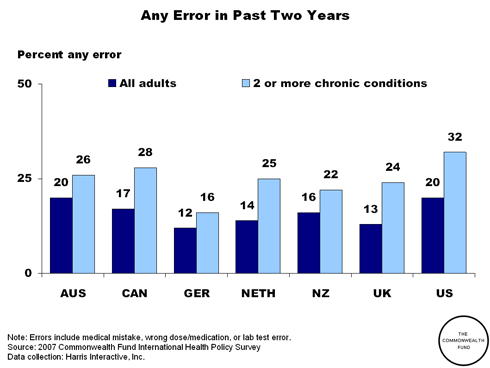 Yet, in all participating countries patient safety could be improved. To help promote safe care across countries over a five-year period, the Action on Patient Safety: High 5s initiative—supported by The Commonwealth Fund and sponsored by the World Health Organization's (WHO) World Alliance for Patient Safety—seeks to encourage the implementation of five standardized patient safety solutions, such as ensuring medication accuracy during care transitions.
Countries also differ in the extent to which patients receive support managing their chronic conditions. One innovation in Germany that may contribute to better results is its Disease Management Program for six major chronic care conditions. Preliminary results show improved control of chronic conditions and better adherence to clinical guidelines.
Access
Another factor in good care is the availability of care when you need it. While the U.S. has low waiting times for elective or non-emergency procedures, it is harder for U.S. and Canadian adults to get same-day appointments with their doctors when sick than those in most other countries. Thirty percent of U.S. adults and 22 percent of Canadians said they could make same-day doctor's appointments, compared with 55 percent in Germany, for example. In the U.S. and Canada, along with Australia, two-thirds or more patients reported difficulty getting care on nights, weekends, or holidays.
Adults in the Netherlands were much less likely to have trouble seeing their doctors during off hours. The Netherlands and Denmark both have excellent "off hours" systems of care, with nurses or physicians staffing phone banks to provide assistance. In Denmark, the phone bank is staffed by physicians that field health calls from 4 p.m to 8 a.m. The doctors listen to patients, access patient's records on the Danish health information system, and write prescriptions delivered electronically to pharmacies. These doctors then e-mail patients' usual doctors about the transaction.
The survey also showed that having a regular place of care that provides accessible, coordinated care—known as a medical home—can improve wait times and limit emergency room use. In fact, the authors conclude that, no matter what kind of health system you have, medical homes will improve patient safety and satisfaction, as well as efficiency and care coordination. Yet, across countries, only 50 to 60 percent of adults have access to a medical home, suggesting that strengthening primary care is a shared challenge.
Rather than caricature the health systems in other nations, we should evaluate their strengths and shortcomings—and use that knowledge to create a high-performing health system in the United States.
As always, I'm interested in your feedback. Please e-mail me at kd@cmwf.org.

November 2007
Written with the assistance of Christine Haran.
Experts
Professor Emerita in the Department of Health Policy and Management, Johns Hopkins Bloomberg School of Public Health