Private foundations that seek to promote transformative change in the way key systems and institutions work typically pursue a number of complementary strategies. These include:
researching the causes of social problems and potential solutions;
investing in tests of promising innovations and promoting the spread of successful ones
tracking progress against improvement benchmarks; and
communicating results to advance changes in public and private policy that will support innovations and system transformation.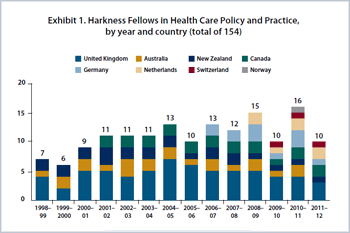 All of these strategies boil down to investments in talented and creative people. Most of the time, foundations invest in experienced professionals through individual projects that advance particular strategies. But foundations also have a long history of investing in people more overtly, through programs that seek to help launch or transform the careers of especially promising individuals. The payoff of such investments is generally expected to be long-term and not necessarily directly tied to a foundation's immediate program thrusts.
In the United States, well-known fellowship and scholars programs in the health care field include the Robert Wood Johnson Foundation's Clinical Scholars program, Health Policy Fellowships, and Executive Nurse Fellows program. Most recently, the Josiah Macy Jr. Foundation in 2010 established the Macy Faculty Scholars program to identify and nurture the careers of educational innovators in medicine and nursing. In addition to such "foundation-owned" programs, a number of foundations choose to invest in people through organizations with ongoing programs such as the National Medical Fellowships, which since 1948 has supported the training of minority physicians.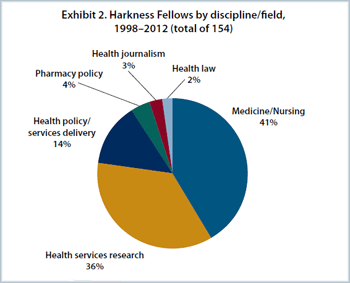 The Commonwealth Fund has a long history of investing in people through fellowship programs, beginning in 1925 with the Harkness Fellowships. In addition to this international program, the Fund has supported such individual career development activities as Commonwealth Fund Advanced Medical Fellowships (1937–70; precursor to the Robert Wood Johnson Clinical Scholars program), the Fellowship Program in Academic Medicine for Minority Students (1985–93), the Executive Nurse Fellowships program (1988–97), the Mongan Commonwealth Fund Fellowship Program (1996–present; formerly Commonwealth Fund/Harvard University Fellowship in Minority Health Policy); and the Association of Health Care Journalists Media Fellowships on Health Performance (2010–present).
This essay reports on a review of the Fund's international Harkness Fellowships in Health Care Policy and Practice program, which was undertaken in 2011 at the request of the foundation's board of directors. The findings, which draw on the foundation's long experience in conducting fellowship programs, are likely to be of interest to other organizations that support, or are considering supporting, such programs, as well as to stakeholders in fellowship programs.
To read the complete essay, download Bringing the International Experience to Bear on the U.S. Health Reform Debate: The Commonwealth Fund's Harkness Fellowships Program.
Publication Details
Publication Date:
March 5, 2012
Citation:
J. E. Craig, Bringing the International Experience to Bear on the U.S. Health Reform Debate: The Commonwealth Fund's Harkness Fellowships Program, The Commonwealth Fund, March 2012.