The number of uninsured Americans declined by 8.8 million in 2014, the first year the major insurance reforms of the Affordable Care Act (ACA) took effect, according to new federal survey of 98,000 adults released by the U.S. Census Bureau today. Using data from the Current Population Survey (CPS) the Census reported that 10.4 percent of the U.S population, or 33 million people, were uninsured in 2014, down from 13.3 percent in 2013. The estimates match similar declines found by recent federal and private surveys, providing further evidence the law is having its intended effect of reducing the number of Americans who lack health insurance.
A New Insurance Question and a Break in the Trend. The uninsured estimates in the annual March supplement to the CPS have long been the most widely reported measure of health insurance coverage in the United States. Over the supplement's history, the Census has periodically adjusted its question on health insurance to improve estimates. In 2013 the Census implemented a near full replacement of its question, and thus it only reports estimates for the time periods covered by the new question: 2013 and 2014. The pre-ACA year, 2013, has become the Census's new benchmark estimate for measuring the effects of the ACA.
Millions More Americans Are Buying Coverage on Their Own or Have Medicaid. Because of the ACA's new subsidized sources of insurance, substantially more Americans have health insurance that they buy on their own in the ACA marketplaces or directly from insurance companies, or through Medicaid. Between 2013 and 2014, the number of people under age 65 with coverage that they purchased on their own rose from 23.7 million to 33.9 million (Exhibit 1). More than 58 million people under age 65 now have coverage through Medicaid. There has been little change in the number of people under age 65 who have health insurance through an employer, which remains the major source of coverage in the United States.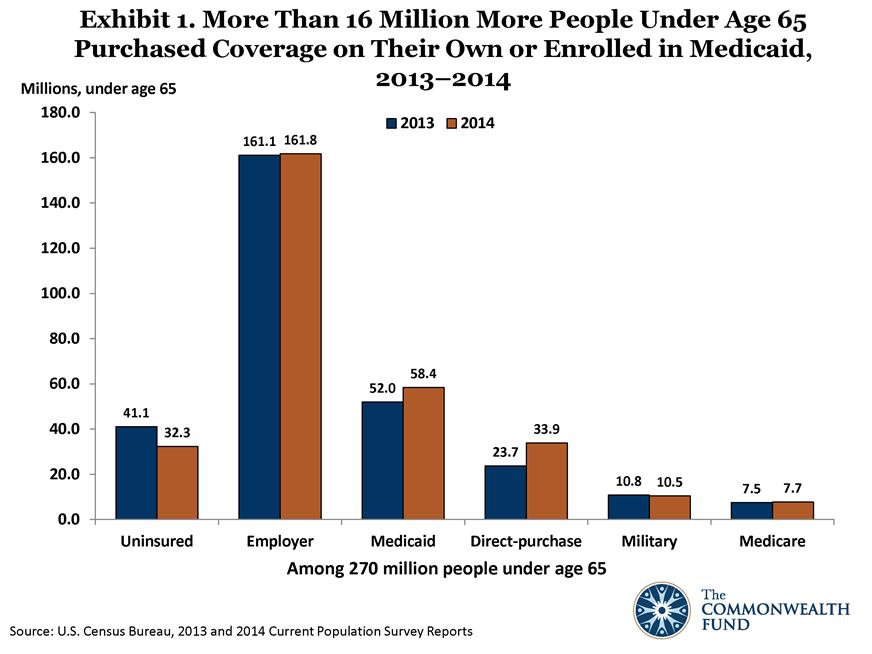 Uninsured Rate Drops Among People Working Less than Full Time. Prior to the ACA's coverage expansions, people who worked less than full time were at high risk of lacking health insurance, since they were less likely to have coverage through an employer. The law's new subsidized coverage options have likely helped this group. Between 2013 and 2014, the uninsured rate among workers ages 18–64 who are employed less than full time fell by more than 6 percentage points, from 24 percent to 17.7 percent (Exhibit 2).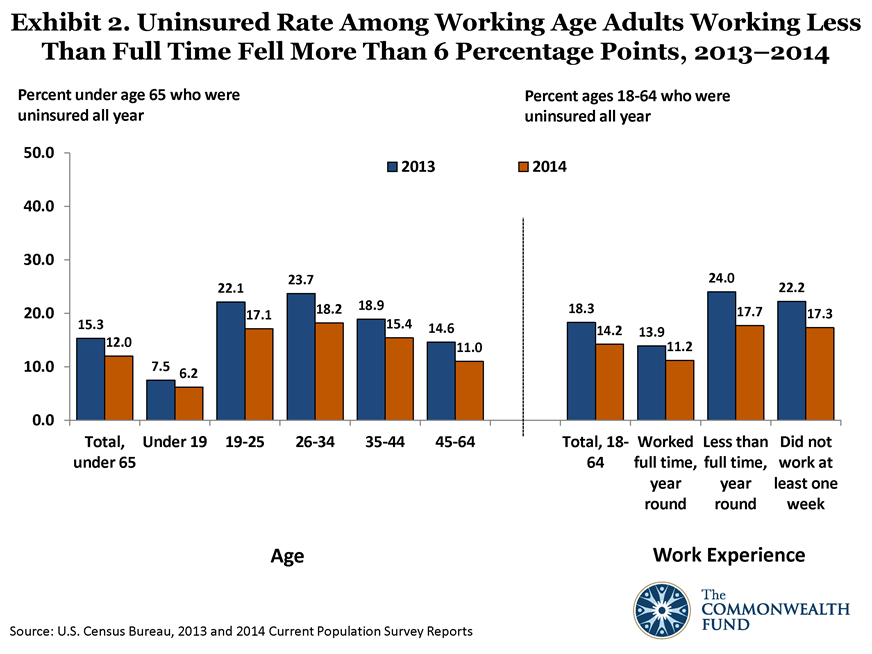 Those Most at Risk of Lacking Health Insurance Are Making Strong Gains. Uninsured rates declined across all age groups, with the greatest gains among young adults. The number of uninsured 19-34 year olds fell by 3.5 million in 2014. The new coverage options also benefited other groups at high risk of lacking health insurance: adults with low- and-moderate incomes, African Americans, and Latinos (Exhibit 3).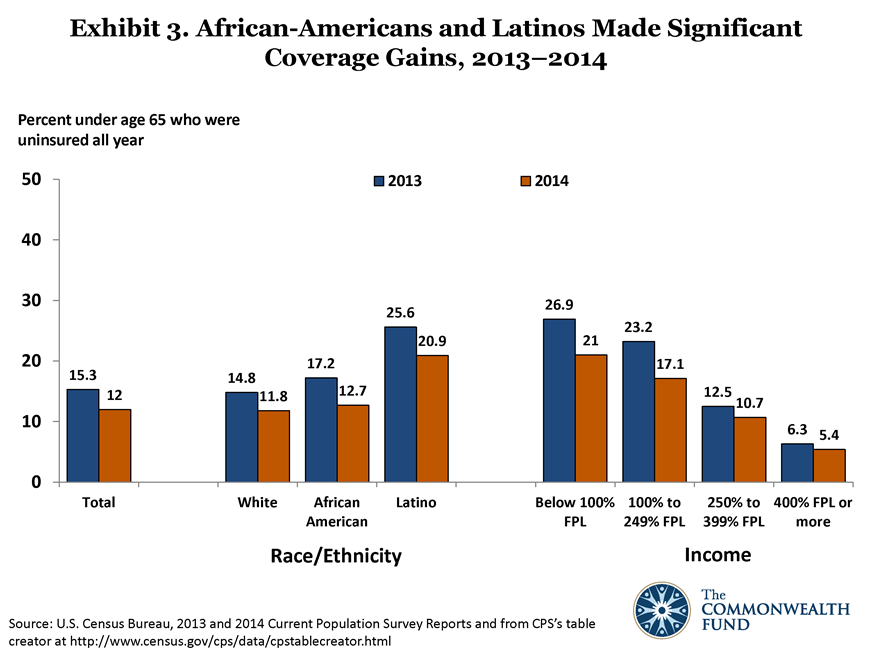 Majority of States with Above-Average Uninsured Rates Have Not Expanded Medicaid. The Census also released new data from the massive American Community Survey of 3.5 million people, which provides estimates of health insurance coverage at the national, state, metropolitan, and county levels, and by congressional district. The data show dramatic improvements in health insurance coverage across all states in 2014 (Exhibit 4). In 2013, 19 states had uninsured rates of more than 14 percent; in 2014 that number fell by nearly half, to 10 states. In the 26 states that had not expanded eligibility for Medicaid under the ACA as of January 2014, uninsured rates exceeded the national average in 16 of them. Since that period, six states moved forward to expand their programs.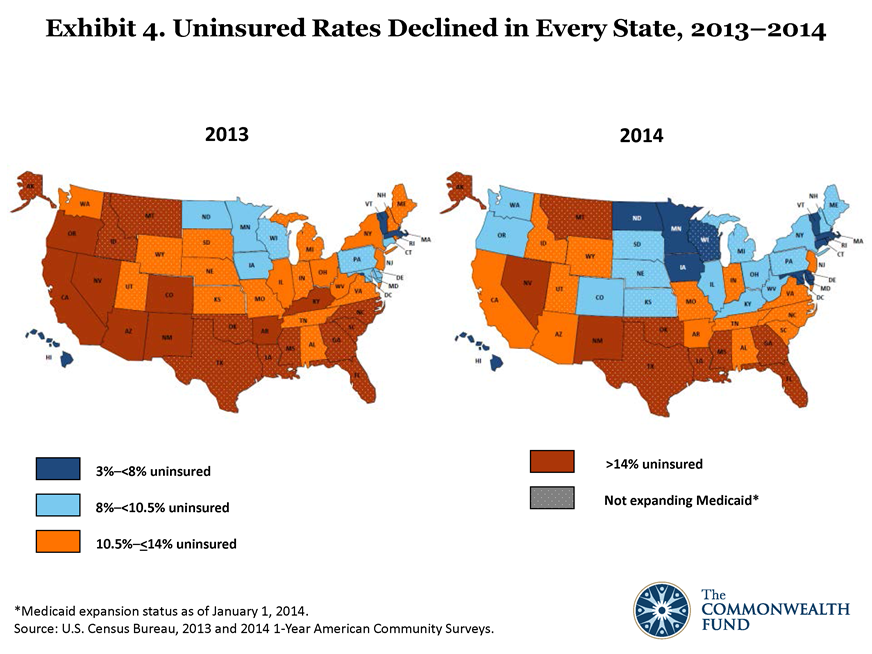 Looking Forward
The third open enrollment period for the ACA's health insurance marketplaces begins on November 1, 2015, for coverage beginning January 2016. This is a new opportunity for the millions of Americans who still lack health insurance to shop for a plan. In addition, people who currently have insurance—either through the marketplaces or the individual market—will need to reenroll during this period if they want their coverage to continue through next year. But federal and state policymakers continue to faces challenges in helping people gain coverage. A recent Commonwealth Fund report found that fewer than half of working age adults who were uninsured between March and May of this year were aware that financial assistance available through the marketplaces, or Medicaid, could help them obtain health insurance. And today's report from the Census Bureau provides the latest evidence that some states' unwillingness to expand Medicaid is leaving millions of the poorest Americans without access to affordable health insurance and health care.