During Medicare's annual enrollment period, which runs from October 15 through December 7 each year, millions of beneficiaries compare and switch their health insurance coverage. Beneficiaries have, on average, 33 Medicare Advantage plans and 30 stand-alone Part D prescription drug plans to choose from.
Navigating these choices can be challenging for consumers. Many beneficiaries have questions, including what type of plan to select (e.g., whether to stay with traditional Medicare or select Medicare Advantage), how much it will cost, or what the process is for getting covered. A 2019 analysis from the Henry J. Kaiser Family Foundation found that 35 percent of Medicare beneficiaries reported difficulty comparing plans. Among those who report being in poor health, it jumps to 44 percent.
The complexity of the decision-making process has increased because of the COVID-19 pandemic. More than ever, beneficiaries must play close attention to the types of benefits and services provided. For example, there has been more interest in telemedicine and in-home services and less interest in gym memberships.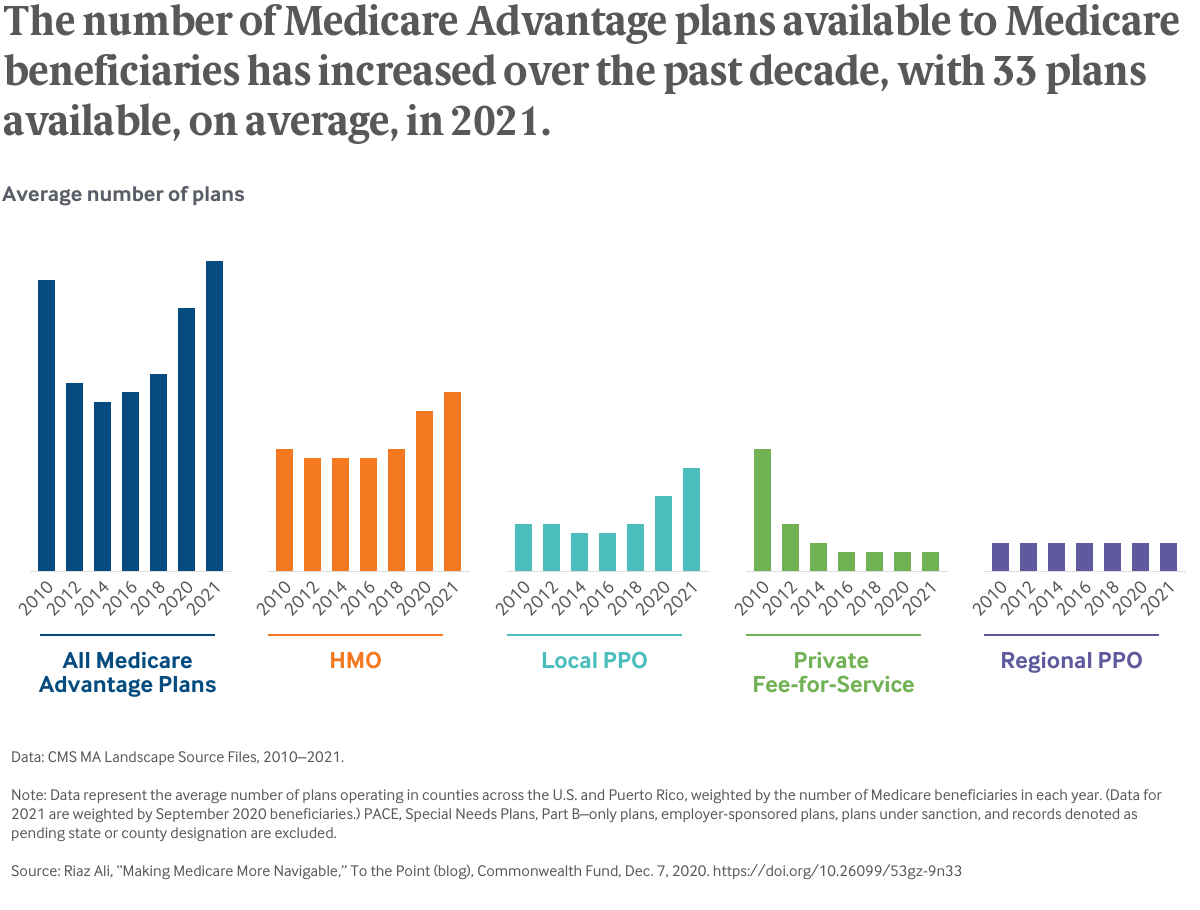 The Medicare Choice Model: Private Sector at the Heart
To help navigate the Medicare decision-making process, some beneficiaries trust in friends and family but also may turn to a wide range of public and privately sponsored resources.
The federal government, through the Centers for Medicare and Medicaid Services (CMS), operates Medicare.gov, an online tool that helps beneficiaries learn about their choices and compare options. In addition, CMS and various state authorities support State Health Insurance Assistance Programs, free community resource centers that help beneficiaries navigate Medicare with unbiased counseling. In addition, there are nonprofit efforts — for instance, from the National Council on Aging — that provide guidance and education.
However, the most prominent and well-funded efforts in this area are directly sponsored by health plans and licensed agents or brokers. Agents, who are licensed to sell certain products, contract with plans through a commission-based model that compensates them on a per-enrollment basis. This model is regulated by CMS and empowers health plans and their agents to advertise, market, and educate potential enrollees about their products.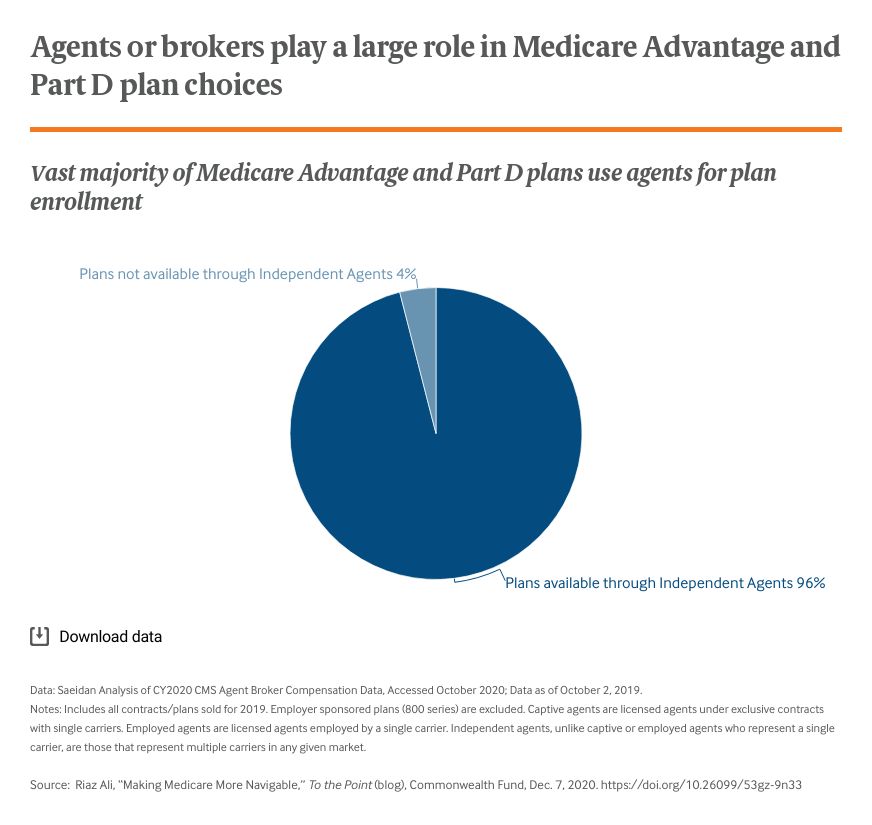 From a beneficiary perspective, agents can provide direct help in choosing a health plan. However, the products they sell are typically dictated by the plans with which they have contracts. This narrowing of choice is not immediately apparent to consumers. Moreover, given the predominance of health plan- and broker-sponsored resources, beneficiaries may not be able to find an objective, transparent resource to evaluate the quality of the agent. This may leave consumers vulnerable to poor guidance.
For agents, the commission model also may create a conflict between guiding a consumer to the optimal plan and enrolling them in a plan that offers a higher commission. In addition, with agent commissions tied solely to enrollment, there is no real incentive for an agent to support a consumer through other questions they may have about their options.
Given the persistent difficulty the Medicare decision-making process poses for beneficiaries, the fact that so much of the available information is provided by organizations with a commercial interest raises important questions for policymakers. Where should beneficiaries turn for help navigating Medicare? Moreover, what actions should policymakers consider to help ensure consumers can make a confident decision that is in the best interest of their physical and financial health, free of commercial bias?
Anticipating the Growing Role of Digital Service in Medicare Guidance and Enrollment
Even before the COVID-19 pandemic, consumers were choosing to make more decisions online. According to a 2019 Boston Consulting Group report, 22 percent of people ages 60 to 70 said they wanted to be able to sign up online directly for a Medicare Advantage plan. While online resources are emerging in tandem with this demand, a recent report on aging in place by Rock Health highlights the need for tools and resources for the Medicare population, particularly as it relates to plan choice. This surge in online services further underscores issues around the transparency and objectivity of the information to which beneficiaries have access, especially with the advent of targeted online advertisements.
Looking Ahead
According to the Congressional Budget Office, by 2030 there will be 80 million people on Medicare. These consumers need transparency to understand when financial incentives may be guiding the recommendations they receive. Ideally, CMS would lead the way and redesign Medicare.gov in a way that would allow beneficiaries to easily evaluate and comprehensively compare their private plan options. Short of that ideal, policymakers could consider ways to cultivate information on agent quality, such as providing a rating of customer satisfaction. This could serve as the foundation for a shift to a broker model predicated on performance rather than volume. Additionally, as the majority of Medicare resources are sponsored by commercial organizations, policymakers also should explore ways to expand support of nonprofit and government programs to ensure that more beneficiaries can find, access, and utilize these services.