The American Rescue Plan Act (ARPA) has led to record-high marketplace enrollment and significant savings for millions of consumers. But the law's enhanced marketplace subsidies are set to lapse at the end of the year. Congress is considering whether to extend the subsidies, but the clock is ticking. Though open enrollment does not begin until November 1, insurers, regulators, and marketplace officials are already preparing for 2023.
If Congress does not act by August, changes will be more challenging to implement and could lead to disruption and consumer confusion. If Congress does not act at all, millions of consumers will face premium shock this fall, just ahead of the midterm elections.
American Rescue Plan Act Increased Coverage and Affordability
The ARPA increased the affordability of coverage for 2021 and 2022 by extending marketplace subsidies to middle-income people and increasing the generosity of subsidies for people with lower incomes. These enhanced subsidies contributed to record-high marketplace enrollment (14.5 million people in 2022) as net premiums and out-of-pocket costs fell significantly.
ARPA subsidies have been especially critical for middle-income people, including older Americans (ages 50 to 64) and those living in rural areas where premiums tend to be high. Under the Affordable Care Act, people with income that exceeds 400 percent of the federal poverty level (approximately $106,000 for a family of four) were not eligible for marketplace subsidies, leaving many middle-income families with very high premiums. By eliminating this "subsidy cliff," the ARPA provided middle-income families with financial help if premiums exceed 8.5 percent of their household income. As a result, enrollment by middle-income consumers increased by 4 percentage points from 2021 to 2022, rising to 1.1 million people.
Sunset of Enhanced Subsidies Will Lead to Premium Shock
These gains notwithstanding, the ARPA subsidies will expire on December 31, unless extended by Congress. If not, 13.3 million people would face premium hikes or coverage losses. Of these, more than 3 million would become uninsured; millions more would see premiums double.
Higher costs would vary both by income and state. Premiums would be about $500 more per person for those with the lowest incomes to more than $2,000 for those with higher incomes. Middle-income families would once again be left without premium assistance. For instance, premiums would increase by 165 percent for the average 60-year-old with an income of about $51,000.
Given these consequences, there is broad support for extending the enhanced subsidies. Physicians, hospitals, and insurers, for instance, joined together to call for an extension, citing the need to protect families from premium shock at a time of rising inflation. The National Association of Insurance Commissioners, urging action by July, emphasized that failing to extend the enhanced subsidies will "roil insurance markets." Members of Congress and consumer and patient advocates, among others, also have called for an extension.
Timing Matters to Avoid Disruption
The marketplaces are no stranger to uncertainty. From being forced to adjust to shifting federal priorities on the Affordable Care Act to swiftly implementing the ARPA subsidies, regulators and marketplace officials have proven nimble in adjusting to federal changes. These stakeholders will undoubtedly work hard to implement enhanced subsidies at any time. But, given existing deadlines and approval processes, Congress risks significant disruption and higher premiums by not extending the ARPA subsidies as soon as possible.
Rate Review Process
The months-long process to develop and finalize marketplace rates has already begun. Given state and federal deadlines, insurers and regulators will make their most significant decisions about rates by the third quarter of 2022.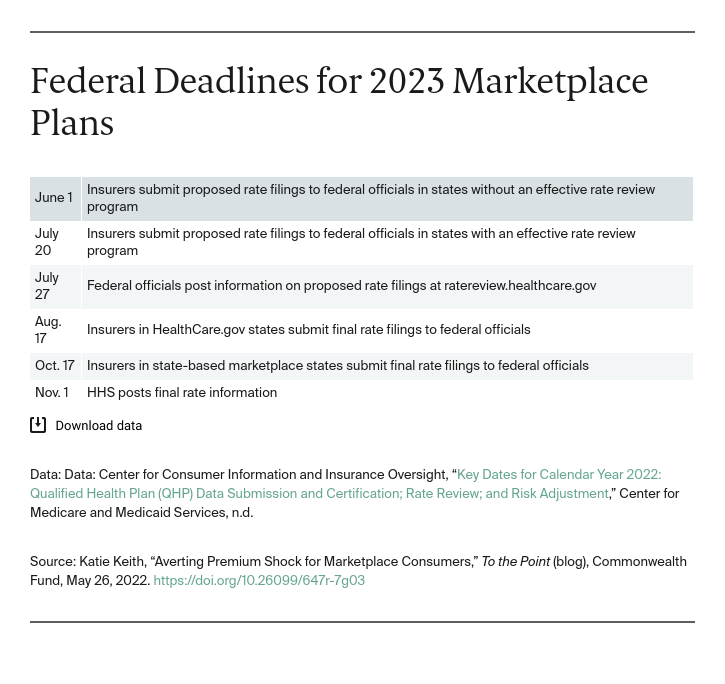 In the face of uncertainty, some states instructed insurers to assume that ARPA subsidies will not be extended for 2023. This will lead to higher premiums as insurers assume that the marketplace will have a sicker risk pool in 2023 because healthier people would leave the market.
Other states have asked insurers to file two sets of rates to reflect an ARPA subsidy extension or not. A similar strategy was used in 2017 to address concerns about whether the Trump administration would continue making cost-sharing reduction payments to insurers. Dual rate filings meant premiums could be updated swiftly, but this mitigation effort can lead to consumer confusion. Importantly, dual rate filings will be useful for ARPA subsidies only if Congress makes no other changes to the subsidy structure.
Outreach to Consumers
Once rates are finalized, the marketplaces use this information to identify the benchmark plan and calculate consumer subsidies. Marketplaces then begin the redetermination and renewal process, with notices sent by some state-based marketplaces beginning in early fall.
Insurers also notify enrollees of premium changes beginning in September. This written notice must be provided before the beginning of the open-enrollment period, meaning that insurers must compile and print these letters before that. If those notices must be amended to reflect an extension of ARPA subsidies after the process has begun, there may be delays in consumer outreach. If notices have already been sent to consumers, marketplaces may then have to send a second renewal notice regarding higher premium tax credits. These disruptions would generate significant confusion and potentially coverage losses even if Congress later extends the ARPA subsidies.
Conclusion
The marketplaces remain resilient and adaptable. Extending enhanced ARPA subsidies sooner rather than later can avoid consumer confusion and implementation burdens on insurers and regulators. If Congress fails to extend the subsidies altogether, millions may be saddled with higher premiums at a time of record-high inflation.