During its first year, the Biden administration adopted several high-priority federal administrative policy changes to enhance the Affordable Care Act (ACA) and the Medicaid program; it is poised to adopt more changes this year. This post reviews the policies adopted during 2021 and discusses changes expected in 2022. Among other new rules expected, the Biden administration has indicated it will fix the so-called family coverage glitch, which has barred millions of people from receiving marketplace premium subsidies and been criticized for unfairly penalizing low-income families.
Progress Made in 2021
To date, the Biden administration has adopted seven of 13 high-priority federal administrative policy changes. These policies were identified based on a review of nine publicly available recommendations made to the Biden–Harris presidential transition team from patient and consumer advocates, health insurers, hospitals, physicians, state marketplace officials, and state insurance commissioners.
Top recommendations included increasing funds for outreach and enrollment, fixing the family glitch, restricting the sale of health plans that don't comply with ACA consumer protections (e.g., short-term plans), and revisiting whether states can waive certain ACA requirements under the section 1332 innovation waiver program. These recommendations were consistent with the Biden administration's stated policy goals of expanding access to marketplace coverage and Medicaid and advancing health equity.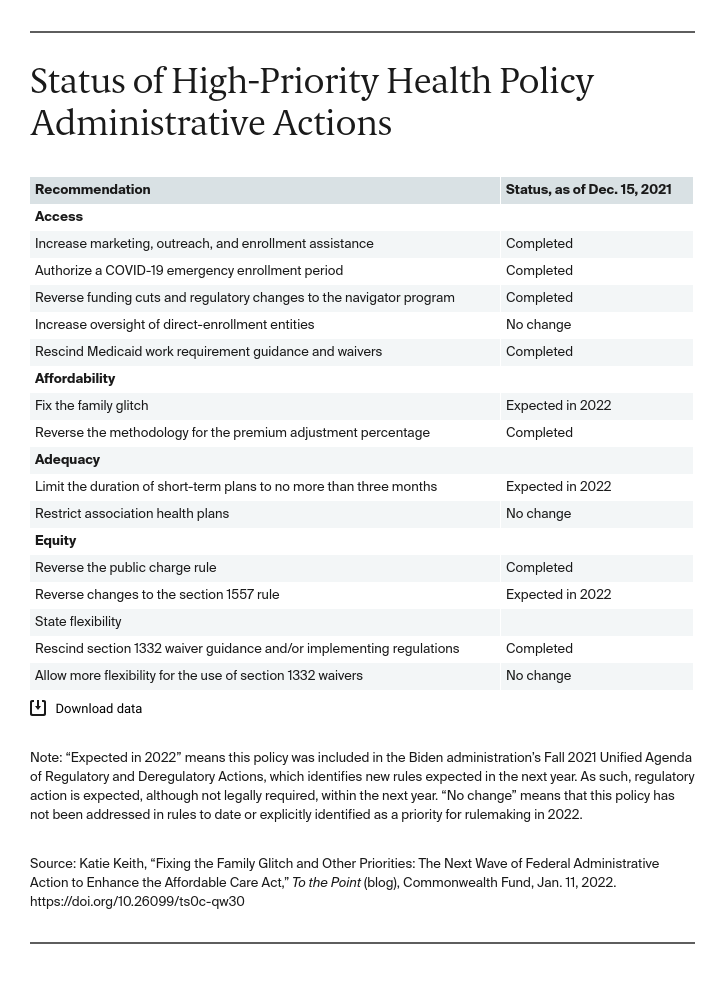 Some 2021 policies were adopted through operational changes and did not require new rulemaking. These include authorizing a COVID-19 special-enrollment period for the marketplaces and an influx of dollars to increase consumer awareness of the marketplaces and help people enroll. These investments proved successful: more than 2 million people enrolled in marketplace coverage during the special-enrollment period.
Other completed policies, such as reversing a Trump-era change to the methodology for annual increases in premium growth, were included in a spring 2021 rule. That rule was proposed under the Trump administration but finalized by the Biden administration, which was able to make some narrow changes.
Federal officials made more significant changes in a separate rule in the summer of 2021 that rescinded Trump-era section 1332 waiver interpretations making it easier for states to skirt ACA consumer protections, extended the annual open-enrollment period by one month, reversed the double-billing rule (which would have required separate bills for premiums for abortion-related coverage and all other covered health care services), and created a new special-enrollment period for qualifying low-income people.
What Comes Next
Where will the Biden administration focus in 2022? The Office of Information and Regulatory Affairs released its regulatory plan and unified agenda on December 10, which highlights priorities and identifies new rules expected in the next year. While federal officials are not legally required to adhere to the unified agenda, it is a strong indicator of the policies the Biden administration will pursue.
The 2021 unified agenda suggests the administration will pursue at least an additional three of the 13 high-priority federal administrative policy changes, including:
These changes would help improve the affordability and adequacy of coverage and promote health equity. Fixing the family glitch alone could extend marketplace subsidies to an estimated 5.1 million low-income people — more than half of whom are children — who do not currently qualify for financial help, even under the American Rescue Plan. Limiting the availability of short-term plans, which discriminate against people with preexisting conditions, would help protect consumers and strengthen the individual market. Reversing rules to implement section 1557 of the ACA, the law's primary nondiscrimination provision, could bolster language access, explicitly protect LGBTQ people from discrimination, and advance racial equity.
The proposed timeline for the family glitch rule (fall 2021) has passed but it could come soon. The section 1557 rule is anticipated in April 2022, and the short-term plan rule is slated for August 2022.
The unified agenda also refers to several additional ACA and Medicaid policy changes, including revisiting exemptions to the contraceptive mandate and streamlining eligibility and enrollment processes for Medicaid and the Children's Health Insurance Program (CHIP) to maximize enrollment and continuous coverage. Those are expected by February and April 2022, respectively. It remains to be seen whether, and if so, when, the Biden administration will take up the remaining three high-priority policies identified above.