Given the urgency of ensuring necessary health care during the COVID-19 pandemic, the Families First Coronavirus Response Act (FFCRA) established a continuous Medicaid enrollment safeguard that began on March 20, 2020, and will cease when the federal government declares that the public health emergency (PHE) has ended. But ending continuous enrollment and returning to normal Medicaid operations are fraught with the risk of erroneous coverage loss for millions.
On March 3, 2022, the Biden administration issued updated guidance that lengthens the time period for states to resume normal operations. The goal is to avert a too-rapid return to normal that may elevate the risk of incorrect and unlawful eligibility terminations because of outdated information or a lack of understanding by beneficiaries of how to navigate the renewal process.
FFCRA's continuous enrollment guarantee covers all Medicaid beneficiaries. Throughout the pandemic, this guarantee has stabilized coverage and access to care. But normal Medicaid operations require periodic eligibility reviews, which must begin again, and restarting this process for tens of millions of people all at once is an enormous task. The new guidance emphasizes the importance of proceeding with care. States would have up to 14 months after the end of the emergency period to restore the redetermination process, although the guidance does not bar states from following a more rapid wind-down schedule. States may be tempted to do so since FFCRA's special enhanced Medicaid funding would end when the PHE does. Legislation pending in Congress would use a 12-month wind-down cycle with slightly enhanced federal funding only for the first few months, thus mitigating but not eliminating the incentive to wind down quickly. Making the 12-month process mandatory, rather than optional, and providing federal funding enhancements throughout the period could help support states in providing a careful and accurate process. However, these steps can only be accomplished through congressional action.
A closer look at the health status of Medicaid beneficiaries underscores the dangers of wind-down errors. As the tables below show, Medicaid beneficiaries have poorer health status than the general population, which is associated with a greater need for health care. Medicaid is structured to ensure that the need for care translates into access and utilization. Medicaid eligibility itself is frequently tied to higher health care needs — because of disability, age, or pregnancy, for instance. The tie between eligibility and need for care is further intensified by the fact that, unlike private insurance, Medicaid allows people to enroll when they need care, which may be when they are sickest. A broad set of benefits and low cost sharing further encourage use of care.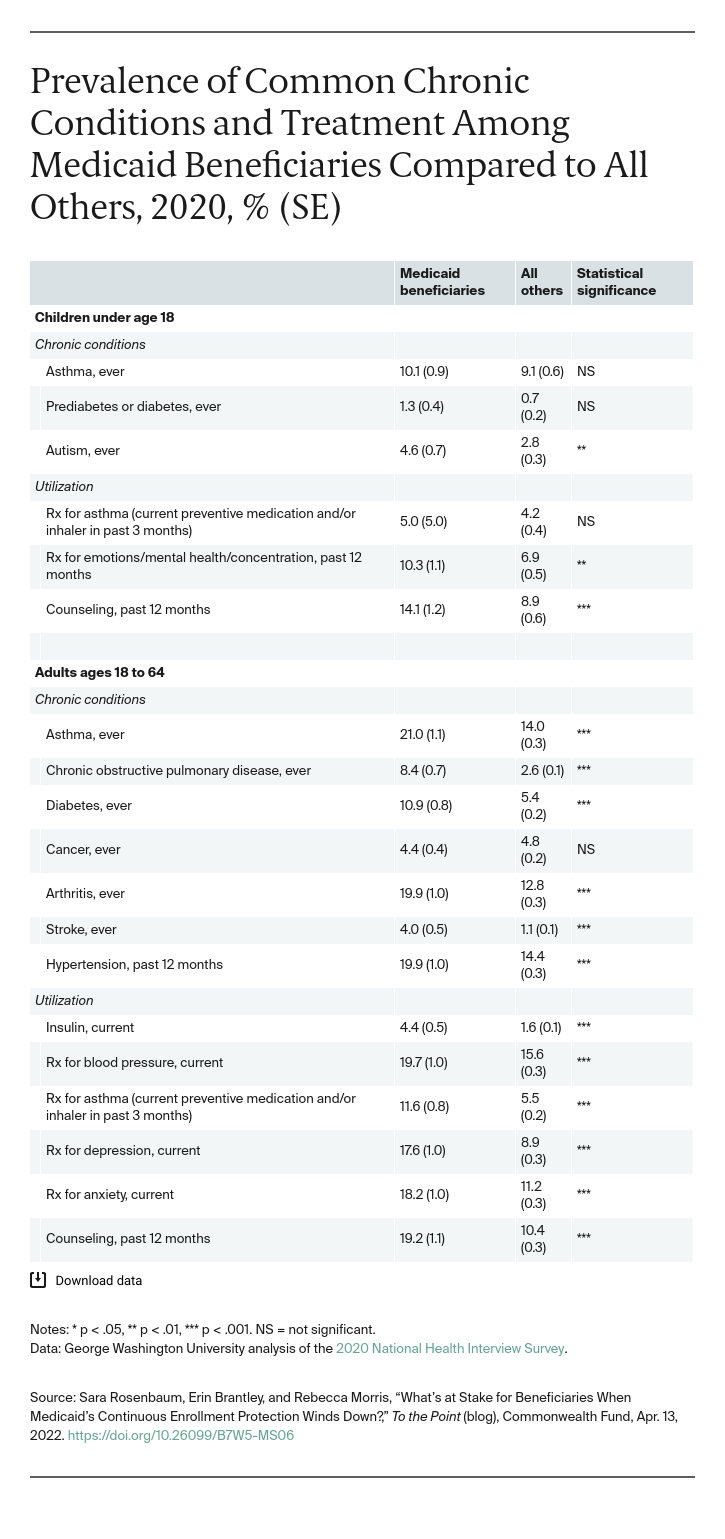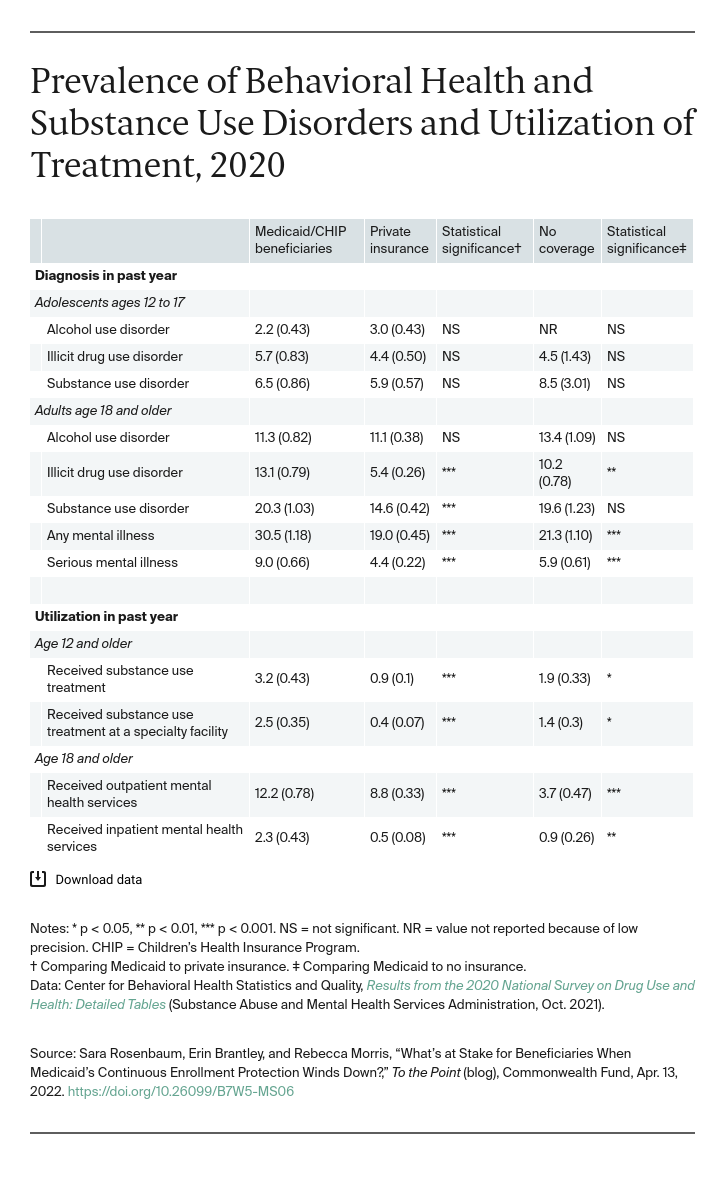 These increased health risks and need mean that at every age group, Medicaid beneficiaries use more health care than the general population. Medicaid-enrolled children are more likely to be diagnosed with autism and to use medication and counseling to treat mental health conditions. Medicaid-enrolled adults are more likely to have asthma, chronic obstructive pulmonary disease, diabetes, and other chronic conditions. Consistent with their higher health risks, adult Medicaid beneficiaries are more likely to depend on insulin and medications to manage chronic physical and mental health illnesses.
Adult Medicaid beneficiaries are also more likely than those privately insured to have a substance use disorder (SUD) and twice as likely to have a serious mental illness. Medicaid beneficiaries are more likely to receive SUD treatment and inpatient mental health services compared to the privately insured. In 2019, Medicaid paid for the care of 49 percent of people age 12 and older who received SUD treatment at a specialty facility.
The Urban Institute predicts that about 15 million beneficiaries will lose coverage in the first six months after the redetermination process resumes. Losses may be even higher if the process is rushed and prone to error. This may be especially true for the highest-risk beneficiaries who have difficulty navigating the renewal process. People losing Medicaid may have no other source of affordable coverage if they lack jobs with health benefits or are too poor to qualify for subsidized marketplace plans, which require poverty-level income. Coverage losses likely will be highest in the 12 states that have not yet expanded Medicaid, where comparatively few adults have an eligibility pathway.
The risk of coverage loss is a problem that always has confronted Medicaid beneficiaries and the providers that serve them. But the care disruption risk raised by the populationwide redetermination review that will follow the end of the public health emergency will be of unprecedented scale; an intense focus on easing the process is more than warranted.