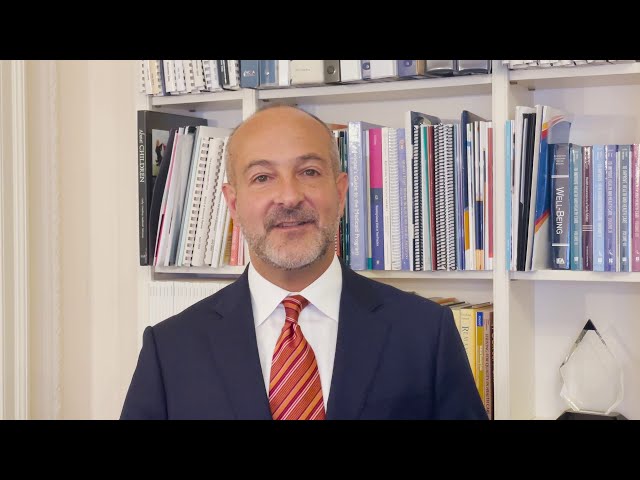 Enhance the common good.
Rethink old ways, experiment with fresh ideas, take chances.
Establish a base of scientific evidence on what works, mobilize talented people to transform health care organizations and policies, and collaborate with those who share our concerns.
Do something for the welfare of mankind.
The Commonwealth Fund was built on these principles. They led to the funding of public health departments at the turn of the 20th century and the construction of rural hospitals; to the development of new U.S. medical schools in the 1960s; to addressing doctor shortages and meeting the needs of communities that lacked health care services; and to conducting the research that is foundational to the reforms in the Affordable Care Act.
These principles are meaningful to me, personally. As an alumnus of the Commonwealth Fund–Harvard University Fellowship in Minority Heath Policy, I benefitted from the vision and courage of the Fund, and its bold effort to increase the diversity of health care leaders nationally.
So, it is with a sense of honor, gratitude, and humility, along with equal parts passion, dedication, and commitment, that I take on the responsibility of shepherding the Commonwealth Fund into the future. Inspired by those who have come before me and all that has been accomplished along the way — and the potential for even greater impact in this science and information age — I understand we are called to answer the multitude of new challenges facing American health care today and tomorrow.
I step into this position with huge advantages. Dr. David Blumenthal, a national leader, mentor, and friend, leaves the Fund after a decade of incredible achievements that we can build on. The team is strong, talented, accomplished, and ready to enter this new chapter with energy and enthusiasm. Our financial position, despite the turmoil of the last few years, is stable and secure. The Fund is highly respected and widely recognized for its evidence-based, nonpartisan approach to solving today's pressing health care problems, in partnership with others. And finally, our Board of Directors brings unprecedented experience and expertise to guide us.
So what must I do to usher in this next era of the Fund? Three things: listen, learn, and lead.
As we chart our path, listening is essential. In an era in which listening is becoming a lost art, we must challenge ourselves to listen to each other and to different perspectives, and not fall prey to the echo chambers that allege there is only one way to solve a problem. We can compromise without compromising our values and instead strengthen them through collaboration and innovation. As we craft our vision, I commit to listen to my team at the Fund, experts across disciplines and across the nation, and perspectives across the political spectrum. Our ultimate goal will be to foster discovery internally, and catalyze discovery externally, which can help advance health policy, particularly for society's most vulnerable.
The future will require that we learn quickly and broadly. The health care landscape is evolving rapidly, right in front of our eyes. The pace of scientific advancement is unparalleled, fueled by investment and disruption. Moreover, there are natural experiments all around us — in health care innovations related to improving quality or achieving health equity, among others — that we must understand, evaluate, and scale when successful. As we chart our path, learning from anyone, from anywhere, should be the driving force. We must also go beyond the usual suspects, the standard bearers of information. To this, I am committed.
We must lead. There are strong forces that aim to derail leadership in favor of the status quo, special interests, or profit. Despite this, there are stronger forces driven by shared values, including a focus on what unites us and principles such as integrity, clarity, equity, transparency, and caring. In my view, this is true leadership. It will require partnership and teamwork; the challenges we face are too big for any single organization or individual. Leadership will require direct, clear communication. Shining a dispassionate light on evidence can be paired with passionate storytelling that elevates voices of those whose lives we are working to better. Leadership will require a combination of courage, tactics, and perseverance. We know change can come, but the pace can frustrate those impatient for progress. I commit to leading with integrity — to be strategic, to be driven by the urgency of now, and to center the humanity of the people we serve.
Over the months to come, I will spend time listening, learning, and leading as we expand our vision and strive for even greater impact, raising an already high bar. We will aim to expand our leadership in partnership with others to tackle deeply entrenched and thorny health care challenges. Personally, I am committed to leveraging my lived experience, everything I have learned about leadership, and a dedication to the founding principles of the Commonwealth Fund. Promoting a high-performing, equitable health care system that achieves better access, improved quality, and greater efficiency, particularly for society's most vulnerable, including people of color, people with low income, and those who are uninsured, will be my North Star.
Common good, fresh ideas, taking chances, mobilizing talent, and collaborating as we do something for the welfare of mankind all ring as true today for me as when Anna Harkness created the Commonwealth Fund more than a century ago. It is now our turn to write the next chapter — we are ready. We hope you are too.