Demographics and Health Risk Factors
1339.2
Total Population (Millions of People), 2017
6%
Percentage of Population Age 65 and Older, 2017
11.0%
Percentage of Adults Who Report Being Daily Smokers, 2017
4.0%
Prevalence of Obesity (BMI>30), 2017
Health System Statistics
$209
Health Care Spending per Capita, 2017
$136
Out-of-Pocket Health Care Spending per Capita, 2017
0.78
Number of Practicing Physicians per 1,000 Population, 2017
n/a
Hospital Spending Per Discharge, 2017
n/a
Primary Care Physicians' Use of Electronic Medical Records, 2019
By Indrani Gupta, Institute of Economic Growth, Delhi
In collaboration with Nishali Patel, Policy Fellow, International Health Systems, London School of Economics
All Indian citizens can get free outpatient and inpatient care at government facilities. Under India's decentralized approach to health care delivery, the states are primarily responsible for organizing health services. Because of severe shortages of staff and supplies at government facilities, many households seek care from private providers and pay out-of-pocket. For low-income people, the government recently launched the tax-financed National Health Protection Scheme (Ayushman Bharat-Pradhan Mantri Jan Arogya Yojana, or PM-JAY), which allows them to also get cashless secondary and tertiary care at private facilities. There are also a handful of health insurance arrangements for specific population groups like government employees and factory workers. Private voluntary insurance is available, but uptake is limited.
How does universal health coverage work?
The constitution of India obliges the government to ensure the "right to health" for all.1 Each state is required to provide free universal access to health care services. However, health care in India has been chronically underfunded.
Historically, there have been several government-funded health insurance schemes intended to improve coverage for specific population groups, with variations across states. One important scheme aimed at reducing financial catastrophe and vulnerability for lower-income populations is the National Health Insurance Program (Rashtriya Swasthya Bima Yojana, or RSBY), launched in 2008. As of 2016, some 41 million families were enrolled in RSBY.2 However, evidence indicates that the scheme has not significantly reduced out-of-pocket spending. It is now being subsumed under the PM-JAY.
With ineffective public insurance schemes and the low uptake of commercial insurance, only around 37 percent of the population were covered by any form of health coverage in 2017–2018.3 Further systemic barriers to access include long wait times in hospitals, the perceived low quality of public health services, and substantial workforce and infrastructure shortfalls.4
In March 2018, the central government approved the implementation of PM-JAY. This flagship public health initiative has been internationally recognized as a significant step toward achieving universal coverage in India.5 The initiative offers hospital coverage for the 40 percent of the country's population that is poor or low-income. The other important initiative is to bolster preventive and promotive health care services by revamping existing primary health facilities into Health and Wellness Centres (see "Primary care," below).
Role of government: Responsibility for the governance, financing, and operation of the health system is divided between the central and state governments.
At the federal level, the Ministry of Health and Family Welfare has regulatory power over the majority of health policy decisions but is not directly involved in health care delivery. The ministry comprises two departments:
The Department of Health and Family Welfare is responsible for organizing and delivering all national health programs, with each program headed by its own administrative body.
The Department of Health Research is responsible for promotion of health and clinical research, development of health research and ethics guidelines, outbreak investigations, and provision of advanced research training and grants for such training.
In 2014, the government established the federal Ministry of Ayurveda, Yoga and Naturopathy, Unani, Siddha, and Homeopathy. It develops and promotes research in alternative medicine practices.
At the state level, the Directorates of Health Services and the Departments of Health and Family Welfare are responsible for organizing and delivering health care services to their populations. These include all medical care, from primary care and pharmacies to secondary and tertiary hospital care. These state bodies are also responsible for the following:
management and monitoring of the health care workforce
provision of federally funded national health programs
collection of health information and statistics
control of food and drug quality
supervision of local health care entities and organizations
promotion of alternative medicine practices.
Given that states are independently responsible for health care activities, there is significant nationwide variation in service delivery models, insurance coverage, availability, and access.
Some initiatives are governed and/or financed jointly by the central and state governments, such as the National Health Mission, a family welfare and population control initiative.
At the district level, Panchayati Raj (local governance) institutions are responsible for grassroots governance and administration in rural villages. These government bodies play a significant role in establishing primary health centers, and contribute to various social policies in such areas as education, agriculture, and transportation.6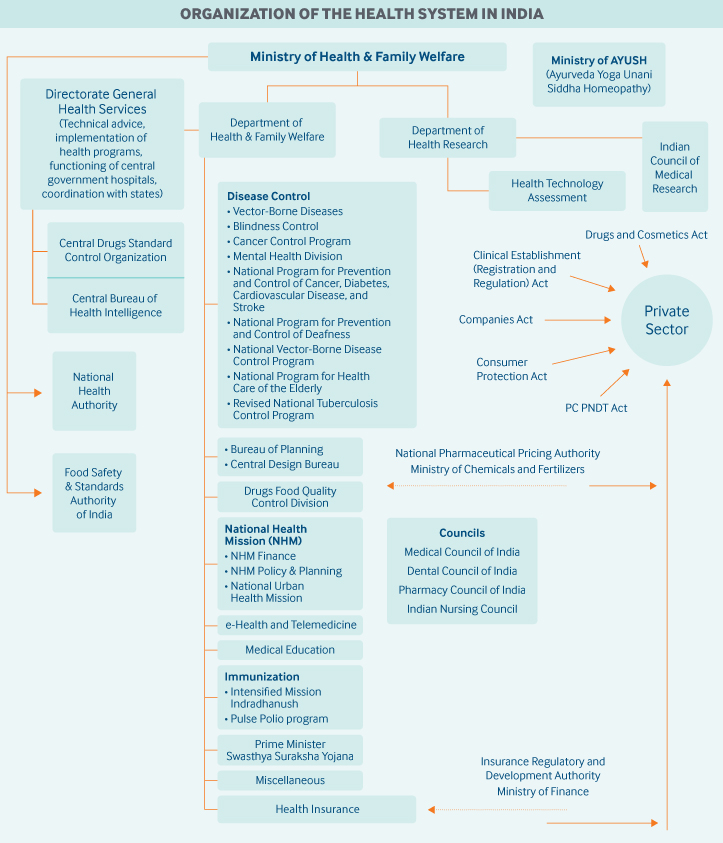 Role of public health insurance: Total public and private health expenditures as a percentage of GDP are estimated at 3.9 percent, significantly lower than the world average of 9.9 percent.7 The public sector accounts for approximately one-quarter of health expenditures.
There are various public insurance schemes, including RSBY, which provides hospital coverage for most diseases and pre-existing health conditions for individuals living below the poverty line (with a family cap of five members). Outpatient care, primary care, and high-level tertiary care are not included.
The new National Health Protection Scheme is for individuals in the bottom two income quintiles. This scheme provides INR 500,000 (USD 7,007) per family per year to cover secondary and tertiary health services, from inpatient to post-hospitalization care.8 Eligibility is based on a household's level of deprivation as defined by the Socio-Economic Caste Census. The scheme extends coverage to approximately 100 million poor and vulnerable families. Beneficiaries are auto-enrolled in the system and, therefore, are able to obtain benefits as cashless transactions.
Funding for the public insurance schemes is divided between the central and state governments. For instance, most states are contributing a 40 percent share to the cost of the National Health Protection Scheme, with the central government providing the remaining 60 percent.
Funding for the National Health Protection Scheme has been allocated under the existing budget for the RSBY, which has doubled from 2018 to accommodate expanding public insurance costs.9 To further support these initiatives, the cess (levy) on income tax was increased from 3 percent to 4 percent, to collect an estimated INR 110 billion (USD 1.54 billion) annually.10
The states also run their own health schemes, mostly along the lines of RSBY. In addition, public sector undertakings (state-owned enterprises) and autonomous government bodies like central and state universities offer health coverage to their employees.
Another important health coverage scheme is the Central Government Health Scheme, organized and run by the Ministry of Health and Family Welfare for current and retired central government employees and their dependents.11 There are no income or wage requirements to be eligible. Coverage includes health care services for allopathic, homeopathic, and alternative medicine treatments.12 Approximately 3.6 million beneficiaries were registered under this scheme as of late 2019.13 Similar schemes exist for railway and defense employees.
In 2013, the RSBY was extended to mine workers, while certain groups of plantation workers were subsumed under the Aam Admi Bima Yojana (AABY), a government social security scheme administered through the Life Insurance Corporation of India that provides death and disability coverage from ages 18 to 59.
An important social health insurance scheme is the Employees' State Insurance Scheme, which is organized by the Ministry of Labour and Employment for the workforces of companies with 10 or more employees. Previously, only workers employed by factories were eligible, but the scheme has been extended to companies in other industries, such as hotels, restaurants, transportation companies, newspaper establishments, and cinemas. This is India's only true health insurance scheme to which both employees and employers contribute. Currently, employees contribute 0.75 percent of their wages, while employers contribute 3.25 percent.14 To be eligible for Employee's State Insurance, a worker must be earning INR 21,000 (USD 294) per month.15 Coverage for workers and their families includes maternity care, as well as disability and death benefits for employment-related injuries. State governments contribute one-eighth of the medical benefit expenditures, up to an annual per-capita ceiling of INR 1,500 (USD 21). The scheme has approximately 133 million beneficiaries.16
Many public hospitalization schemes partner with public and private insurance companies to run the plans. The PM-JAY has offered private sector hospitals incentives to increase supply in underserved areas by providing access to funding and land for hospital construction in urban-rural and rural cities.17
Role of private health insurance: Thirty-six percent of insured individuals in India have private coverage, which covers only hospitalizations.
The Insurance Regulatory and Development Authority Act of 1999 allowed for private companies to enter the health insurance market.18 The 1999 act also allowed for individuals who are not eligible for sponsored insurance schemes to purchase a private policy. Private insurance now accounts for nearly 4.4 percent of total current health expenditures.19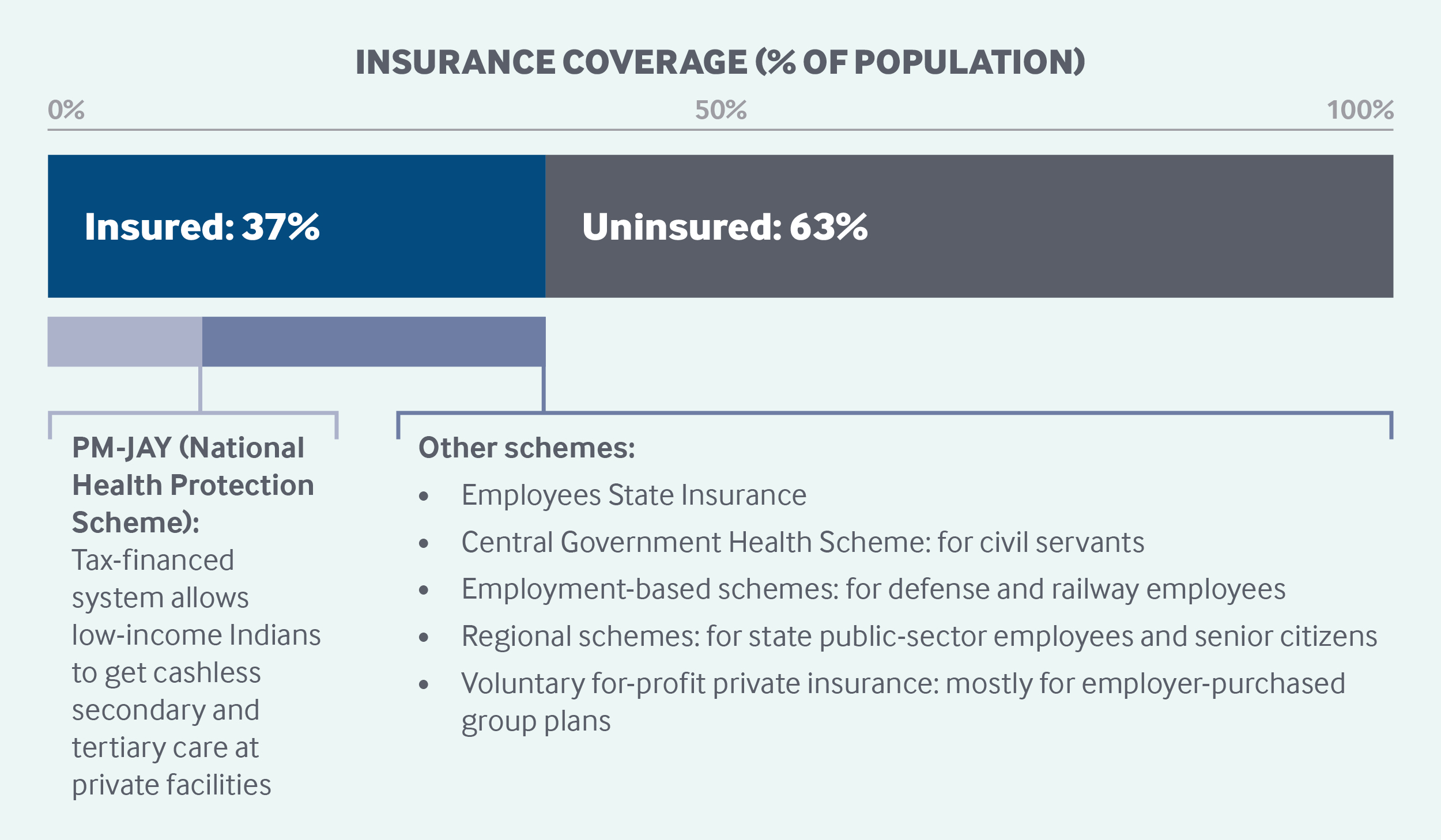 Services covered: Services covered depend on the insurance scheme. Under the National Health Protection Scheme, secondary and tertiary care are covered, but not outpatient care. The Central Government Health Scheme and Employees' State Insurance Corporation cover all types of care, including outpatient care and drugs. Under other publicly subsidized insurance coverage, all secondary, tertiary, pre-hospital, and post-hospitalization treatment are covered.
Cost-sharing and out-of-pocket spending: Citizens can get free care in public health facilities with no deductibles, co-payments, or coinsurance.
However, because government funding for health care is limited and there are accessibility issues at the existing facilities, a significant portion of outpatient and inpatient care is delivered at private, high-priced facilities, with costs typically paid out-of-pocket.20 As a result, out-of-pocket payments have been the primary means of funding health care, accounting for 65 percent of total health expenditures in 2015–2016.21
A significant proportion of the population faces impoverishment due to lack of insurance and high out-of-pocket expenditures. An estimated 8 percent of the population is being pushed below the poverty line as a result of high out-of-pocket payments.22
The launch of the National Health Protection Scheme aims to insulate lower-income households from high health care costs by offering free care to beneficiaries in private facilities as well as public facilities.
However, the impact of the scheme will depend on demand as well as supply factors, like the availability of medicines and personnel, health infrastructure, and service quality. It will also depend on how hospitals are reimbursed and on their willingness to offer quality services at the quoted rates.
Safety nets: The various government health coverage programs offer safety nets to different populations, with the government bearing the cost of subsidies. For example, in RSBY and now the National Health Protection Scheme, the federal and state governments share the cost of premiums for each beneficiary, in addition to the cost of health services up to the coverage limit.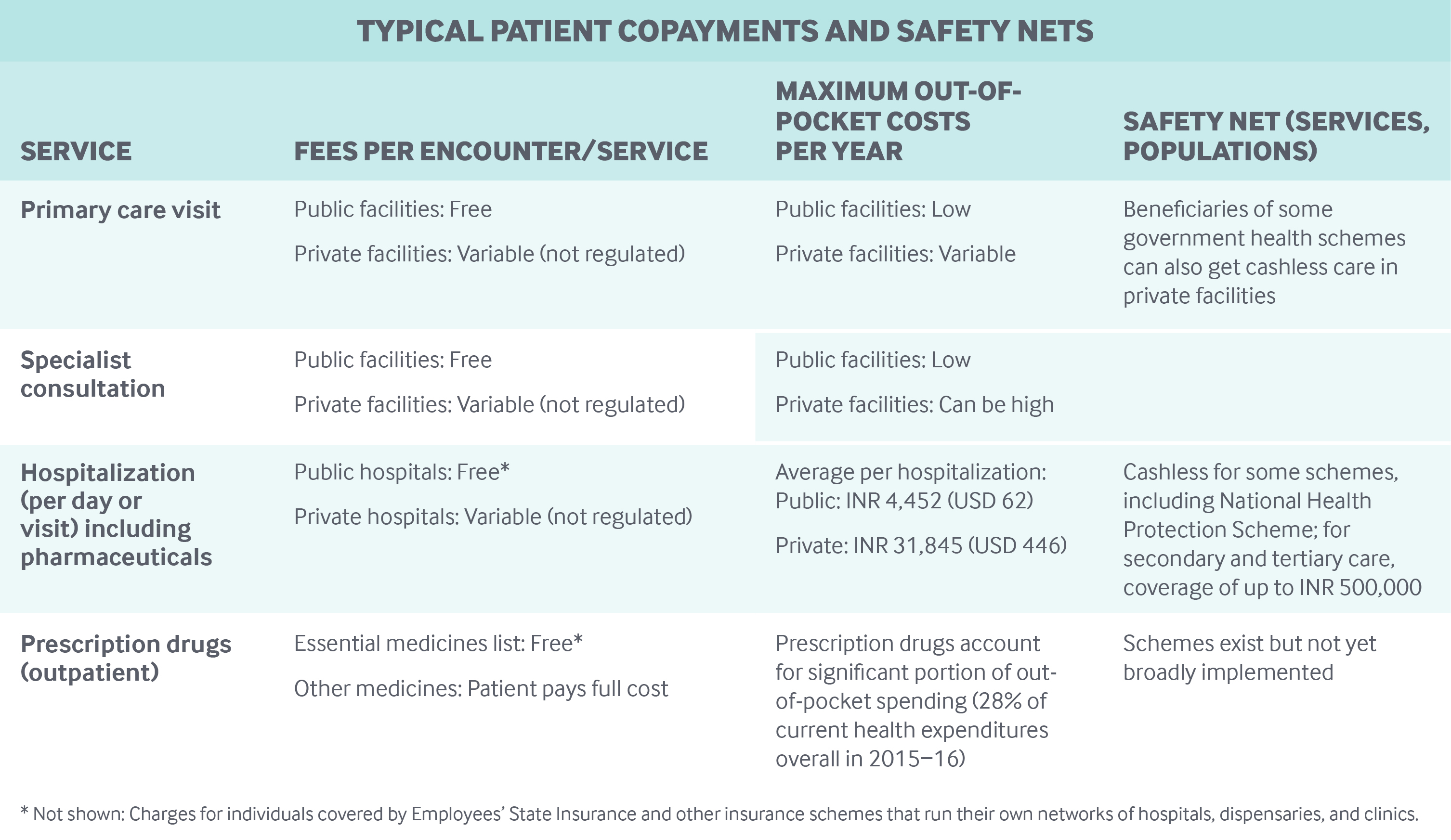 How is the delivery system organized and how are providers paid?
Physician education and workforce: Medical education is provided by both state-led institutions and private colleges. In some states, private medical colleges charge about 16 times the fees charged by government colleges.23 Private fees for a five-year course typically range from INR 3 million to INR 5 million (USD 42,000–70,000 for undergraduate education.24
The Medical Council of India establishes standards for undergraduate medical education, accredits undergraduate and postgraduate medical education programs, determines equivalencies for foreign medical graduates, and maintains a general directory for all certified physicians.25
Primary care: Under the Health and Wellness Centres program, 150,000 subcenters (the lowest tier of the health system) across the country are being upgraded to provide comprehensive primary health care services, free essential medicines, and free diagnostic services. Nutritional support will also be provided to all beneficiaries with tuberculosis at a rate of INR 500 (USD 7) per month during treatment. Other primary health care providers include primary health centers (PHCs) and community health centers. No patient registration is required.
The PHC is the first point of contact between a village community and a medical officer. These centers provide curative and preventive services to 20,000–30,000 people and serve as a referral unit for six subcenters with four to six beds each. The community health centers serve as a referral center for four PHCs and also provide facilities for obstetric care and specialist consultations.
The three facility types differ according to whether it is in a rural or urban setting, the size of the population served, and the resources and services available.
Under the Health and Wellness Centres program, the subcenter is the first point of contact for patients. It is designed to handle maternal and child health, disease control, and health counseling for a population of 3,000 to 5,000. At least one auxiliary nurse midwife or female health worker, one male health worker, and one additional female health visitor supervise six subcenters.
All medical personnel, including primary and specialty physicians, working at public outpatient or inpatient facilities are paid fixed salaries, which vary based on area of work and level of specialization. Currently, there are no performance-based payment incentives. However, the prime minister announced recently that all accredited social health activists will be enrolled in one of the social security schemes and provided free insurance coverage.
Physicians are allowed to operate private clinics in some states in accordance with regulations determined by the state in which they live and practice. Doctors in states where this is disallowed receive an additional non-practicing allowance payment.26 Some government doctors violate service rules by resorting to private practice during office hours. There is also some evidence that patients have made informal payments to their physicians for services that are supposed to be provided for free, in a bid to improve the quality of their care.27
Outpatient specialist care: Community health centers also provide outpatient specialist care and are required to have four medical specialists (surgeon, general practitioner, gynecologist, and pediatrician) supported by paramedical and other staff. They must also have 30 beds, a laboratory, X-ray services, and other facilities. Each center covers 80,000 to 120,000 people. All outpatient specialized services not provided at community centers are referred to district hospitals.
Administrative mechanisms for direct patient payments to providers: Government or entitlement coverage schemes, such as the Central Government Health Scheme and National Health Protection Scheme, are cashless. Beneficiaries are able to obtain care at facilities enrolled in the schemes by using their smart cards.28
After-hours care: The India Public Health Standards determine which health care facilities are required to operate 24 hours a day, seven days a week. Depending on the facility type, specific services — like basic obstetrics — are made available at all times while others are daytime-only procedures.
After-hours care by telephone is not well established in India. However, officials are exploring the acceptability and feasibility of mobile phone consultations as a means of improving health care access in rural India and addressing workforce shortages and resource constraints.29
Private sector hospitals and clinics typically provide after-hours care with concomitant fees. Depending on the type of facility, some consultations and services can be provided via telephone or at home.30,31
Hospitals: Patients using the public health system can be referred to a district hospital, which is the terminal referral center. District hospitals offer services similar to community health centers, such as emergency care, maternity services, and newborn care, but serve larger urban centers.32 In total, there were 763 functioning district hospitals in 2015, located largely in the most populous states.33
The research hospitals and education centers funded by the central and state governments offer specialized care in a variety of disciplines, such as ophthalmology, cardiothoracic surgery, neurosciences, trauma, cancer, and drug dependence.34,35 Under the National Health Protection Scheme, some district hospitals will be upgraded to tertiary care facilities to improve access to specialized services and strengthen physician workforce capacity.36
Public hospitals account for only approximately 10 percent of the total number of hospitals throughout the country.37,38 The remainder are operated almost entirely by the private for-profit sector, and a small number by charitable organizations. There has been significant growth in the number of private sector hospitals as a result of perceived poor-quality care in public facilities and the rise of medical tourism.39
In most public hospitals, prices are set administratively. Public district and tertiary hospitals are paid through an annual budgetary mechanism funded by either the state or central government. All private hospitals operate on a fee-for-service basis, with no standardization of service price.40
Mental health care: National health initiatives have established psychiatric centers within specialized public hospitals. With the launch of the National Health Protection Scheme, comprehensive mental health care will also be available for beneficiaries at newly established Health and Wellness Centre programs.
Despite recent policy measures to strengthen mental health care, resources are extremely limited. Across India, there is only one trained psychiatrist for every 250,000 people and fewer than one mental health worker for every 100,000 people.41 In addition, few hospital beds are dedicated to inpatient psychiatric care.42
Most private insurance plans typically do not provide comprehensive coverage for such care.43 In the few that do, covered treatment options usually focus on short-term psychotherapy rather than on long-term management.44
Long-term care and social supports: The central government launched the National Programme for Health Care of the Elderly in 2011 with the aim of improving workforce capacity for long-term care and providing dedicated health care facilities and services to senior citizens (ages 65+) at all levels of the health care delivery system.45 Such services are meant to be provided for free for elderly people through state primary and secondary facilities.
However, as revealed by funds utilization, there has been slow progress on implementation, indicating a continuous unmet need for comprehensive elderly care.46 The recent launch of the National Health Protection Scheme aims to counter this trend by improving access to geriatric care at the primary level for beneficiaries.
In addition, the Ministry of Social Justice and Empowerment has launched a central scheme (Integrated Programme for Older Persons) to develop solutions to the health and emotional needs of the elderly. The scheme provides funding to state government, Panchayati Raj institutions, non-governmental organizations, and charities to establish food, shelter, and health care programs, intergenerational relationship–strengthening programs, active and productive aging programs, and institutional and non-institutional care facilities.
Some states have launched their own activities to increase access to palliative care. In Kerala, for example, the state was the first to establish a palliative-care policy, which subsequently resulted in a network of more than 60 facilities that provide low-cost and community-based hospice and palliative care.47 This implementation model has resulted in similar policies and projects that have been launched in Assam, Maharasthra, Punjab, Haryana, and Karnataka by state governments and nongovernmental organizations.48
What are the major strategies to ensure quality of care?
Quality of care is addressed through legal and policy measures defined by the central and state governments.
Currently, there is no single entity that is responsible for measuring all aspects of quality of care at health care facilities. Most efforts have been focused on structural elements, such as tracking the availability of health care resources.49 Over the years, several regulations have been enacted and authorities created at the state and national levels with the aim of protecting patients and improving quality of care.
In 2017, a centralized tracking system for district hospital performance was introduced along with public rankings of hospitals in the system based on performance.50 However, the system's indicators for quality of care are largely based on resource availability and patient satisfaction.51
Health care facility accreditation is well-developed in India. The National Accreditation Board for Hospitals and Healthcare Providers is responsible for accrediting all types of health facilities. This board is a member of the International Society for Quality in Health Care, along with countries such as Australia, Canada, Egypt, Hong Kong, and the United Kingdom.52 The accreditation criteria are based on international best practices from these member countries.
Structural quality is also ensured through mandatory continuing medical education (CME), instituted by the Medical Council of India. However, some state governments do not enforce this policy; only nine of the 26 states mandate physician participation in CME.53
Efforts have been made over the past decade to define standards for a number of areas related to patient care. Specifically, the National Health Systems Resource Centre provides a quality certification for all facility types in the health system. The certification is based on the National Quality Framework for Public Health Facilities, created by the Ministry of Health and Family Welfare, which has eight broad "areas of concern."54
Facilities that earn certifications receive financial incentives. Facilities can also get technical and capacity-building support to improve their performance through training, workshops, and courses offered by the National Health Systems Resource Centre.
The Clinical Establishments (Registration and Regulation) Act of 2010 was passed into law by the central government to register and regulate clinical establishments, while prescribing a minimum set of standards for them to adhere to. However, many states have yet to implement the law.
Other frameworks that are being used to support quality control and improvement include:
India Public Health Standards (2008)
My Hospital (Mera-Aspataal) (2016)
Labour Room Quality Improvement Initiative (LaQshya) (2017)
National Patient Safety Implementation Framework (2018–2025).
The Ministry of Health and Family Welfare has published some national standard treatment guidelines related to hospital planning, blood transfusion, and electronic health records (see "What is the status of electronic health records?", below). The National Centre for Disease Control has also published some national guidelines for the management and control of infectious diseases, as well as operational manuals for health care workers treating patients with infectious diseases. It is unclear, however, how well the guidelines are being enforced throughout the country.
The Ministry of Health and Family Welfare, in collaboration with state health departments, has developed a comprehensive quality assurance framework for public health facilities and programs. The framework comprises four interrelated activities to achieve a patient-centered health system55:
instituting an organizational framework for quality improvement
defining standards of service delivery and patient care
continually assessing services against set standards
improving quality by closing gaps and implementing opportunities for Improvement.
What is being done to reduce disparities?
Significant health, social, and income inequities exist across India, many of them a result of the country's diversity, rapid economic growth, and historically limited wealth redistribution.56 There is evidence of high unmet need in access to public health services, especially among women in rural and tribal regions, who lack access to reproductive health services, neonatal care, and family planning services.57
No centralized system exists for monitoring and evaluating health indicators and health status.
In addition to targeting vulnerable populations under the National Health Protection Scheme, there have been a number of initiatives over the years to help poor households afford care and to promote treatment-seeking behaviors. Examples include:
The Janani Suraksha Yojana, launched in 2005, is a centrally sponsored scheme to reduce maternal and neonatal mortality by promoting institutional delivery among poor pregnant women. It is one of the largest conditional cash transfer programs in the world.58
The Health Minister's Cancer Patient Fund provides financial assistance to patients suffering from cancer.59
Rashtriya Arogya Nidhi offers financial assistance to patients living below the poverty line who are suffering from life-threatening diseases.
The Health Minister's Discretionary Grant provides financial assistance to patients with significant hospital bills.
Mission Indradhanush provides universal immunization for all children under age 2 and pregnant women.
What is being done to promote delivery system integration and care coordination?
Patient care continues to be fragmented in India. Although there is a patient referral (gatekeeping) mechanism, it is severely underused because of overcrowding, lack of health care resources, deficient infrastructure, poor regulation of the referral system, and patients' ability to bypass primary entry points to the health system.60
What is the status of electronic health records?
The Ministry of Health and Family Welfare published the first national standards for electronic health records (EHRs) in 2013. An expert committee was then established to support the adoption and implementation of an EHR system throughout the country. As of 2016, however, survey results have revealed that uptake of the system has been slow as compared to other middle- and high-income countries.61 Currently, there is no universal patient identifier.
The National Health Protection Scheme presents a new opportunity to use IT to improve quality of care and detect fraud. The program will run on a state-of-the-art system with built-in intelligence and data-processing capabilities. It Is designed to detect fraud and misuse and provide an electronic tracking mechanism for complaint and grievance redressal.62 The new National Health Authority has already set up the PM-JAY Dashboard and other IT systems for hospital empanelment, beneficiary identification, and transaction management. There will also be a fully functional PM-JAY portal to serve as a single access point for information related to the scheme.
How are costs contained?
Cost-containment mechanisms include annual hospital budgets as well as prices for health care services, drugs, and other consumables set administratively by the central and state governments. Significant shortages in the public sector, however, have led patients to use private services, for which prices are unregulated and set far beyond the procured purchase price.63
The National Pharmaceutical Pricing Authority has made efforts to improve the affordability and accessibility of medicines by setting price ceilings on essential medicines and on selected commonly used medical devices.64,65 In addition, the Department of Pharmaceuticals increased the supply of generic pharmaceuticals through the launch of the Pradhan Mantri Bhartiya Jan Aushadhi Pariyojana Kendra (PMBJP) scheme in 2008. The scheme has resulted in the establishment of kendras, specialized centers that sell brand quality–equivalent generic medicines at affordable prices.66
Given the administrative and technological shortfalls within the Indian health system, other innovative cost-containment mechanisms, such as pay-for-performance and value-based health care, have not been introduced in the public sector.
What major innovations and reforms have recently been introduced?
India has initiated a number of reforms that could have far-reaching implications for the health sector and the broader economy. These include:
Launching Ayushman Bharat, which encompasses the National Health Protection Scheme (Pradhan Mantri Jan Arogya Yojana), for coverage of tertiary care for vulnerable populations and Health and Wellness Centres initiative for the delivery of comprehensive and integrated primary care.
Setting up the National Health Authority to implement the PM-JAY.
Initiating the provision of universal sanitation coverage and making the country open defecation–free through the Swachch Bharat Mission.
Launching Intensified Mission Indradhanush 2.0 to achieve 90 percent vaccination coverage for children under 2.
Providing clean cooking fuel under the Pradhan Mantri Ujjwala Yojana scheme.
Providing nutritional and social support for all National Health Protection Scheme beneficiaries with tuberculosis.
Replacing the Medical Council of India with the National Medical Commission and setting uniform standards for medical education.
Creating a health technology assessment body (Health Technology Assessment in India) under the Department of Health Research to evaluate all medical technologies.
References
1 Ministry of Health and Family Welfare, The National Health Bill (working draft), Jan. 2009, http://www.prsindia.org/uploads/media/Draft_National_Bill.pdf; accessed Oct. 13, 2016; S. V. Thomas, "The National Health Bill 2009 and Afterwards," Annals of Indian Academy of Neurology, April–June 2009 12(2):79, https://www.ncbi.nlm.nih.gov/pmc/articles/PMC2812745/.
2 A. Karan, W. Yip, and A. Mahal, "Extending Health Insurance to the Poor in India: An Impact Evaluation of Rashtriya Swasthya Bima Yojana on Out of Pocket Spending for Healthcare," Social Science & Medicine 181 (May 2017: 83–92, https://www.ncbi.nlm.nih.gov/pmc/articles/PMC5408909/.
3 National Health Profile, 2018, Ministry of Health and Family Welfare.
4 International Institute for Population Sciences, National Family Health Survey (NFHS-4): India, 2015–16 (Ministry of Health and Family Welfare, Dec. 2017), http://rchiips.org/nfhs/NFHS-4Reports/India.pdf; and B.S. Perappadan, "Corruption Plagues Govt. Hospitals," The Hindu (2005), https://www.thehindu.com/todays-paper/tp-national/tp-newdelhi/corruption-plagues-govt-hospitals/article27426027.ece; accessed May 14, 2019.
5 "India's Government Launches a Vast Health-Insurance Scheme, The Economist, Sept. 27, 2018, https://www.economist.com/asia/2018/09/27/indias-government-launches-a-vast-health-insurance-scheme; "India's Mega Health Reforms: Treatment for Half a Billion, The Lancet 392, no. 10148 (Aug. 2018): 614; "WHO DG praises PM Modi, Health Minister Nadda for Ayushman Bharat Scheme," Times of India, Jan. 3, 2019, https://timesofindia.indiatimes.com/india/who-praises-pm-modi-health-minister-nadda-for-ayushman-bharat-scheme/articleshow/67370832.cms.
6 L. Prasad and A. Gautam, Role of Panchayati Raj Institutions in Development of Primary Education (SSRN, March 14, 2013), https://papers.ssrn.com/sol3/papers.cfm?abstract_id=2233460.
7 National Health Mission, National Health Accounts, Estimates for India (Ministry of Health and Family Welfare, Oct. 2017), https://mohfw.gov.in/sites/default/files/National%20Health%20Accounts%20Estimates%20Report%202014-15.pdf.
8 Throughout this profile, all figures in U.S. dollars (USD) were converted from Indian rupees (INR) at the rate of INR 71.36 per USD 1.00. See International Monetary Fund, https://www.imf.org/external/np/fin/data/rms_rep.aspx.
9 Ministry of Health and Family Welfare, "Fund Allocation for National Health Protection Scheme," press release, March 13, 2018; accessed Jan. 28, 2019, http://pib.nic.in/newsite/PrintRelease.aspx?relid=177367.
10 Ministry of Finance, A. Jaitley Budget 2018–2019 (Governance, Economy, and Development, Feb. 2018), https://www.indiabudget.gov.in/ub2018-19/bs/bs.pdf; accessed Jan. 28, 2019.
11 Ministry of Health and Family Welfare, "Eligibility for Joining CGHS" (2019), https://cghs.gov.in/index1.php?lang=1&level=1&sublinkid=6020&lid=3946; accessed May 19, 2019.
12 Ministry of Health and Family Welfare, "About CGHS" (2019), https://cghs.gov.in/index1.php?lang=1&level=1&sublinkid=5783&lid=3656; accessed May 19, 2019.
13https://cghs.nic.in/dashboard/dashboardnew.jsp.
14 Ministry of Labour and Employment, "Government Reduces the Rate of ESI Contribution from 6.5 percent to 4 percent," press release, June 13, 2019, http://pib.gov.in/newsite/PrintRelease.aspx?relid=190452; accessed Sept. 12, 2019.
15 Ministry of Labour and Employment, "Employees' State Insurance Corporation: Coverage," https://www.esic.nic.in/coverage; accessed May 19, 2019.
16 Ministry of Labour and Employment, "Employees' State Insurance Corporation: Coverage."
17 Ministry of Health and Family Welfare, "Broad Guidelines for Private Investments in setting up of Hospitals in Tier 2 and Tier 3 Cities Subsequent to PMJAY, press release, http://pib.nic.in/newsite/PrintRelease.aspx?relid=187353; accessed Feb. 28, 2019.
18 R. Bhat, J. Holtz, and C. Avila, "Reaching the Missing Middle: Ensuring Health Coverage for India's Urban Poor," Health Systems and Reform 4, no. 2 (April 3, 2018): 125–35.
19 Ministry of Health and Family Welfare, National Health Accounts: Estimates for India, 2014–15 (Oct. 2017), https://mohfw.gov.in/sites/default/files/National%20Health%20Accounts%20Estimates%20Report%202014-15.pdf; accessed May 27, 2019.
20 Bhat et al., "Reaching the Missing Middle."
21 Ministry of Health and Family Welfare, National Health Accounts: Estimates for India, 2014–15.
22 M. Lagarde and N. Palmer, "The Impact of User Fees on Access to Health Services in Low-and Middle-Income Countries," Cochrane Database System Review 13, no. 4 (April 13, 2011): CD009094; S.K. Mohanty et al., "Out-of-Pocket Expenditure on Health Care Among Elderly and Non-Elderly Households in India," Social Indicators Research 115, no. 3 (Feb. 2014): 1137–57.
23 R. Nagarajani, "High Fees in Private Medical Colleges Account for Low Quality Intake," Times of India, April 20, 2018.
24 "The Cost of Medical Education," New Indian Express, June 22, 2018, http://www.newindianexpress.com/opinions/editorials/2018/jun/22/the-cost-of-medical-education-1831722.html; accessed May 29, 2019.
25 Medical Council of India, "Structure and Function," (2017), https://www.mciindia.org/CMS/structure-function; accessed May 29, 2019.
26 N. Jaiswal, "Should Government Doctors Be Allowed to Do Private Practice?," http://www.jusdicere.co.in/blog/should-government-doctors-be-allowed-to-do-private-practice-by-nikhil-jaiswal/; accessed May 24, 2018.
27 M. Lewis, "Informal Payments and the Financing of Health Care in Developing and Transition Countries," Health Affairs 26, no. 4 (July 2007): 984–97.
28 S.A. Tabish, "Transforming health care in India: Ayushman Bharat-National Health Protection Mission," International Journal of Scientific Research 7, no. 12 (Dec. 2018), https://www.researchgate.net/publication/329908376_transforming_health_care_in_india_ayushman_bharat-national_health_protection_mission.
29 S. Bali and A.J. Singh, "Mobile Phone Consultation for Community Health Care in Rural North India," Journal of Telemedicine and Telecare 13, no. 8 (Dec. 1, 2007): 421–4.
30 Advino Healthcare, "Don't Want to Go to the Hospital? Let Advino Healthcare Bring All Medical Care at Your Home," https://www.advinohealthcare.com/; accessed June 3, 2019.
31 [email protected], "Caring for You at Every Step of the Way," https://maxathome.in/critical-care-at-home/; accessed June 3, 2019.
32 M. Chokshi et al., "Health Systems in India," Journal of Perinatology 36, no. s3 (Dec. 7, 2016): S9.
33Open Government Data (OGD) Platform India, "Functioning District Hospitals As on 31st March 2015," (2016), https://community.data.gov.in/functioning-district-hospitals-as-on-31st-march-2015/; accessed June 3, 2019.
34 All India Institute of Medical Sciences Naghpur, "The Director, All India Institute of Medical Sciences Naghpur Takes Over," https://aiimsnagpur.edu.in/; accessed June 3, 2019.
35 All India Institute of Medical Sciences, New Delhi, "About Us," https://www.aiims.edu/en.html; accessed June 3, 2019.
36 Ministry of Finance, A. Jaitley Budget 2018–2019 (Governance, Economy, and Development, Feb. 2018), https://www.indiabudget.gov.in/ub2018-19/bs/bs.pdf; accessed May 29, 2019.
37 IBEF, Healthcare, http://www.india-opportunities.es/archivos/publicaciones/Healthcare-January-2016.pdf; accessed May 29, 2019.
38 Ministry of Health and Family Welfare, National Health Profile 2017.
39 C. Kumar and R. Prakash, "Public-Private Dichotomy in Utilization of Health Care Services in India," Consilience 5 (2011): 25–52; A. Sengupta and S. Nundy, The Private Health Sector in India (2005), 1157–1158.
40 R. Duggal, The Private Health Sector in India: Nature, Trends and a Critique (Centre for Enquiry into Health and Allied Themes, 1996).
41 G. Gururaj et al, National Mental Health Survey of India, 2015-16: Summary, Bengaluru (National Institute of Mental Health and Neuro Sciences, 2016), NIMHANS Publication No. 129, 128.
42 N. Ravindran, "The Silent Epidemic," India Today, July 11, 2011, http://www.indiatoday.intoday.in/story/2-crore-indians-need-help-for-mental-disorders/1/143355.html; accessed May 29, 2019.
43 D. Bhaskaran, "Health Insurance Plans to Cover Mental Illness Too, But Will That Help?" Livemint, Aug. 20, 2018, https://www.livemint.com/Money/o0pRqJbfCkMiaiPHRV0TSK/Health-plans-to-cover-mental-illness-too-but-will-that-help.html; accessed June 2, 2019.
44 R.D. Pattanayak and R. Sagar, "Health Insurance for Mental Health in India: A Welcome Step Toward Parity and Universal Coverage," Journal of Mental Health and Human Behaviour 21, no. 1 (Jan. 1, 2016): 1.
45 J.P. Tripathy, "Geriatric Care in India: A Long Way to Go," Journal of Mid-Life Health 5, no. 4 (Oct. 2014): 205.
46 V. Govindarajan, Seven Years Ago, India Promised Health Care Units for the Elderly. Where Are They?, https://scroll.in/pulse/849561/seven-years-ago-india-promised-health-care-units-for-the-elderly-where-are-they; accessed May 25, 2018.
47 S.K. Kumar, "Kerala, India: A Regional Community-Based Palliative Care Model," Journal of Pain Symptom Management 33, no. 5 (May 2007): 623–27.
48 M. Bansal et al., "Setting Up a Palliative Care Clinic Within a Radiotherapy Department: A Model for Developing Countries," Support Care Cancer, 11, no. 6 (June 2003): 343–47; E. McDermott et al., "Hospice and Palliative Care Development in India: A Multimethod Review of Services and Experiences," Journal of Pain Symptom Management 35, no. 6 (June 2008): 583–93; Pallium India, Palliative Care: National Policies/Laws, https://palliumindia.org/resources/policies/#Palliative_CareNational_Policies_Laws, accessed May 25, 2018.
49 M. Mohanan, K. Hay, and N. Mor, "Quality of Health Care in India: Challenges, Priorities, and the Road Ahead," Health Affairs 35, no. 10 (Oct. 1, 2016): 1753–58.
50 N. Aayog, The Health of Our Hospitals: Tracking the Performance of District Hospitals (2017), https://niti.gov.in/content/tracking-performance-district-hospitals-health-our-hospitals; accessed May 19, 2019.
51 M. Singh, "Govt Begins Ranking District Hospitals to Improve Services," The Times of India (2017), https://timesofindia.indiatimes.com/india/govt-begins-ranking-district-hospitals-to-improve-services/articleshow/61095374.cms; accessed June 1, 2019.
52 National Accreditation Board for Hospitals and Healthcare Providers, "Hospital Accreditation" (2017), https://nabh.co/Hospitals.aspx; accessed June 3, 2019.
53 S. Das et al., "Accreditation in India: Pathways and Mechanisms," Journal of European CME 7, no. 1 (Jan. 1, 2018): 1454251.
54 National Health Systems Resource Centre, "Quality Assurance Framework and National Quality Assurance Programme," http://qi.nhsrcindia.org/; accessed June 3, 2019.
55 National Health Systems Resource Centre, "Quality Improvement," http://nhsrcindia.org/quality-improvement.
56 N. Bhan, K.D. Rao, and S. Kachwaha, "Health Inequalities Research in India: A Review of Trends and Themes in the Literature Since the 1990s," International Journal for Equity in Health 15, no. 1 (Dec. 2016): 166.
57 A.T. Bang et al., "Burden of Morbidities and the Unmet Need for Health Care in Rural Neonates—A Prospective Observational Study in Gadchiroli, India," Indian Pediatrics 38, no. 9 (Sept. 1, 2001): 952–66; T.S. Ravindran and U.S. Mishra, "Unmet Need for Reproductive Health in India," Reproductive Health Matters 9, no. 18 (Jan. 1, 2001): 105–13; R.K. Prusty, "Use of Contraceptives and Unmet Need for Family Planning Among Tribal Women in India and Selected Hilly States," Journal of Health, Population, and Nutrition 32, no. 2 (June 2004): 342; T.R. Dilip and R. Duggal, "Unmet Need for Public Health-Care Services in Mumbai, India," Asia-Pacific Population Journal 19, no. 2 (June 1, 2004): 27–40.
58 World Bank, The State of Social Safety Nets (2018), https://openknowledge.worldbank.org/bitstream/handle/10986/29115/9781464812545.pdf?sequence=5&isAllowed=y; accessed May 22, 2018.
59 Ministry of Health and Family Welfare, RAN (Health Ministers Cancer Patient Fund), https://mohfw.gov.in/major-programmes/poor-patients-financial-assistance/ran-health-ministers-cancer-patient-fund.
60 F. Godlee, Put Patients First and Give the Money Back (2015): h5489; M. Sharma et al., "Morbidity Profile and Drug Distribution Pattern at a Newly Established Tertiary Care Hospital," Internet Journal of Health 9, no. 2 (2008): 1–7.
61 M. Sharma and H. Aggarwal, "EHR Adoption in India: Potential and the Challenges," Indian Journal of Science and Technology 9, no. 34 (Sept. 2016): 1–7.
62 National Health Authority, "Ayushman Bharat Pradhan Mantri Jan Arogya Yojana," https://pmjay.gov.in/state; accessed Sept. 12, 2019.
63 K.M. Gopakamur, "Needed: Price Controls on Healthcare," Business Line, https://www.thehindubusinessline.com/specials/pulse/needed-price-controls-on-healthcare-services/article22316419.ece1; accessed June 12, 2019.
64 N. R. Verghese et al., "Government Pharmaceutical Pricing Strategies in the Asia-Pacific Region: An Overview," Journal of Market Access and Health Policy 7, no. 1 (Jan. 1, 2019): 1601060.
65 M. Rao, "Private Healthcare in India Part II: Govt Caps Price of Medicines, Stents, Consumables, But Industry Finds Way Around It," Firstpost, May 9, 2018, https://www.firstpost.com/india/private-healthcare-in-india-part-ii-govt-caps-price-of-medicine-stents-consumables-but-industry-finds-way-around-it-4460967.html; accessed June 12, 2019; "Price-Control as Regulary Philosophy Fundamentally Dents the Image of a Country," ETHealthWorld, June 2018, https://health.economictimes.indiatimes.com/news/medical-devices/price-control-as-a-regulatory-philosophy-fundamentally-dents-the-image-of-a-country/64633212.
66 Ministry of Chemicals and Fertilizers, Department of Pharmaceuticals, http://janaushadhi.gov.in/data/PMBJP.pdf; accessed May 18, 2018.