Nearly Half of Uninsured Adults in Working Families Have Access or Bill Problems Three in four American adults who do not have health insurance or who have experienced a recent gap in coverage are part of working families--they are either full- or part-time workers or the spouse of a worker--according to a new survey released by the Kaiser Family Foundation and The Commonwealth Fund. The Kaiser/Commonwealth 1997 National Survey of Health Insurance also finds that as a result of being currently or recently uninsured, many working-age adults and their families face barriers to getting or paying for needed health care. "This survey serves as a reminder that the problems of the working uninsured are still with us," said Drew Altman, President of the Kaiser Family Foundation. "The low-wage working uninsured deserve special attention when the country considers the next incremental step in expanding health insurance coverage."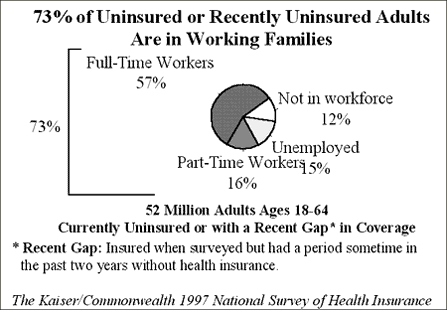 Going without health coverage is not a matter of choice for most of the uninsured. About half (51%) of all uninsured adults report that they do not have insurance because they cannot afford it. Another quarter (25%) say they do not have health insurance because they lost their job or their employer does not offer benefits. Only 4% are uninsured because they have poor health or were denied health benefits. Families with incomes below the median U.S. family income of $35,000 are most affected by lack of insurance. Three in five (59%) adults in families who earned less than $20,000 annually were uninsured or had a recent gap (sometime in the past two years) in health coverage. One-third (31% who earned between $20,000 and $35,000 annually also were currently or recently uninsured. The survey also finds that low-wage working families are at high risk overall. Two in five (41%) adults in working families said they had problems paying medical bills or went without needed care in the past year. More than half (56%)of adults in low-wage working families who are uninsured, and 50% of those with a recent gap in coverage, had problems with access to care or paying medical bills in the last year. "This survey shows us that people are not uninsured because of preexisting conditions or because they opted out of coverage," explained Karen Davis, President of The Commomwealth Fund. "Many working families simply cannot afford the high cost of health insurance premiums." Insurance Matters Lack of health insurance leads directly to barriers to health care and problems paying medical bills. Nearly half of the working uninsured (48%) report difficulties with access or costs, while only 15 percent of people who had continuous coverage report these problems.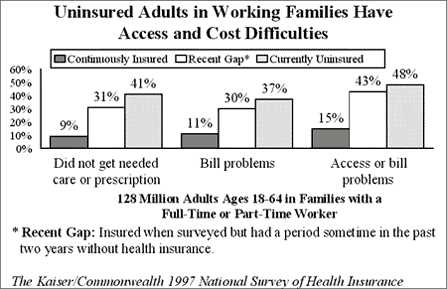 The survey also finds that nearly one-quarter (24%) of uninsured adults say they had not filled a prescription they needed in the past year. One in six (17%) report that they had to change their families' way of life significantly to pay medical bills. "Many uninsured working families incur unmanageable financial burdens due to medical emergencies or serious illness, or even worse, go without health care at all," noted Davis. Survey respondents who had temporary gaps in health coverage and were uninsured at some point in the past two years face problems similar to those of the currently uninsured. One in five (21%) did not fill a prescription in the past year, and two in five (40%) postponed care in the past year due to costs. By comparison, about one in four of the uninsured (24%) did not fill a prescription; about half (55%) had delayed care. Medicare Scores Highly Compared to Insurance of Working Families In Marked contrast to the situation of working families, the elderly ages 65 and over covered by Medicare are much more satisfied with their health insurance coverage. Medicare, which provides coverage for the elderly ages 65 and older, results in beneficiaries having greater access to health care and better financial protections than most low- and moderate-income working families. Despite more serious health problems, for example, only 7 percent of the elderly report problems getting health care in the past year, compared with 20 percent of all adults under age 65, and 42 percent of uninsured working-age adults. Medicare beneficiaries are also much more likely to be very satisfied with their health insurance (64%) and choice of doctors (74%) than are adults with job-based health coverage or Medicaid beneficiaries. Methodology:
The Kaiser/Commonwealth 1997 National Survey of Health Insurance, which was conducted between November 1996 and March 1997 by Louis Harris and Associates, Inc., was designed and analyzed by staff at the Kaiser Family Foundation and The Commonwealth Fund. The survey sample consisted of 4,001 adults ages 18 and older, including 3,761 adults surveyed by telephone and 240 in-person interviews of people without telephones in their homes. The data were weighted to the March 1996 Current Population Survey for accurate representation of Americans by sex, race, age, education, and health insurance status. The Kaiser Family Foundation, based in Menlo Park, California, is a nonprofit, independent national health care philanthropy and is not associated with Kaiser Permanente or Kaiser Industries. The Foundation's work is focused on four main areas: health policy, reproductive health, and HIV policy in the United States, and health and development in South Africa. The Commonwealth Fund, a New York City-based national foundation, undertakes independent research on health and social issues. Its mission is to enhance the common good by looking for new opportunities to help Americans live healthy and productive lives, and to assist specific groups with serious and neglected problems. This press release is also available on the World Wide Web at www.kff.org or www.commonwealthfund.org. Copies of the release and the accompanying chart pack can be ordered from the Kaiser Foundation's toll-free puublications request line (800/656-4533). Ask for document #1347.