Many Beneficiaries Face Financial Burdens Due To Medical Bills
WASHINGTON, D.C., JANUARY 5, 1999 -- A new report by The Commonwealth Fund and the Henry J. Kaiser Family Foundation reveals the vulnerability of many Medicare beneficiaries: two of three (68%) have incomes below 200 percent of the poverty level or have health problems. Those with lower incomes or health problems are more likely to experience financial burdens and difficulties obtaining access to health care than those with higher incomes and in good health. The report, Medicare Beneficiaries: A Population at Risk, based on the Kaiser/Commonwealth 1997 Survey of Medicare Beneficiaries, highlights the challenges facing many Medicare beneficiaries and the importance of addressing the needs of low-income and other high-risk segments of the Medicare population. "As the National Bipartisan Commission on the Future of Medicare prepares to issue recommendations to prepare Medicare for the retirement of the baby boom generation, a crucial task will be balancing the financial burden on beneficiaries and the need to assure Medicare's financial future," said Karen Davis, president of The Commonwealth Fund. "In the drive to slow the growth of federal budget spending on Medicare, it is important not to lose sight of the financial burdens health care expenses impose on older, sicker, and less financially secure beneficiaries."
Many Beneficiaries Report Financial Burdens
Despite the vulnerability of many beneficiaries, there are high rates of satisfaction with Medicare across age, income, and health groups. Yet many beneficiaries report problems paying bills. Cost problems weigh particularly heavily on those who have lower incomes, are in poor health, or are under 65 and disabled. More than one of seven (14%) Medicare beneficiaries reports financial difficulties that result from medical bills. One of four (27%) Medicare beneficiaries who live below the poverty level and one of four (24%) who are in fair or poor health, as well as nearly one of three who are under age 65 and disabled (30%), say that paying medical bills is "very difficult" or that they had spent all their savings as a result of medical bills.
"Medicare was designed to protect the elderly and disabled from the financial burdens of illness and has gone a long way toward alleviating poverty in our older population and improving access to health care," said Drew Altman, president of The Kaiser Family Foundation. "What this study shows is that the sickest and poorest need special attention in Medicare reform."
Lack of Coverage for Prescription Drugs Linked to Cost Problems
Eight of 10 Medicare beneficiaries report using prescription drugs regularly, and one of 10 (11%) spends more than $100 a month on medications. Those who are under 65 and disabled or who have a limitation in an activity of daily living (ADL) are also more at risk for higher out-of-pocket prescription drug costs, with nearly one in five (18%) spending over $100 on medications. Beneficiaries with incomes from 100 to 200 percent of poverty were also at higher risk of spending: 14 percent report spending over $100 per month on prescription drugs, compared with 10 percent of those with higher incomes. Even among low-income Medicare beneficiaries who also have Medicaid, which often provides prescription drug coverage, nearly one of 10 (9%) spends more than $100 per month for prescription medication.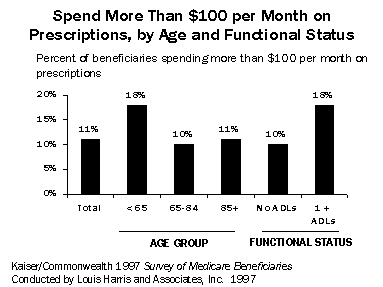 Beneficiaries enrolled in health maintenance organizations (HMOs) and those with employer-sponsored retiree health benefits are least likely to report high prescription drug expenses: only 4 percent of HMO enrollees and 7 percent of beneficiaries with retiree health benefits spend more than $100 a month for prescription drugs, compared with 19 percent of those in the traditional fee-for-service program who purchase Medigap.
HMO Enrollees' Experience
Medicare beneficiaries enrolled in HMOs rate their care about the same as those in fee-for-service. However, Medicare HMO enrollees and Medicare-only beneficiaries were about twice as likely to report access problems as beneficiaries with Medigap or retiree health coverage. Beneficiaries covered by both Medicare and Medicaid were nearly three times as likely to report problems getting care as those with private supplements who generally have higher incomes. HMO enrollees were more likely to report receiving preventive care than those in fee-for-service: 68 percent of HMO enrollees reported receiving a mammogram in the past year, compared with 53 percent of beneficiaries with private supplemental insurance and 40 percent of those without any supplemental coverage.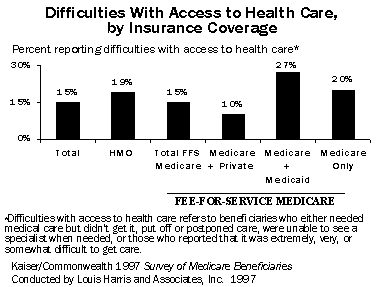 Low-Income Beneficiaries Are More Likely to Face Barriers to Obtaining Health Care
Access to health care is generally good for Medicare beneficiaries compared with the general population, because Medicare covers virtually everybody age 65 and over. Income, however, does have a significant impact on access to health care. Nearly one of four (23%) Medicare beneficiaries with incomes below 200 percent of poverty reports difficulties with access to health care, compared with only 10 percent of those with incomes above 200 percent of the poverty level.
Low-income beneficiaries use preventive services less than those with higher incomes. Fifty-six percent of women on Medicare with incomes above 200 percent of the poverty level reported receiving a mammogram during the past year compared with only 47 percent of those below poverty. The difference is even more striking for men obtaining prostate screenings: 69 percent of men with incomes above 200 percent of poverty, compared to only 40 percent of those living in poverty, were screened in the past year. Just over half (55%) of poor beneficiaries received a flu shot in the past year, compared with 70 percent of beneficiaries with incomes exceeding 200 percent of poverty.
Problems Highlight Need to Improve Coverage
The National Bipartisan Commission faces a daunting challenge in planning for the projected increase in Medicare beneficiaries from 14 percent of the U.S. population (34 million elderly and 5 million disabled) to 22 percent by the year 2025, when the bulk of baby boomers become eligible. Medicare beneficiaries generally have more positive experiences with their health care coverage than does the general population. Nevertheless, the access and cost problems reported by many beneficiaries—particularly those with low incomes and health problems—point to the vulnerability of high-risk beneficiaries. Any changes to the Medicare program will need to be designed with a clear picture of the characteristics of beneficiaries in mind—not those of younger, healthy working families.
METHODOLOGY: The Kaiser/Commonwealth 1997 Survey of Medicare Beneficiaries consisted of telephone interviews with 3,305 non-institutionalized Medicare beneficiaries, conducted by Louis Harris and Associates, Inc., from November 1996 through mid-June 1997. The sample was drawn from a random sample of all persons who were Medicare beneficiaries as of March 1996 according to Health Care Financing Administration records, and includes an over-sample of beneficiaries enrolled in Medicare risk-contract HMOs. The final unweighted sample consists of 1,579 HMO enrollees and 1,726 individuals enrolled in traditional Medicare. The final sample was weighted for eligibility status, age, race, ethnicity, Medicaid buy-in status, and the proportion enrolled in HMO risk contracts.