Experts Support Keeping Employer-Sponsored Health Insurance, Providing New Group Options for Uninsured Little Backing for Health Savings Accounts or Association Health Plans New York City, March 8, 2005—The proportion of Americans without health insurance can and should be reduced to 8 percent in ten years, less than half the current rate, according to the Commonwealth Fund Health Care Opinion Leaders survey, an online survey of widely-recognized experts in health care practice and policy.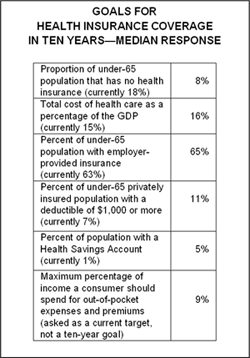 Most of the experts say that employer-sponsored coverage should continue to cover about two-thirds (65%) of individuals under age 65. A wide majority (84%) say that a Federal Employees Health Benefits Plan (FEHBP)-type option would be the most effective way to help small employers and the self-employed obtain affordable coverage. In contrast, one-third (33%) favor Association Health Plans (AHPs) as a policy option. There was consensus that the proportion of individuals with Health Savings Accounts (HSAs) would increase in the next ten years, but only to 5%. One-fifth (22%) support HSAs as a policy option for expanding coverage. The online survey of experts, representing a range of health care sectors and diverse perspectives, is the second in a bimonthly series conducted by Harris Interactive for the Commonwealth Fund. The survey was delivered via e-mail between February 3 and 15, 2005, to a panel of 1,251 experts nominated by their peers; 255 responded. This survey focused on health insurance issues and options for coverage. "It is encouraging that health care leaders are optimistic about our ability to find solutions to the crisis of millions of Americans without health insurance coverage," said Commonwealth Fund President Karen Davis. "There also appears to be a great deal of consensus among leaders across health care sectors—academia, health care delivery, business and insurance, as well as government, labor and consumer groups—about actions we can take that will reduce the numbers of uninsured." A summary of the survey results is posted today on www.commonwealthfund.org, along with commentaries by Charles N. Kahn III, President of the Federation of American Hospitals, "Coalition Building and Political Reality" and Michael Rodgers, Interim President and CEO of the Catholic Health Association, "Finding Common Ground." Employer-Sponsored Coverage Enjoys Wide Support; HSAs Not as Popular Three-quarters (75%) of respondents say that employer-sponsored insurance should not be permitted to decline. There was also wide support from respondents for a range of policy efforts to improve coverage. About four-fifths (82%) favor incentives for employers to provide insurance that meets minimum standards, and tax credits or other subsidies for low-wage workers (79%). Other popular policy options included requiring employers who do not provide health benefits to pay into a fund to insure workers and their families (70%), allowing employers to buy into Medicaid or CHIP for their employees (60%), and employer mandates to help finance benefits (52%). Respondents expressed lower rates of support for replacing employer coverage with a single-payer plan, with about two-fifths supporting (42%) or opposing (40%) this policy. In contrast, three-fifths (62%) of respondents oppose making HSAs the centerpiece of efforts to cut health care costs (combined with making high-deductible health plan coverage more widely available). Federal Employee Health Benefits Plan-Type Option Wins Out Over Association Health Plans Respondents were asked whether AHPs or a FEHBP-type option would be more effective in improving coverage and reducing costs:
About half (48%) say a FEHBP-type option would be more effective in expanding coverage to the uninsured; ten percent say AHPs would be more effective in expanding coverage.
Fifty-seven percent say the FEHBP option is a better way to avoid risk segmentation; 4% say AHPs are a better option for avoiding risk segmentation.
About three-fifths (59%) say FEHBP would provide greater value for premium dollars for employers and employees, and would provide more essential benefits; 5% say AHPs would provide better value.
About three-fifths say a FEHBP-type option (58%) and would be more effective in expanding health plan choices; 8% say AHPs would be more effective in expanding plan choices.
While about one-third (32%) say a FEHBP-type option would be more effective than AHPs in cutting costs to employers and employees, the same proportion (32%) said neither option would cut costs; eleven percent favor AHPs as a cost-cutting measure.
Other notable findings from the survey:
When asked the maximum percentage of income a consumer should spend for out-of-pocket health care expenses and premiums, the median response was 9%.
A majority of respondents (57%) support a mandate to require individuals to buy health insurance, with federal premium assistance available for those with low incomes.
Two-thirds (68%) support expanding state Medicaid and CHIP programs to low-income adults and families.
Respondents say that a small fraction of the population should have high-deductible health plans and Health Savings Accounts; median responses were 11% and 5% respectively.
When asked about health expenditures, respondents believe that they will need to go up somewhat as a percent of GDP (16.4% vs. 15.3 today).
Methodology: The online survey was conducted by Harris Interactive between February 3, 2005 and February 15, 2005. The survey was delivered via e-mail to a panel of 1,251 opinion leaders in health policy and innovators in health care delivery and finance; 255 responded. The sample was developed jointly by The Commonwealth Fund and Harris Interactive by identifying experts across different health care industries and professional sectors with a range of perspectives, and then asking them to nominate others within and outside their own fields whom they would consider to be leaders and innovators in the health care industry. The data are representative of the opinion leaders and innovators surveyed. In theory, with samples of this size, one could say with 95 percent certainty that the results have a sampling error of plus or minus 6 percentage points. This online sample is not a probability sample.