Synopsis
Despite the economic downturn and rising health care costs, access to employer-based coverage in Massachusetts has increased, as has the scope and quality of coverage as assessed by workers, according to an analysis of the state's health reform plan. However, some employees in small firms have seen a significant rise in premiums and out-of-pocket expenses.
---
The Issue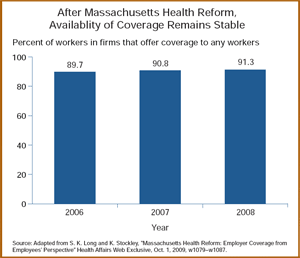 As U.S. policymakers continue to debate national health reform measures, Massachusetts, which enacted its own ambitious health reform initiative in 2006, is proving to be an important testing ground. The Massachusetts reforms feature many of the same elements currently under consideration by Congress—including a requirement that larger employers offer their workers health benefits or face an assessment, and "minimum creditable coverage" standards for all insurance plans. Using data from three rounds of interviews with working-age adults in Massachusetts, this study assessed how employees have responded under the 2006 reforms.
---
 Key Findings
In the two years following the implementation of health reform in Massachusetts, the share of workers in firms offering health insurance remained stable at around 90 percent. 
Eligibility for employer-sponsored coverage did not diminish for full-time, part-time, or new employees between fall 2006 and fall 2008. In fact, there was a slight increase in the number of workers who reported receiving offers of employer-sponsored health coverage.
The share of workers paying relatively high premium contributions (defined as one-and-a-half or two times the state average, or higher) has not increased since 2006. However, the number of workers in small firms (fewer than 51 employees) who reported premium contributions at or above twice the state average increased significantly—up 8.6 percentage points between fall 2006 and fall 2008. 
As of fall 2008, workers' satisfaction with the quality of employer-sponsored plans had increased in all measured areas—range of services covered, choice of health care providers, and quality of care. 
Although there was no change in the number of total workers reporting high out-of-pocket spending, the percentage of small-firm workers who reported such spending increased from 4.7 percent in fall 2006 to 14.6 percent in fall 2008. This likely reflects increasing health care costs in the state, which predate health reform.
---
Addressing the Problem
In the years after the state instituted its health care reform, access to employer coverage in Massachusetts has increased, as has employees' satisfaction with scope and quality of coverage. While there is evidence that some small-firm workers are facing high premium contributions and increased out-of-pocket spending because of trends in place prior to health reform, those workers are no more likely than others to report having a cost-related unmet need for health care. This may be, in part, the result of increased use of flexible spending accounts, the authors say.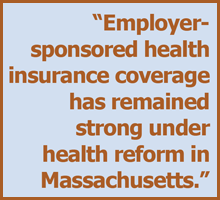 ---
About the Study
The authors used data from a survey of working-age adults in Massachusetts in fall 2006, fall 2007, and fall 2008. Respondents with health insurance were asked about the characteristics of their coverage, access to care, out-of-pocket health expenses, medical debt, and more general financial problems. The concurrent economic downturn and general rise in health costs during this period likely also affected the study's findings, the authors say, leading to an underestimate of the gains from health reform.
---
The Bottom Line
Despite the economic downturn and rising health care costs, Massachusetts adults have experienced expanded access to employer-sponsored coverage.
Publication Details
Publication Date:
October 1, 2009
Citation:
S. K. Long and K. Stockley, "Massachusetts Health Reform: Employer Coverage from Employees' Perspective," Health Affairs Web Exclusive, Oct. 1, 2009, w1079–w1087.