The Many Journeys to Accountable Care
By Joseph F. Damore, M.H.A., FACHE, Susan D. DeVore, I.M.H.L, R. Wesley Champion, Eugene A. Kroch, Ph.D., Danielle A. Lloyd, M.P.H., and Diane W. Shannon, M.D., Premier Research Institute
As more health care providers join together as accountable care organizations (ACOs)—there were 428 ACOs as of last January—it's important to understand the capabilities needed to be successful in containing health care costs while improving quality. Our firsthand look into the experiences of a diverse group of health systems that were among the first to take steps toward accountable care offers insight into what it takes to realize these goals.
Our research chronicles the implementation strategies, challenges, and lessons learned from four early adopters of accountable care: AtlantiCare in Egg Harbor Township, N.J.; Fairview Health Services in Minneapolis; Memorial Healthcare System in Hollywood, Fla.; and Presbyterian Healthcare Services in Albuquerque.
We conducted on-site interviews in October and November 2011 with executive leaders and applied Premier's Population Health Capabilities Framework, which is a way to inventory the building blocks needed to transform delivery from volume-based to value-based health care. We believe chronicling the early steps of these leading-edge organizations will help the large cohort of ACOs just starting out.
At the time of our analysis, two of the four organizations were engaged in ACO contracts with commercial payers; three of the four were working with their own self-insured employee plan; and Fairview and Presbyterian Healthcare Services were participating in the Medicare Pioneer program. Currently, all four organizations are engaged in ACO contracts with state or federal governmental agencies (Medicare Advantage, Medicare Pioneer, Shared Savings Program or Bundled Payment for Care Improvement, or state Medicaid programs). Presbyterian Healthcare Services took advantage of the volunteer Pioneer withdrawal period in July 2013 as New Mexico has historically been a low-cost and low-utilization environment, which resulted in few opportunities to achieve savings in that ACO model. As an integrated system, Presbyterian continues to focus its efforts on its current accountable care model.
Successful Implementation Practices & Results
Exhibit 1 outlines some of the administrative, information technology–related, and clinical steps each system took as a part of its ACO transformation. It also outlines some of the impressive results achieved by each through its ACO work.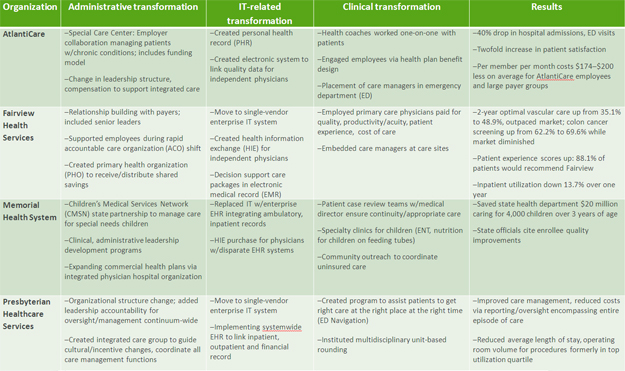 Exhibit 1 
Shared Challenges
Speed of implementation. All four organizations identified determining the ideal speed at which to implement accountable care as one of the most challenging aspects of transformation. Fairview chose to move rapidly over the course of one year to minimize the time straddling the fee-for-service and ACO payment models; Presbyterian Healthcare Services moved a bit less quickly; and AtlantiCare and Memorial Healthcare System moved more methodically over the course of two years, using pilots to prepare for spread. These choices reflect the variation in their population health capabilities, such as an existing focus on patient involvement in clinical decisions or a set of providers delivering care efficiently, among these organizations. All four organizations also found current state and federal regulations regarding the storing, sharing, and use of patient-related data (e.g., behavioral health information) were barriers to swift development of population health management capabilities.
Working with providers and payers. The organizations also experienced challenges in working successfully with health providers on this transformation in the way health care is paid for and delivered. Presbyterian Healthcare Services recognized it had too few primary care providers, which might lead to access and capacity issues as it moves to patient-centered medical homes in which primary care is delivered in a coordinated way by a team of providers. AtlantiCare found many specialists had reservations about participating in accountable care contracts, driven by fear that increased primary care services would reduce income for specialty services. And Memorial Healthcare System found that a history of competition among physicians, as well as provider conflicts with health plans over reimbursement, slowed partnership development.
In addition, although steps have been taken across the four health systems to improve provider–payer collaboration, the ready exchange of clinical and administrative data needed for effective population health management is still in its infancy. Another common problem among payers is that most private payers aren't ready to engage in value-based contracts.
Delayed Return on Investment. The shift to accountable care requires an extensive upfront investment in population health management infrastructure, such as patient-centered medical homes, chronic disease management programs, and additional IT capabilities. However, the significant financial returns from accountable care to sufficiently offset these costs are unlikely to materialize rapidly.

Lessons and Implications
Our systematic review of these organizations reveals important lessons for policymakers, payers, providers, and others interested in the feasibility of accountable care.
Policymakers. Effective population health management requires fundamental change in care delivery that must be supported by changes in payment. Successful movement to accountable care will require legal reforms, as well as novel policies that support expanded primary care services, care coordination, use of health information technology, improved availability of data, and greater patient engagement.
Payers. To facilitate the shift to accountable care, payers should encourage the leveraging of multiple payment and delivery reform models, such as bundled payments (in which there is one payment for an episode of care) and medical homes, along with ACO participation to help ensure and accelerate success.
Providers. Providers should consider how to best leverage their care improvement investments across their entire population. For example, in certain cases, implementing evidence-based guidelines or a novel scheduling procedure affected individuals whose care was not covered by the ACO contract, as well as the ACO population. This "spillover" effect generated savings for payers that they were not obligated to share with the providers. Fairview used this spillover effect to move quickly to ACO contracts with all five commercial payers in its market, representing more than half of its revenue.
The spillover effect can be particularly beneficial to safety-net hospitals. For example, a relatively high proportion of Medicaid patients led Memorial Healthcare System to develop an ACO contract with the state of Florida to cover Medicaid children with special needs. In this case, finding efficiencies in care with a relatively poor payer also had the effect of reducing uncompensated care, which benefited the ACO.
The First Step
We all know the first step is the hardest. The four health systems we profiled took on significant risk by being among the first in the nation to move toward accountable care. They have done an enormous amount of work and have made impressive progress in a short period of time. As a byproduct of their journeys, they are producing valuable evidence that will show others considering a move to accountable care what works—and what does not. Most important, their work will help them provide higher quality, more efficient care to the populations they serve.
Publication Details
Publication Date:
August 6, 2013
Citation:
J. F. Damore, S. D. DeVore, R. W. Champion et al., The Many Journeys to Accountable Care, The Commonwealth Fund Blog, August 2013.