Last May, The Commonwealth Fund outlined a vision for a digital health advisor (DHA)—an integrated suite of digital services designed to help consumers deal with a broad range of health-related questions, decisions, or tasks. Such a tool would provide answers, connect with care providers, and empower people to achieve their personal health goals.
We found that while a vibrant marketplace of digital health apps and services is beginning to emerge, existing tools tend to address health issues in piecemeal and haphazard ways. Furthermore, many apps focus on a single disease, while consumers with the greatest need have multiple conditions. For such patients, apps often have inaccurate information, are hard to use, and/or do not provide the personalized support they require. We identified four barriers that inhibit the development of a comprehensive, integrated, and person-centered DHA that would be useful to the sickest patients. These include: technical challenges (such as standards that permit easy data sharing); lack of clear revenue models to support investment; policy/regulatory requirements; and cultural gaps between health care providers, programmers and app designers, and the public.
A DHA Prototype
To begin addressing these gaps, The Commonwealth Fund and the Gordon and Betty Moore Foundation commissioned work from gravitytank, a design firm, to understand the needs of those who could benefit most from a DHA: people with multiple chronic conditions, the frail elderly, and their caregivers. The group also examined how digital tools might serve those needs. The team of researchers, designers, and strategists followed a human-centered design approach to elicit the needs of eight pairs—each including an individual with complex needs and their caregiver—and then used that information to create a DHA prototype, called Sage (Exhibit 1). The approach included in-home interviews with the eight pairs, discussions with care managers (both independent and inside health systems) about their roles and views on the most effective strategies and challenges to delivering excellent care, secondary research, development of personas and scenarios, and brainstorming solutions to the identified issues.
Exhibit 1: Human-Centered Design Process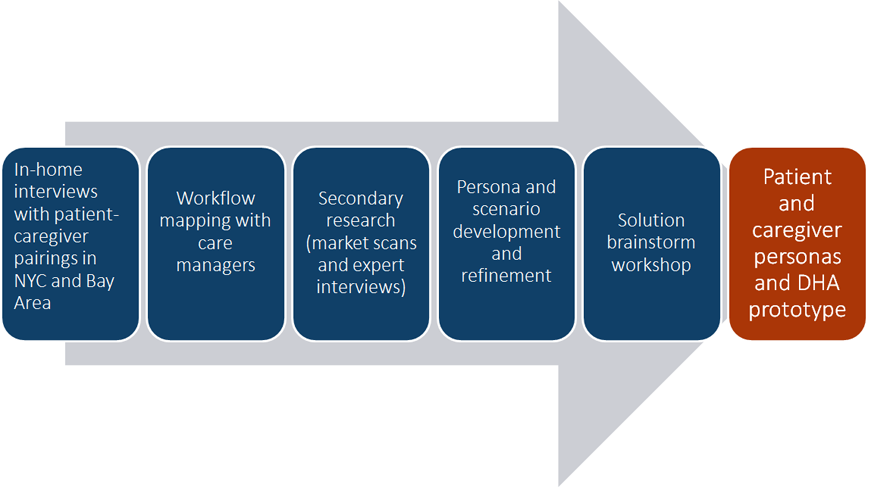 Patients and Caregivers: Identified Needs
This research revealed a broad set of needs and goals among the groups studied, which fell along two dimensions, ranging from the personal (e.g., to attend a granddaughter's graduation) and the medical (e.g., to better control my pain) to the functional (e.g., to shop for groceries) and emotional (e.g., to feel in control of my condition). Four overarching goals spanned these dimensions (Exhibit 2).
Exhibit 2: Goals of People with Multiple Chronic Conditions, the Frail Elderly, and Their Caregivers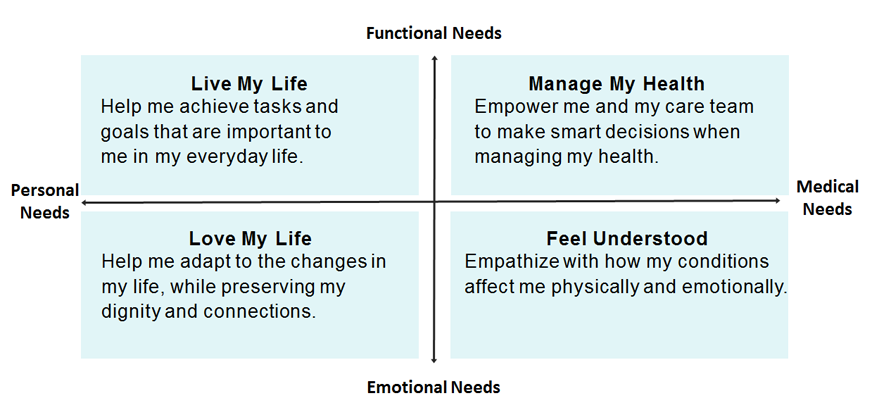 Scenarios and Personas
With these needs in mind, the team developed personas—such as a frail elder, a caregiving spouse, and a young person with an acute chronic condition—and scenarios in which these characters might use Sage. The personas and scenarios helped the designers create features that might engage people and promote regular use of the tool.
John is 87 and has arthritis, hypertension, and mild cognitive impairment. He lives at home with his wife and gets some help from his daughter.
He has been feeling more tired and unsteady recently, and uses a walker to get around. He wants to stay active and social, but many of his friends have passed and his family is busy.
He wants to run errands and manage his medications and doctors' appointments, and he has been referred to a geriatrician he doesn't know.
He uses a digital health advisor to transfer his existing electronic medical record and briefly narrate his story, current circumstances, and abilities and even share images of his home and family so that the new doctor will understand him better on their first visit.
He also uses it to explore his preferences around end-of-life care and talk to his family about them, a conversation that has in the past been awkward.
Lastly, he uses it to learn to better manage his health, get just the right amount of help, and give him opportunities to grow.
Click here to view more ways in which Sage can be used.
Digital Prototype
The prototype, Sage, makes the DHA vision tangible for developers, policymakers, and users and demonstrates how a digital tool could be organized in a way that might be attractive to potential users. As envisioned, the DHA would include four types of functionality: offering advice and information, tracking health indicators, providing a care journal and other features to enable patients and caregivers to create a "holistic picture" of their situation, and helping individuals communicate with their care teams and coordinate care.
 

Advice and Information

 

Health Tracking

 

Holistic Picture

 

Coordinate and 

Communicate

Offer advice and guidance for health-related questions, either through digital assistant integration like Siri or Alexa, or via a trained medical professional available by phone or video.

Use a metric dashboard to take the massive amounts of data generated by health-tracking apps and devices and turn them into something useful. These data can also be used to make simple, actionable suggestions to help people lead healthier lives.

Help people share their personal stories with their care teams in order to form deeper connections with doctors, nurses, and other providers. Features such as a care journal, visit agenda, and care preferences can give providers a more complete picture of someone's situation.

Help individuals communicate with their care team, schedule appointments, and organize transportation. A shared calendar including appointments from all providers, a document center, and a task manager can reduce the complexities of care across a network of providers.
Click through the screens (to the right) to see Sage in action.
Next Steps
This work has provided valuable insights into the care needs and preferences of patients with multiple chronic conditions, the frail elderly, and those who care for them. It should also help bridge the cultural gap between the people who might use a DHA and those who would create and disseminate one. The Commonwealth Fund will continue to work to address the remaining barriers to realizing a DHA—the technical challenges, lack of clear business models, and policy/regulatory requirements—in order to bring a product like Sage to market and to the people who need it most.