The economic shutdown due to COVID-19 prompted an unprecedented spike in unemployment, with more than 33 million people filing claims since mid-March. Alongside this widespread job loss, the health insurance safety net is being stretched to accommodate the rapid increase in people in need of coverage. The Affordable Care Act's (ACA) marketplaces, along with Medicaid, are important tools in covering the newly uninsured.
State-Based Marketplaces Work to Enroll the Uninsured
The ACA's marketplaces provide a source of quality health insurance and financial assistance. State-based marketplaces (SBM) have control over call centers, outreach efforts, and eligibility and enrollment platforms. As a result, states with SBMs have more opportunities to help consumers during the COVID-19 crisis than states relying on the federally facilitated marketplace.
Creating New Opportunities to Enroll
The coronavirus pandemic struck shortly after the end of the ACA's annual open-enrollment period, the only time of year when people can sign up for marketplace coverage barring certain life events, such as losing employer coverage or other minimum essential coverage (MEC), which prompt a special enrollment period (SEP) in every state. There are several SEPs for people seeking coverage during the coronavirus pandemic, but some have been available only in certain states.
Given the need for access to health care and financial protection during the pandemic, 12 of the 13 SBMs — all but Idaho's marketplace — established a new COVID-19 SEP, allowing the uninsured to sign up for coverage outside the annual enrollment period. The federal government declined to provide a similar SEP for states relying on the federal marketplace platform, HealthCare.gov, thereby limiting enrollment opportunities in 38 states.
Additionally, some SBMs offer a reduced-income SEP year-round for people enrolled in MEC outside the marketplace. This includes people who bought private individual coverage directly from an insurer and who become newly eligible for marketplace subsidies because of an income reduction. This SEP has not been implemented on HealthCare.gov, although in every state, marketplace enrollees with an income change can adjust or start receiving subsidies if they qualify based on eligibility standards.
Some SBMs also have offered SEPs specific to their state that allow the uninsured to sign up for coverage.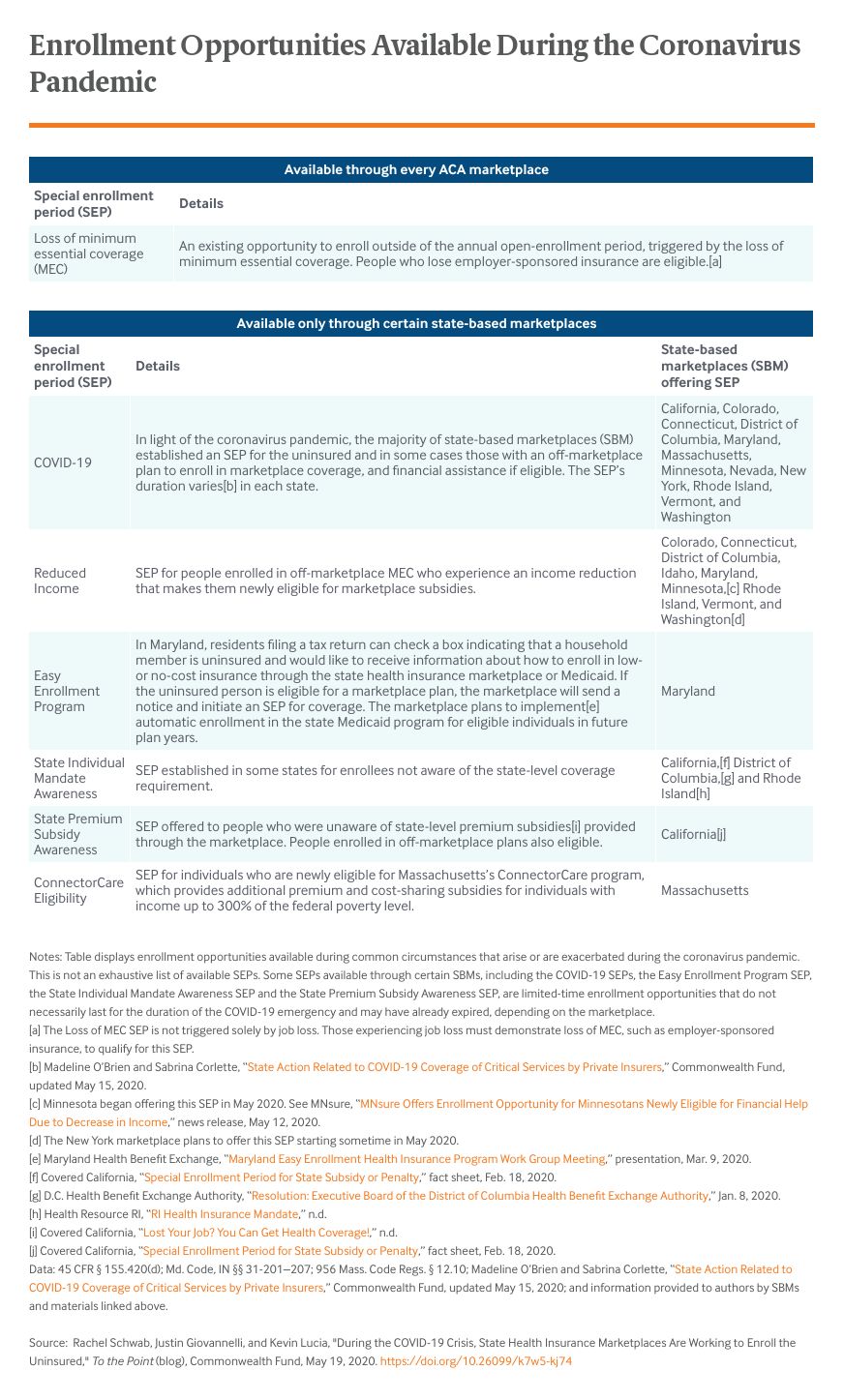 Reaching the Uninsured
In addition to forging new paths to coverage, SBMs have gone to great efforts to broadcast enrollment opportunities. We conducted a survey of SBMs on COVID-19 responses and found that marketplaces have launched various campaigns to reach the uninsured and simplify enrollment.
Several SBMs are announcing SEPs through advertisements. Maryland's marketplace shifted most of its remaining fiscal year marketing budget to its COVID-19 response, and California's marketplace launched a new ad campaign. Numerous marketplaces, including those in Connecticut, the District of Columbia, Massachusetts, Minnesota, Vermont, and Washington, are working with state labor or employment security departments to provide health insurance enrollment information to people filing for unemployment insurance. Similarly, New York's marketplace started an awareness campaign aimed at people at risk of losing job-based coverage. Both the Connecticut and D.C. marketplaces are reaching out to organizations that have announced layoffs to connect employees losing their insurance to coverage options; the D.C., New Mexico, and Oregon marketplaces are conducting additional outreach to small businesses. To streamline enrollment, the D.C., Idaho, and Massachusetts marketplaces are reducing typical SEP paperwork.
SBMs are also tapping consumer assistance networks. Oregon's marketplace surveyed assisters who help with enrollment to ensure that an online search tool reflects assisters who are still available to help consumers. Colorado's marketplace offered assisters supplemental funding to help consumers enroll in coverage. Marketplaces also are bolstering call centers, with the Nevada marketplace adding extra weekend hours to accommodate the surge in inquiries and enrollments.
Efforts are paying off. State marketplaces are reporting thousands and sometimes tens of thousands of enrollments since they instituted a COVID-19 SEP and began outreach efforts.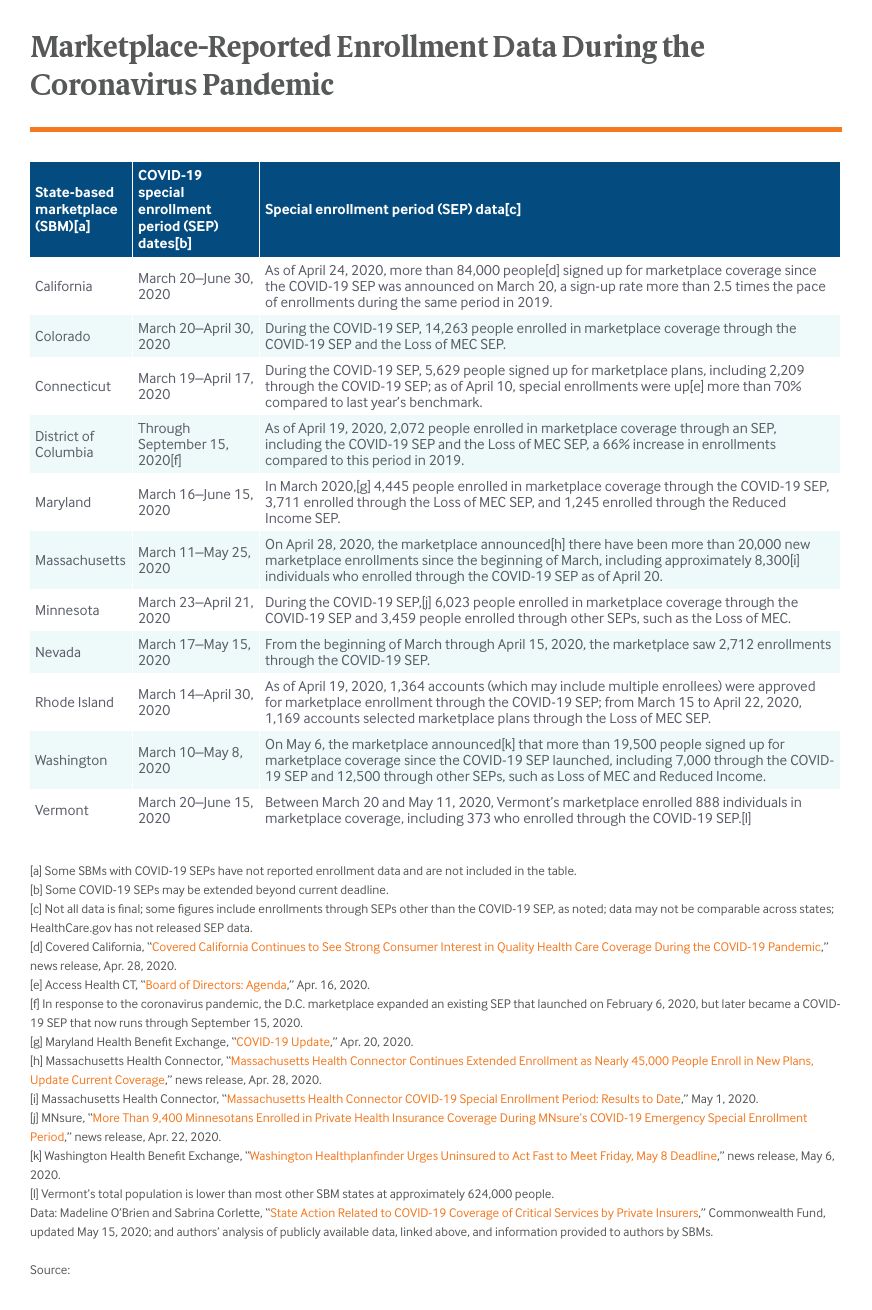 Several SBMs have found that SEPs are leading to enrollment growth in younger populations, a group that is more likely to be uninsured and important to marketplace stability. In Maryland and Rhode Island, more than half of reported COVID-19 SEP enrollees are under age 35. In D.C., almost 60 percent of SEP enrollees (as of March 30, 2020) are under age 35. Massachusetts reported that COVID-19 SEP enrollees are more likely than existing members to be ages 18 to 34.
Looking Ahead
The ACA's marketplaces were created to expand access to comprehensive, affordable coverage. State marketplaces have responded effectively to the economic crisis caused by COVID-19, providing a port in the storm for those who need health insurance to protect themselves and their families. As the public health emergency and economic shutdown continue, marketplaces have a key role to play.