Short-term health plans were originally intended as a temporary lower-cost option for people who need catastrophic coverage during times of transition. Citing the need for a more affordable option in the individual marketplace, the Trump administration pushed to extend the contract terms on short-term health plans so they could be purchased as a substitute for year-long coverage. In a 2018 rule, short-term health plan coverage was lengthened from three months to just under 12 months. These plans are also now renewable for up to 36 months.
While short-term health plans typically have lower premiums than insurance options that comply with the Affordable Care Act (ACA), they have numerous shortcomings. As we highlighted in a previous blog, these plans often lack protections for people with preexisting conditions, allowing carriers to deny claims and rescind coverage. In addition, short-term plans usually come with high out-of-pocket costs and often do not cover all essential benefits, such as maternity care, required by the ACA. Short-term plans are routinely sold through misleading marketing practices and complicated association schemes, making it difficult for state regulators to enforce laws. These findings are supported by a recent report from the U.S. House of Representatives' Committee on Energy and Commerce that concluded short-term health plans pose a threat to the "health and financial well-being of American families."
However, a 2019 analysis by the Congressional Budget Office (CBO) projected that the industry would evolve and a new type of short-term health plan would likely become available that offers more comprehensive coverage, including protections against high cost-sharing and catastrophic medical costs. It was expected the industry would offer new plans that could compete with individual market plans. To determine if this projection has come true, we looked at 414 plans with 12-month contracts sold on the online health broker website eHealth in Alabama, Oklahoma, Texas, Utah, and West Virginia. As part of our analysis, we looked at filings the plans made to regulators since the 2018 regulations were issued.
Our review found that most of these products have not increased catastrophic coverage or become more comprehensive.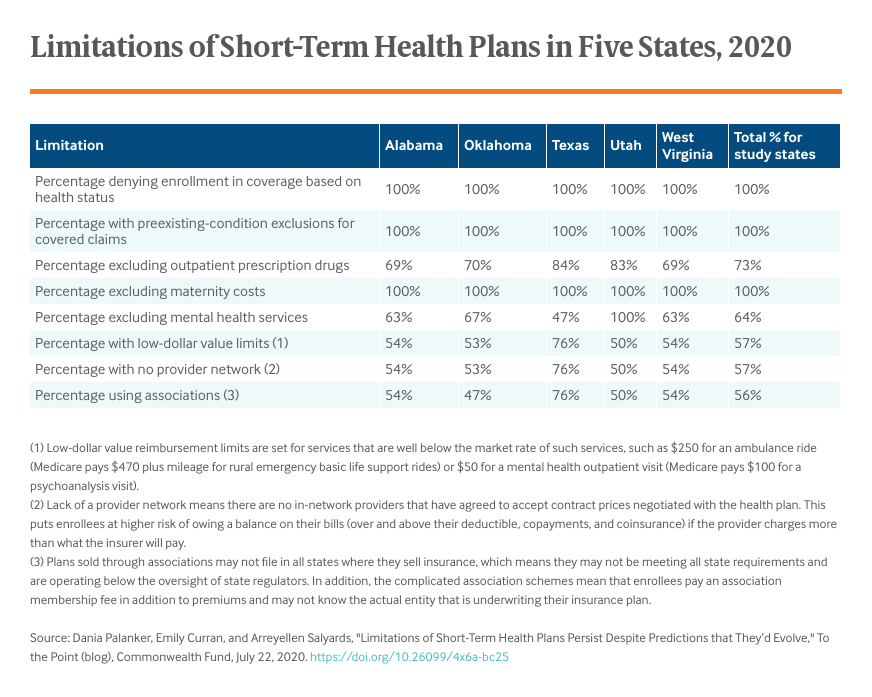 Coverage Gaps Continue
All the plans use a health questionnaire to identify people with serious health conditions and exclude coverage for preexisting conditions. Three-quarters do not cover outpatient prescription drugs and the remaining plans offer very limited coverage, such as generic coverage only or no reimbursement for specialty drugs. When mental health is covered, reimbursement is always limited to $50 for outpatient services and $100 per day for inpatient services. In comparison, current Medicare reimbursement, which is much lower than private insurance reimbursement, is approximately $94 for outpatient psychotherapy and up to $207 for an initial inpatient evaluation. More than half the plans limit reimbursement (known as "low-dollar value limits") on other covered services, such as $250 for ambulance rides when Medicare reimburses $470 plus mileage.
Cost-Sharing Still High
Cost-sharing protections are also lacking. The out-of-pocket maximum, which is the most an enrollee will pay for covered services, did not include the deductible in any of the plans studied. This means patients have to pay a deductible, ranging from $1,000 to $12,500 for individual coverage, before their payments count toward their out-of-pocket maximum, which can be as high as $12,500 (or $25,000 when the deductible and maximum are combined).
In comparison, marketplace health plans that meet ACA requirements must count deductibles toward the out-of-pocket maximum, which is capped at $8,150 in 2020.
Over half of plans studied have no network of providers that are contractually bound to accept negotiated reimbursement rates. Out-of-network providers can charge what they want, and the patient is responsible for the balance of the bill after the insurer pays its share (over and above any deductible, copayment, or coinsurance). Enrollees may face tens of thousands of dollars in unexpected medical bills, which can happen to patients with severe cases of COVID-19.
Minimal Improvement in Covered Benefits
We found only one short-term health insurer in the five study states offering more comprehensive coverage than the typical short-term plan. This insurer is selling three groups of plans, two of which cover some maternity and mental health care. However, the plans still exclude coverage of preexisting conditions. Outpatient prescription drug coverage is limited to $1,500 or $3,000. Two groups of plans do not state an out-of-pocket maximum; the third has a $10,000 maximum for individual coverage. These offerings may signal the beginning of the CBO's predicted evolution, but the plans would still leave enrollees without coverage in catastrophic circumstances.
Looking Forward
The market forecast by the CBO has not come to fruition. People enrolled in the short-term market are primarily in very limited plans that the CBO would not count as insurance using its own definition. Even for people enrolled in more-comprehensive short-term plans, preexisting condition exclusions mean claim denials and rescissions are likely to persist. The short-term market continues to place enrollees at huge risk.