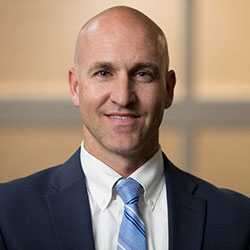 Toby Freier, M.B.A., is president of New Ulm Medical Center, a 25-bed critical access hospital 90 miles southwest of Minneapolis and two hours from its nearest tertiary care referral center. Part of Allina Health, a nonprofit system, New Ulm has been preparing for the emergence of COVID-19 cases at the same as time it's been expanding capacity to provide care to patients with chronic conditions and other acute care needs.
Commonwealth Fund: Give us a sense of what's happening now at the hospital.
Freier: There's a bit of peace and calm at the moment because we haven't had any confirmed cases in our county. We're not sure if it is because of the natural distancing that occurs in less densely populated communities or whether it's that we're two weeks behind other places like the coasts. There are confirmed cases in our region. Our mindset is we are preparing for the worst but hoping and praying for the best.
Commonwealth Fund: How have your operations changed in the past few weeks?
Freier: It's been surreal. In a matter of about two weeks, we suspended much of the health care system we built over the past 20 years, which focused on expanding access to specialists, promoting prevention, and shifting to value-based contracting. We're building a new delivery system for at least the near future. One component is an emergency preparedness plan that we hope will enable us to accommodate up to four times our usual volume and manage care for very sick patients with complex needs, some diagnosed with COVID-19 and some not.
Our plan assumes that transferring patients to larger hospitals may not be an option. To do that we are reorganizing our space, as well as our nursing and medical staff. At the same time, we've been building a virtual system to meet the ongoing care needs of the population.
We have done things in 48 hours that might have taken three years before.
Commonwealth Fund: Can you give us a few examples?
Freier: In literally a week we have had 50 providers convert to providing a virtual care model that includes phone-visits, e-messaging, and video visits. We've seen the mindset shift from considering what we might use telehealth for to what we can't use telehealth for. In just one week we have transitioned 50 percent of our clinic visits to a virtual format.
Our providers are thinking through what still has to be done face-to-face, but even then, we're looking at alternate approaches. For instance, we are piloting a drive-up lab because there's a significant portion of the population that comes in for routine lab testing to monitor their chronic illnesses. I have thought for a long time we need a "virtual first" mentality because that's how we will unlock access to care in rural populations. Before this happened, we thought it would take years to accomplish — to get providers and patients on board, to work through information technology and HIPAA issues, and to get Medicare coverage. In a matter of seven days, all of those barriers vanished.

Commonwealth Fund: Did you have a pandemic plan prior to this?
Freier: Not a true pandemic plan. We had a lot of disaster drills for a tornado or a blizzard or a significant influx of patients from a terrible accident, but not a plan for this level of sustained disruption over weeks and months. We're thankful we have a bit more runway than other parts of the country to think about how to build an ambulatory, population health–based, virtual care model and to get ready for a potential surge.
We're doing education and training for our physicians, so one of our clinic family medicine physicians who hasn't been in the hospital or ED [emergency department] much over the past five years can do education on COVID-19 indications and associated ventilator or intubation management. We have some highly skilled ED and hospital physicians who are helping their colleagues with welcome-to-ED management toolkits. Is it adequate? It's adequate for the time we have.
Commonwealth Fund: What other things are you concerned about?
Freier: One is EMS [emergency medical services]. In rural areas, it's something we worry about because most of these communities rely on a volunteer service. They usually have only one team on call and their backup is minimal. And then we don't have deep clinical teams in all of our region's rural hospitals. We are collaborating with a critical access hospital 15 miles down the road, thinking through a one-hospital, two-campuses model. We have more capabilities and resources and equipment here, so we've started to look at whether we could take the higher-complexity cases while they meet other medical needs.
Commonwealth Fund: How has being part of a large health system helped?
Freier: The data analytics support has been phenomenal. In a matter of four days, Allina Health created a dashboard that gives us a command-center view of what is happening across the system at multiple locations — how many people are under evaluation for COVID-19, how many are being tested, how many confirmed cases, and how many confirmed cases with hospitalizations. We also know our ICU and ventilator capacity and how many staff we have out on quarantine. Four days ago, we were pulling that information together manually.
Commonwealth Fund: How many ventilators do you have?
Freier: Five. That is without our operating room anesthesia machines. But that is two more than we had a week ago. We had two donations. We also received 13 boxes of N-95 masks from a local plant and masks from dentists, which helps. Community support has been incredible. The schools, which closed, began to immediately provide childcare for health care workers. We want to make sure the community knows we are here for them as well. There has been a pretty strong message nationally to stay home and not come to the hospital unless you are really sick.
We're trying to make sure people also understand we are here to care for them. It just may not be in person. The other thing I have to learn is to focus on doing the next thing. There are so many changes coming in every hour and so many variables and uncertainties. I have to keep telling myself to just focus on what's needed for this community in the moment. You can get overwhelmed in an instant if you open your browser and go to Google News.
Have you changed the way you work in response to COVID-19? We're interested in hearing from you; contact Martha or Sarah.