Policymakers can improve health outcomes and lower Medicare costs by addressing social determinants of health – factors that can impact health, like where people live or economic circumstances. By offering supplemental benefits not available in traditional fee-for-service Medicare, Medicare Advantage (MA) plans can address these concerns through benefits like transportation and meals. However, plans have been relatively slow in adopting these services, indicating additional policy changes may be necessary.
MA plans have long offered enrollees supplemental benefits such as dental, vision, and hearing. Beginning in 2019, the Centers for Medicare and Medicaid Services (CMS) allowed plans to offer an array of "primarily health-related" services, ranging from nutrition and wellness to in-home support services. In addition, 2018 legislation allows plans to offer special supplemental benefits for the chronically ill (SSBCI), like groceries.
There are operational challenges in offering these benefits and limited information on their impact, which may be part of the reason plans have been slow to adopt them. While the number of plans providing certain services increased considerably (e.g., transportation and meals) from 2019 to 2021, adoption of others (e.g., in-home support) has been slower. None are as widely offered as dental and hearing benefits.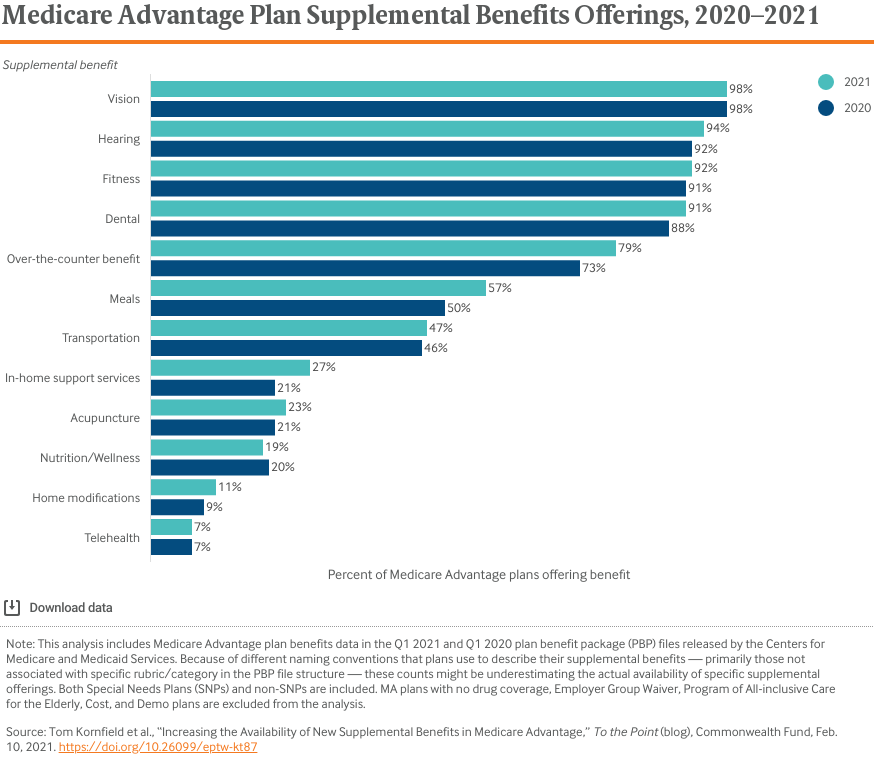 In addition, while the percentage of plans offering SSBCI increased from 6 percent in 2020 to 16 percent in 2021, a relatively limited number of plans offer these benefits. Based on discussions with MA plan executives and national experts, we offer considerations for stakeholders working to increase the adoption and efficacy of supplemental benefits:
Develop strategies for supporting partnerships between plans and third-party organizations providing supplemental benefits. While many MA plans have long-standing partnerships with organizations for dental and vision benefits, they may still be in the process of building relationships with other organizations to provide nonmedical services. The amount of communication and documentation required to successfully meet Medicare program requirements and integrate medical and nonmedical care can be challenging for organizations seeking to partner with plans. CMS could play a larger role in helping smaller organizations understand these requirements and collaborate with plans. Further, CMS could consider creating a directory of approved organizations to help MA plans identify qualified partners.
Help beneficiaries compare plans based on supplemental benefits. When shopping for an MA plan on Medicare Plan Finder, beneficiaries consider a range of factors, such as monthly premium, drug coverage, and supplemental benefits. Beneficiaries may not be aware that some plans might provide additional supplemental benefits. Medicare Plan Finder includes a list of select supplemental benefit offerings but provides limited detail about them. By making it easier to compare supplemental benefit offerings, Medicare Plan Finder could help beneficiaries access these services.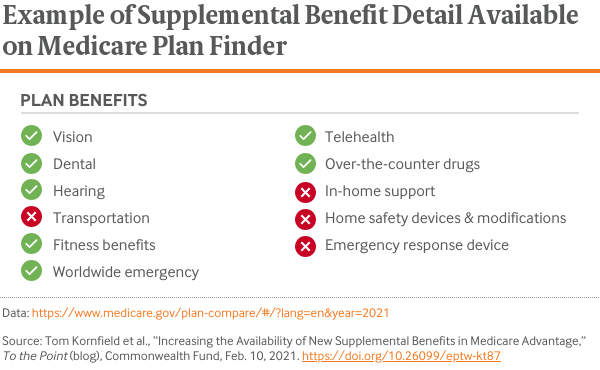 Increase data collection to build an evidence base for providing supplemental benefits. Current evidence suggests addressing the nonmedical needs of certain groups, such as high-need, high-cost beneficiaries, can have positive health impacts and lower costs. However, there is limited evidence on whether these benefits lower spending and generate a return on investment for plans. As plans and policymakers consider offering services, evidence on the number of MA beneficiaries who use specific services linked to their health status, demographics, and outcomes could be a valuable resource.
Through these and other steps, policymakers may be able to address barriers to plans using supplemental benefits to improve health outcomes. A robust evidence base and improved operational models for plans to contract with third-party organizations could meaningfully advance how MA plans serve high-need members and address social determinants of health.