As Congress proceeds with drafting a wide-ranging $3.5 trillion reconciliation package, policymakers have a rare opportunity to address one of the most persistent issues in domestic health care: the high cost of prescription drugs for seniors.
Older Americans Face More Cost-Related Access Barriers than People in Other High-Income Countries
Older adults who fail to fill prescriptions or skip recommended medication doses because of cost experience worse health outcomes than those who follow their prescription regimen. Seniors in the U.S. have the highest rate among 11 high-income countries (Australia, Canada, France, Germany, the Netherlands, New Zealand, Norway, Sweden, Switzerland, the United Kingdom, and the United States) of not taking prescription drugs because of cost.
This financial burden is felt even more acutely by the estimated two of three older Americans living with at least two chronic conditions. Furthermore, more older Americans have suffered from economic hardship during the COVID-19 pandemic compared with their counterparts in other countries. One of 10 in the U.S. reported feeling stressed about having enough money to pay for basic needs like food and rent.
U.S. Pays More for Prescription Drugs
Two recent studies looked at differences by country in spending and care utilization for patients with common health needs. To allow for comparisons, the authors constructed patient "personas" to represent common categories of patients with high needs and high costs. To date, this kind of international comparison research has been limited.
The researchers found that the U.S. health care system spends substantially more on outpatient drugs for older adults with complex health needs than do other high-income countries. The authors define spending as any costs attributable to drugs prescribed to patients in outpatient settings. On average, the U.S. spends 7.5 times what England does on outpatient drugs for an older adult hospitalized with heart failure and diabetes. The U.S. spends nearly twice as much as Canada, the next-highest country.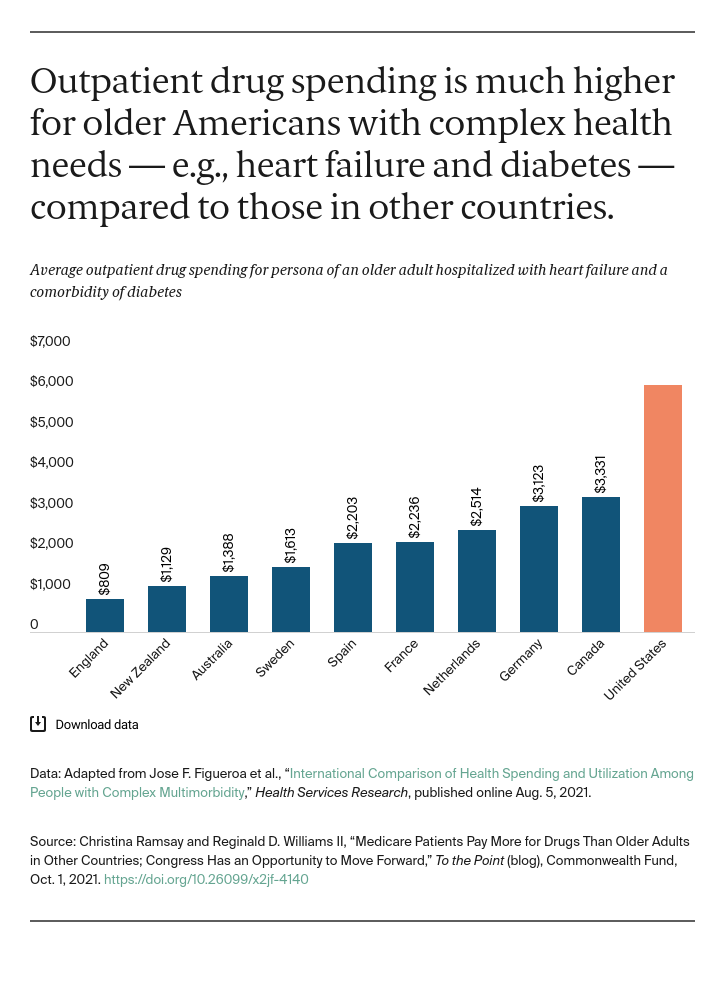 What accounts for these discrepancies? While seniors in the U.S. use a similar number of drugs as those in the other countries, the U.S. health system spends substantially more on each one. Higher prices are key drivers of drug spending in the U.S. — not utilization or quantity of drugs prescribed.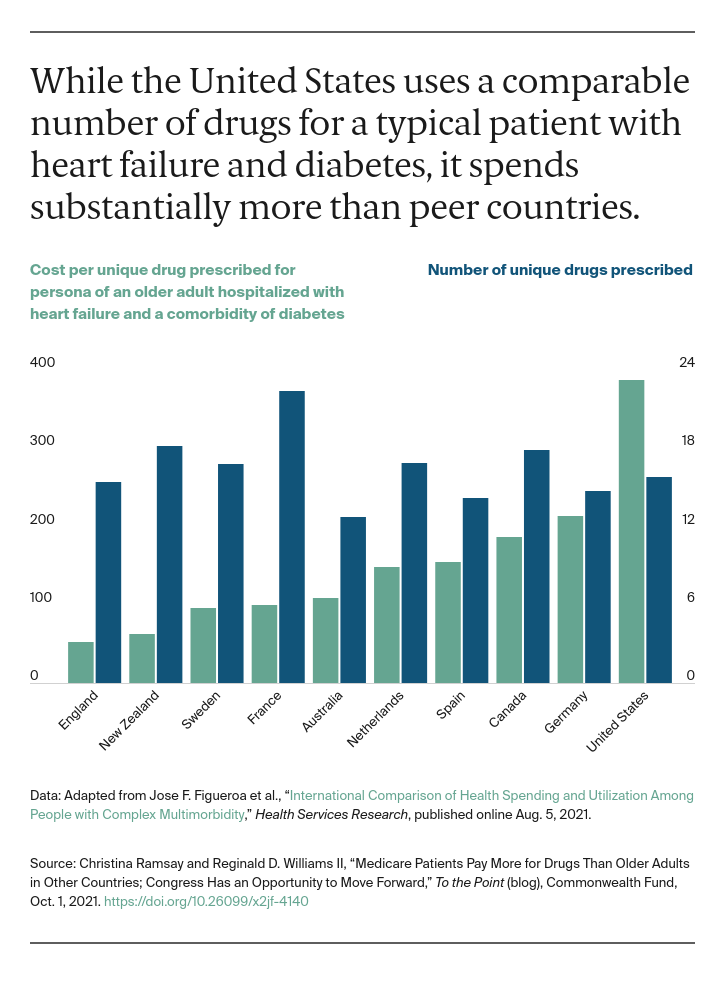 U.S. Policy Opportunities
In the United States, lowering prescription drug costs would provide much-needed relief for payers and patients alike. Legislators have an opportunity to address this issue from two sides: a top-down approach through Medicare that tackles the prices driving high spending, and bottom-up support that offers patients more protection against high out-of-pocket costs.
For instance, to make the federal government a more responsible purchaser, policymakers should consider allowing Medicare to negotiate drug prices and imposing inflation-based rebate penalties when prices increase too rapidly. Untying Medicare's hands would allow the program to leverage its purchasing power and negotiate better deals for seniors, especially those with complex health needs. Such strategies are used in countries like Germany and the Netherlands, as well as in public programs within the U.S., like the Veterans Health Administration and the Department of Defense. Limiting prices need not stifle innovation or investment in the pharmaceutical sector. The rapid development of the COVID-19 vaccine shows that government negotiation can spur innovation and speed delivery to the public.
To improve affordability for patients, legislation also could cap beneficiaries' annual out-of-pocket spending in Medicare Part D. This would offer much-needed relief to sicker patients who are on the hook for 5 percent coinsurance after spending their way into catastrophic coverage. This has grown to be a more common occurrence because of the increasingly high prices of specialty drugs.
Proposals pending before Congress include Medicare drug price negotiation and a redesign of the Part D benefit. These proposals command significant public support across the political spectrum and are top priorities for Congress. The United States pays more for prescription drugs than its international peers do — unnecessarily so. The experience of other countries shows there is a better way.