As the Biden administration continues its efforts to build on the Affordable Care Act (ACA), its regulatory to-do list includes revisiting Trump-era policies struck down by the courts. This spring, a federal court concluded that several Trump administration actions to weaken the ACA broke federal law. Among these was the decision to eliminate certain consumer-friendly rules for HealthCare.gov, including a policy encouraging standardized health plan designs for marketplace coverage. In its work to restore the policy, the Biden administration can learn from what states are doing now.
Standard Plans in the States
The ACA requires that individual-market health plans provide similar benefits, limit patient cost-sharing, and fit within specified value tiers (e.g., bronze, silver, and gold plans). These rules are designed to ensure coverage meets enrollees' needs. But shared standards also make it easier to compare plan choices — an otherwise difficult, sometimes overwhelming task that frequently leads to suboptimal plan selections. Consequently, when the ACA rules were implemented, a handful of states chose to require additional standardization to further support consumer decision-making. These states typically required participating insurers to offer coverage options with standard cost-sharing parameters (i.e., plans with identical deductibles, copayments, and coinsurance rates for specified services) while still allowing the sale of some nonstandardized plans.1 The federal government eventually adopted a weaker version of the policy — insurers selling coverage through HealthCare.gov were encouraged but not required to use standard plan designs — before the Trump administration jettisoned the program in 2019. This action, taken without legal justification, helped trigger a lawsuit and, eventually, the federal court's rebuke.
Notwithstanding the Trump administration's decision, plan standardization has continued to attract interest. In 2022, eight states and the District of Columbia will require marketplace insurers to offer standard plans, with Colorado set to follow in 2023. Maryland has created "value plan" designs that limit the size of the deductible and the services to which it applies, but stop short of requiring identical dollar values for each cost-sharing parameter.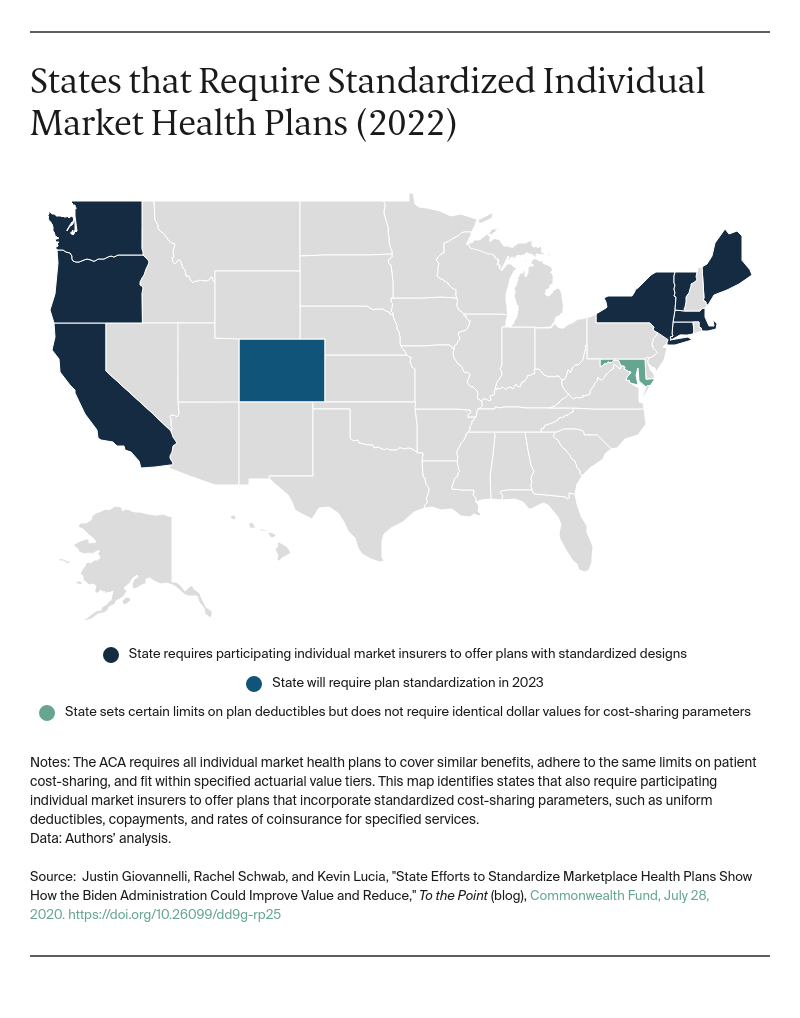 States Seek to Increase Access, Affordability Through Standardization
The states with standard plan requirements still favor them as a way to reduce confusion during enrollment and help consumers draw meaningful distinctions between plans. But standardization also has gained traction as a means of increasing affordability and access to care. For example, policymakers can use standardized plans to require plan designs that exempt certain services, such as primary care and mental health care, from the deductible.
Standard plans also hold promise as a tool for reducing health disparities. The District of Columbia is considering whether to eliminate cost-sharing from its standard plans for services and supplies that target health conditions, such as diabetes and cardiovascular disease, that disproportionately affect D.C. residents of color. By law, Colorado's standard plans must be designed to promote health equity. The state's process for determining the plan designs will include input from the communities most affected by health disparities. Plan standardization has become a prominent element of various state public option proposals and features in the programs enacted by Colorado and Washington.
Regulating Nonstandard Plans to Achieve Policy Goals
States with standard plans have implemented them differently. To maximize the intended benefits, California requires all marketplace plans to be standardized. In other states, participating insurers are allowed to offer coverage with nonstandard designs, too — an approach favored by insurers, which claim such flexibility is needed to enable plan innovation. However, most of these states do set limits on the nonstandard portion of the market. They may do this by capping the number of nonstandard plans insurers can offer in total or in a given metal tier or by requiring that nonstandard plans have "meaningful differences" (e.g., cover additional benefits) from other options, among other approaches. Notably, most states also require that a standard silver plan set the value floor for all silver plans. This approach is meant to ensure the standard offering has a lower premium than nonstandard options and maximizes consumers' tax credits under the federal premium subsidy program.
In the early days of standardized plans, states arguably missed opportunities to help consumers understand and use them. Even now, development of clear branding and web-based tools to enable consumers to focus on standard offerings during plan selection lags in some states. Still, enrollment has been robust, with standardized plans accounting for most marketplace sign-ups in nearly all the states that offer them.
Looking Forward
With the marketplaces on stable footing, there seems little risk and much to gain if federal regulators follow the approach of these states and require insurers on HealthCare.gov to offer standardized plan options. To get the most out of the policy and prevent consumer confusion, officials might consider whether to limit the number of nonstandard plan offerings, or at the least, revitalize federal "meaningful difference" standards. Meanwhile, work should continue at the state and federal levels to help consumers identify standard plans and understand why they offer value. With some refining, the ACA's marketplaces can harness the potential of standard plans to reduce barriers to needed care.