The end of the COVID-19 public health emergency (PHE), currently scheduled for April 16, will affect the continuation — or expiration — of temporary Medicare flexibilities, including the expansion of telehealth. During the pandemic, Medicare beneficiaries have had access to a wide range of telehealth services, including telemental health, and uptake has increased substantially. Unfortunately, once the PHE ends, the authority for these flexibilities will no longer be in effect, meaning that many beneficiaries will lose access to services. Federal action to temporarily extend the current telehealth waivers would allow policymakers time to study whether they should make permanent changes regarding telemental health care coverage.
Medicare Coverage of Telemental Health
At the beginning of the pandemic, Congress temporarily authorized the Centers for Medicare and Medicaid Services (CMS) to waive all statutory requirements governing Medicare coverage of telehealth, including telemental health care, as a means of rapidly responding to the pandemic. CMS then implemented several telehealth flexibilities, including:
allowing beneficiaries to receive telehealth services in all settings, including their homes
increasing provider reimbursement for telehealth
providing coverage for audio-only telehealth services
increasing the range of services eligible for telehealth coverage
expanding the type of providers who can furnish telehealth (including clinical psychologists, licensed clinical social workers, physical therapists, occupational therapists, and speech language pathologists)
Congress then permanently waived the geographic and originating-site restrictions specifically for all telemental health care services as part of the Consolidated Appropriations Act of 2021 (CAA). This means that once the PHE ends, beneficiaries will remain able to access telemental health care regardless of their geographic location or site of care. One stipulation is that beneficiaries must see a provider in person six months prior to their initial telemental health visit and then once each year thereafter. Many advocates have said that such limitations unduly limit access to care for such necessary services.
In addition, CMS has made a number of changes under its regulatory authorities to make certain telemental health changes permanent. First, pursuant to the CAA, it authorized coverage for audio-only telemental health services used for the diagnosis, evaluation, and treatment of mental health disorders following the end of the PHE. Notably, this definition does not cover certain broader psychological services, such as Health Behavior Assessment and Intervention services (HBAI) and feedback sessions for psychological and neuropsychological testing evaluation.
Other permanent modifications by CMS include the addition of many new telemental health services (e.g., group psychotherapy, low-intensity home visits). The agency also added types of providers — including clinical psychologists, physical therapists, occupational therapists, and speech-language pathologists — authorized to furnish certain remote care, like online assessment and management services, virtual check-ins, and remote evaluations.
How Telemental Health Coverage Will Decrease When the PHE Ends
Medicare coverage of telemental health services will decrease once the PHE ends. Absent further action from policymakers, beneficiaries would face restrictions to accessing care, providers would no longer receive reimbursement equal to payment for in-person care, and coverage for certain broader psychological services via audio-only platforms would cease.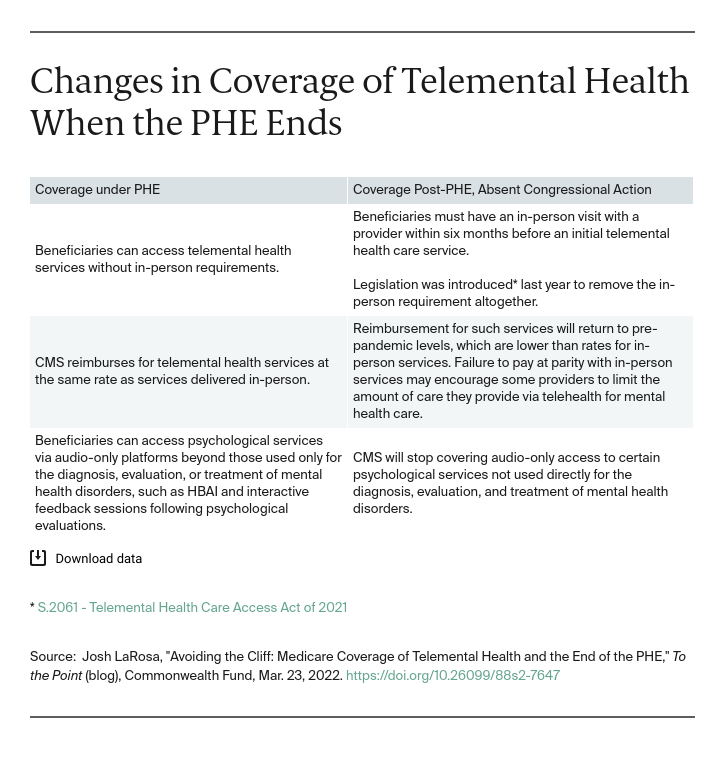 What's Next?
In the fiscal year 2022 omnibus, Congress instituted a 151-day extension for many telehealth flexibilities once the PHE ends, including delaying enforcement of the six-month in-person requirement for telemental health care services. Congress also authorized CMS to continue providing coverage for audio-only services during this time period. However, Congress opted not to require CMS to reimburse for telehealth services at parity with in-person care.
In granting the extension, Congress has effectively given itself a five-month deadline for passing longer-term telehealth reform. Many stakeholders — including the Medicare Payment Advisory Commission (MedPAC) — have pushed Congress to extend the PHE telehealth flexibilities for a two-year period to allow for additional study of telehealth expansion and craft more permanent legislation. Notably, the omnibus directed MedPAC to conduct a study on the effects of telehealth expansion by June 2023. CMS will also be able to leverage these studies; it has signaled its intent to continue making certain telehealth flexibilities permanent where possible through existing regulatory authorities.
Another temporary extension period would give policymakers additional time to study the longer-term effects of broad telehealth flexibilities on cost, quality, patient safety, and fraud. The resulting studies would shape any subsequent legislation and regulatory actions to permanently enact telehealth flexibilities under Medicare, including for telemental health.