Working Americans Voice Support For Employer-Sponsored Health Insurance, But Cite Difficulties With Premium Costs, Instability, And Access
As the debate intensifies over how to cover growing numbers of uninsured Americans, a new Commonwealth Fund survey shows that Americans want employers to continue to be the main source of health care coverage. Yet a significant portion of the workforce—especially those with low incomes or working for smaller firms—do not even have the option of participating in the system. Two of three working-age Americans—155 million people—have employer-sponsored health care coverage, and the system works well for many. Americans are more likely to say they prefer that employers, rather than government or individual purchase, remain the main source of health insurance in the future. Furthermore, three of four workers who have employer-based coverage say their employer does a good job of selecting quality health plans.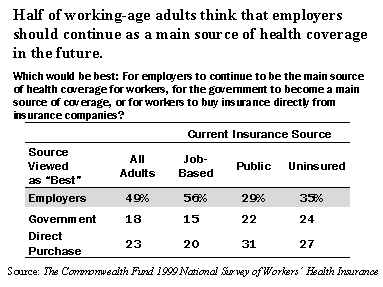 Despite this vote of confidence, gaps persist in the system of employer-sponsored health insurance. Working full-time is no guarantee of health care coverage: indeed, one of three full-time workers with incomes below $35,000 is uninsured. Whether working for large or small firms, low-wage employees are at high risk of working without health benefits. "The employer-based system appears to be working well for millions of American workers, yet far too many remain shut out—particularly those who are working hard to raise families on low incomes," said Karen Davis, president of The Commonwealth Fund. "We need to develop strategies to make certain that this system works for all working families." Conducted from January through May 1999 by Princeton Survey Research Associates, The Commonwealth Fund 1999 National Survey of Workers' Health Insurance interviewed 5,002 adults ages 18 to 64 to seek their views of possible future directions and reforms and to understand personal experiences with health care and employer-based insurance.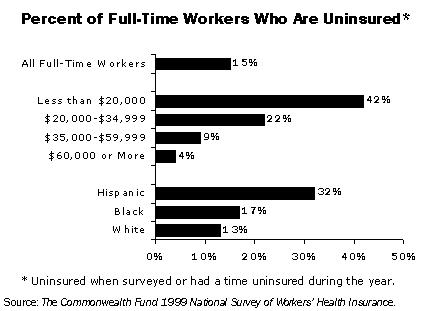 Premiums Costs Can Be Prohibitive Experiences of insured workers also reveal concerns about continued coverage due to difficulties many workers have paying their share of premiums. One of three adults insured through employer plans pay more than $1,000 a year, and one of five (22%) pay more than $1,500 a year in premium costs.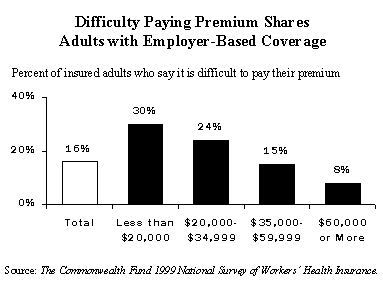 "It is disturbing that a third of low-wage workers say they are having difficulties paying their premium shares," said Cathy Schoen, vice president for research and evaluation at The Commonwealth Fund. "With premium costs expected to continue to rise, these workers are likely to be at high risk of dropping coverage." Insurance Insecurity and Instability Working-age Americans can't count on keeping their current health plan: frequent change is becoming common. Two of five (42%) insured workers—and half (51%) of those with incomes less than $20,000—have changed plans within the last three years, most often because their job changed or because their employer changed the plan. Insurance coverage can also be inadequate to meet family health care needs and afford financial protection. Among workers who were insured year-round with employer-based coverage, one of four report a time they did not get needed medical care due to costs or could not pay their medical bills. Low-income adults are especially vulnerable: over half (53%) of adults with employer-based insurance who earn less than $20,000 report lack of access to needed health care due to cost or difficulty paying medical bills, compared with one of six (17%) workers with incomes of $60,000 or more. Public Expresses Strong Support for Reforms to Insure Low-Wage Workers Reflecting concerns that the current system is not working well for all, the survey finds widespread public support for reforms that would help low-income workers obtain health insurance. Wide majorities of Americans support initiatives such as helping low-wage workers pay their share of premium costs and setting up new public programs to help low-wage workers.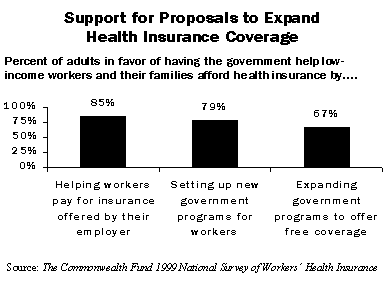 "The American system of employer-based health care coverage started in the 1950's and over the years has developed cracks through which too many working people are falling," said James J. Mongan, M.D., president of Massachusetts General Hospital and chair of The Commonwealth Fund Task Force on the Future of Health Insurance for Working Americans. "The changing experiences and needs of working Americans can point us in the right direction for refurbishing the health care system for today's workforce."