Despite making up an increasing portion of the U.S. population and workforce, a new report by The Commonwealth Fund reveals that Hispanics lag far behind non-Hispanics in health insurance coverage. In Running in Place: How Job Characteristics, Immigrant Status, and Family Structure Keep Hispanics Uninsured, Claudia Schur and Jacob Feldman of the Project HOPE Center for Health Affairs analyze the dynamics of the types of jobs and industries in which Hispanics work, their status as immigrants, and factors related to family structure-all of which add up to limited opportunities for Hispanics to obtain health insurance. "This report sheds light on the multiple burdens faced by Hispanics, especially immigrants with low incomes, who contribute to our nation's economic success but face barriers to sharing in the results on an equal basis with other workers," said Karen Davis, president of The Commonwealth Fund. "Recent rulings have pointed to the inequity of the 1996 restrictions on immigrants' access to Medicaid. Similarly, inadequacies in the private employer health insurance system negatively affect Hispanics' and other immigrants' ability to obtain coverage."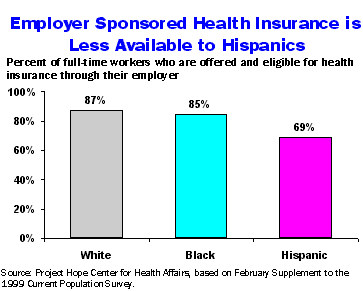 Job Characteristics Linked to Variation in Coverage Rates
In the job market, Hispanics are at a double disadvantage: they are more likely to be employed in industries and occupations where employer coverage is less likely to be offered and within these industries, Hispanics are less likely than non-Hispanics to be offered coverage. For example, within the construction industry, 64% of non-Hispanic whites are offered and eligible for coverage, compared to 46% of Hispanics. Yet when they are offered health benefits, Hispanics are just as likely as non-Hispanic whites to accept it. Lower income accounts for some, but not all of the disparity between Hispanic workers and other workers. Among families with incomes of less than $15,000, 45% of Hispanics are uninsured compared with 29% of whites and blacks. Among full-time Hispanic workers, 58% have coverage through their job, compared with 75% of blacks and 80% of whites. "Even after years in the workforce, many Hispanics in the U.S. remain shut out of employer-based health insurance, because they are working in lower-wage jobs, often in small firms, within industries that either do not offer health benefits at all or that restrict eligibility to certain groups of workers." said Claudia Schur, deputy director of the Project HOPE Center for Health Affairs and lead author of the report. "Policymakers, employers, and health care leaders need to be aware of the complex nature of the issue in order to craft appropriate solutions."
Family Structure Affects Access to Insurance
Compared to non-Hispanic whites, Hispanic couples are younger, more likely to have young children at home, and are more likely to have only one wage earner in the family. Combined with lower offer rates from employers, these factors contribute to Hispanic families having far fewer opportunities to obtain employer-based insurance than non-Hispanic whites.
Hispanic Immigrants Less Likely to Have Coverage
Foreign-born Hispanics are twice as likely as U.S.-born Hispanics to be uninsured (49% v. 24%). Even within the immigrant population, Hispanics have strikingly higher uninsured rates than non-Hispanics. The disparity is particularly evident for those who have been in the U.S. less than 5 years: 72% of new Hispanic immigrants lack health insurance, compared to 28% of new non-Hispanic immigrants. While rates of insurance coverage increase with length of residence in the U.S., one-third of Hispanic immigrants remain uninsured even after living in the U.S. for 15 years-more than double the rate for non-Hispanic immigrants who have lived in the U.S. for longer than 15 years.
Diversity Within Hispanic Population
While more than one-third (35%) of all Hispanics lack insurance, rates of working-age Hispanics without health insurance coverage vary widely according to national origin. Nearly two of five Hispanics from Mexico (38%) and from Central and South America (39%) lack insurance. In contrast, the uninsured rates for Puerto Ricans and Cubans are lower-about one in five. Employer-sponsored coverage for Hispanics of any national origin is still well below that for non-Hispanic whites or blacks.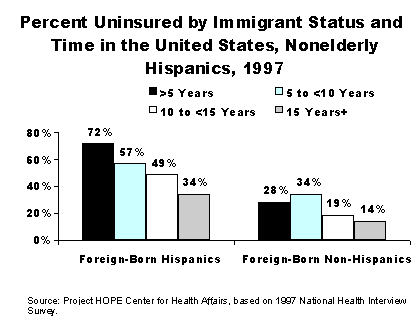 Publication Details
Publication Date:
June 12, 2001