Minority Health Report Card Project Demonstrates Successful Data Collection In Eight Health Plans
Health plans can and should collect data on disparities in quality of care for racial and ethnic minority groups, according to a Commonwealth Fund report on a demonstration project involving eight managed care plans. The authors recommend that health plans collect racial and ethnic data preferably from plan members directly, or from existing sources, and that plans be required to collect and report these data in order to be accredited by the National Committee for Quality Assurance (NCQA) or the Joint Commission on Accreditation of Healthcare Organizations (JCAHO). Plans are currently not required to do so. The authors also recommend that standards be developed to indicate what magnitude of disparity should be cause for concern. Analysis of the health plan data revealed that disparities in care often existed between racial and ethnic groups, although minority patients sometimes received higher quality of care than whites, including in some Medicaid plans. "As the body of evidence on racial and ethnic health care disparities grows, health care leaders are eager to take concrete actions to eliminate disparities," said Karen Davis, president of The Commonwealth Fund. "Standards for collection and reporting of these data will allow health plans to design programs and practices that will improve quality of care for all their patients."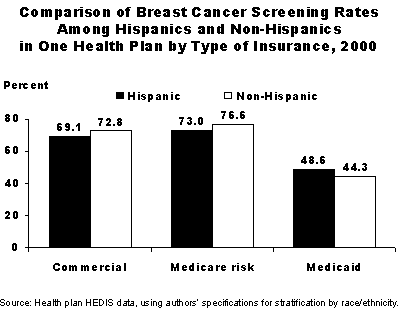 As part of the demonstration project, eight health plans successfully collected and analyzed data on health care disparities using existing records, such as administrative or medical record data, Consumer Assessment of Health Plan Survey (CAHPS) data, data supplied from State Medicaid Enrollment files or Hispanic surname recognition software called Generally Useful Ethnicity Search System (GUESS). The data collection was accomplished without significant difficulty or added expense for the plans. Analysis of the health plan data revealed both expected and unexpected findings:
In over half (52%) of the possible comparisons of Health Plan Employer Data and Information Set (HEDIS) measures within individual plans (77 of 148), disparities of 5 percentage points or statistically significant differences of smaller absolute magnitude were found.
In one plan African Americans had lower rates of hemoglobin testing for monitoring diabetes than whites for 1998, 1999, and 2000.
One Hawaii-based health plan found that Filipinos and Native Hawaiians had significantly lower rates of breast cancer screening than whites (72% and 75% vs. 81%).
Not all of the disparities reflected better quality of care for the white patient population or for those in health plan commercial products. For example, in one plan, quality of care was higher for minority patients in the Medicaid product than in the commercial product.

The eight plans taking part in the project-Arkansas Foundation for Medical Care, Community Choice Michigan, Hawaii Medical Service Association, Henry Ford Health System/Health Alliance Plan, Kaiser Permanente Colorado, Kaiser Permanente Hawaii, Lovelace Health Plan, and Physicians Health Plan of Mid-Michigan-all serve ethnically and racially diverse patient populations. In the initial phase of the project, input was solicited from minority community leaders, who helped project leader David Nerenz and his team develop a set of quality performance measures by which health plans could assess the quality of health care delivered to their minority patients. Although the plans did not constitute a nationally representative sample, their data were broadly indicative of the value of collecting information on race and ethnicity. The plans reported their data anonymously for the purposes of the study. "These findings emphasize the importance of racial and ethnic data collection as the key to improving quality and eliminating disparities," said Dora L. Hughes, M.D., senior program officer at the Fund. "In order to develop solutions, health plans must be able to pinpoint where problems exist." David Nerenz, director of the Institute of Health Care Studies at Michigan State University, is lead author of the report, Developing a Health Plan Report Card on Quality of Care for Minority Populations. The Health Resources and Services Administration (HRSA) has expanded the report card project to include several health plans that are closely affiliated with community health centers.