A High Rate Of Uninsured Hispanics Do Not Receive Routine Dental Exams, Prostate Cancer Screening, And Diabetes Management
New York City, October 16, 2003—Nearly half (45%) of Hispanics under age 65 and two-thirds (65%) of working-age Hispanics with low incomes were uninsured for all or part of the year in 2000, according to a new analysis by The Commonwealth Fund. Uninsured Hispanics have low rates of some preventive health services: just 39% of uninsured Hispanic adults with diabetes had annual foot exams (needed for early identification of problems that could lead to amputation) compared with 67% of Hispanics with insurance. Sixteen percent of uninsured Hispanic men ages 40-64 received prostate exams, compared with 40% of insured Hispanic men in that age group.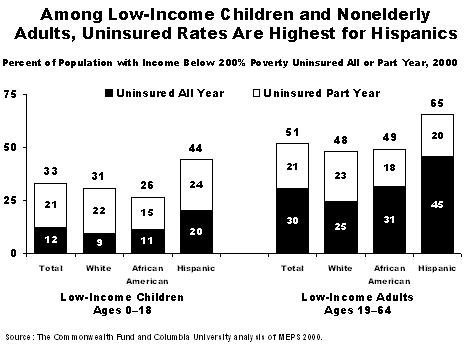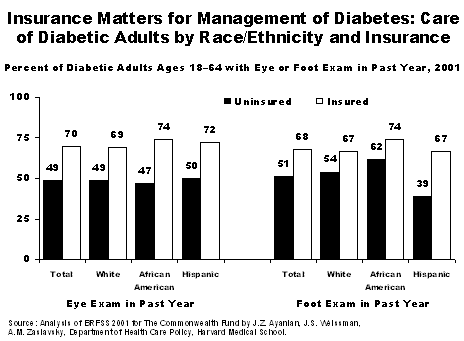 "Lack of health insurance and gaps in coverage can have serious health consequences," said Karen Davis, president of The Commonwealth Fund. "Hispanics are at high risk of failing to receive medical care that can prevent lifelong-or even life-threatening-health problems." Insurance, Access, and Quality of Care Among Hispanic Populations: The Commonwealth Fund 2003 Chartpack, by Michelle M. Doty, senior analyst at The Commonwealth Fund, provides new analyses of recent surveys and draws from recent reports published by The Commonwealth Fund. Other new findings include:
High rates of lack of insurance and unstable coverage are especially likely to affect Hispanic children in low-income families: nearly half (44%) were uninsured or had a time uninsured during the year, compared with one-third (33%) of U.S. children in low-income families.
Hispanics ages 50-64 are also as high risk for unstable coverage: 61% were uninsured all year or had a gap in coverage, compared with 41% of that age group in the total population.
One quarter of Hispanics ages 50-64 went without needed care (did not fill a prescription or skipped a needed medical test, treatment or follow-up) due to costs. "Lack of insurance, unstable coverage, language barriers, and low income all contribute to the growing health care crisis among Hispanics," said Doty.
Publication Details
Publication Date:
October 16, 2003