Report Points To Both Better Patient/Provider Communication And Increased Coverage As Vital To Improving Health Care For Hispanics
New York City, February 27, 2003—Hispanics who speak primarily Spanish report poorer health status, are less likely to have a regular doctor, and are more likely to lack insurance and rely on public or community clinics for their health care than Hispanics who speak primarily English, whites, or African Americans, according to a new report from The Commonwealth Fund. Problems linked to lack of health insurance, such as difficulties gaining access to health care, are compounded for uninsured Hispanics whose primary language is Spanish: two-thirds (66%) do not have a regular doctor, compared with 37% of uninsured whites. "Hispanics are more likely than any other group in the U.S. to be uninsured and to have difficulty obtaining access to health care--and this problem is made worse by language barriers," said Karen Davis, president of The Commonwealth Fund. "Policymakers and health care leaders must work on increasing coverage for Hispanics through expansion of public and private health insurance and improving communication in the health care setting."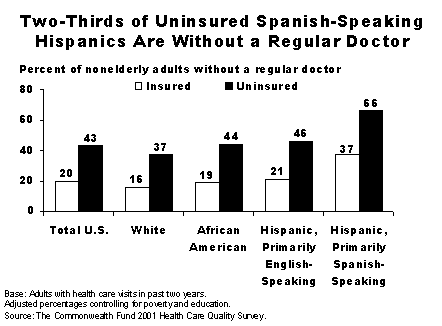 In Hispanic Patients' Double Burden: Lack of Health Insurance and Limited English, Michelle M. Doty, senior analyst at The Commonwealth Fund, highlights the increased difficulties Hispanics face in obtaining health care services and communicating with their doctors because of their high uninsured rates and language barriers. Hispanics who primarily speak Spanish are a population at risk. Nearly one-third of Spanish-speaking Hispanics report they are in fair or poor health-more than twice the rate of whites (12%), African Americans (15%), and even Hispanics who are primarily English-speaking (12%). Yet, six of 10 (61%) Spanish-speaking Hispanics were uninsured all or part of the year compared with one-fifth (20%) of whites. The quality of the medical encounter is severely hampered by language barriers for Spanish-speaking Hispanics. Over two-fifths (45%) of Spanish-speaking Hispanics who lack insurance report difficulty speaking with or understanding a doctor because of a language barrier, but only half (49%) of Hispanics who reported needing an interpreter usually or always had one. Rarely were Hispanics who needed language interpretation services assisted by a trained medical interpreter.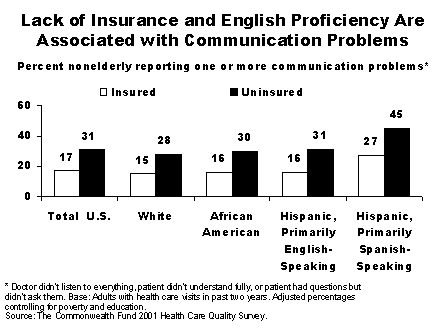 Notably, one-third (33%) of Spanish-speaking Hispanics rely on community or public clinics for their health care, compared with about one in 10 or fewer English-speaking Hispanics (12%), African Americans (10%), and whites (7%). "Programs that focus on improving patient and doctor communication in community or public health centers would reach and benefit a significant number of Hispanics who carry the double burden of lack of insurance and limited English proficiency," said Doty. Davis and Doty will present findings from this report and additional analysis at a Washington D.C. conference, "Lack of Insurance and Quality Care--A Health Care Crisis for Hispanics." The February 27th conference, cosponsored by the Fund, the National Hispanic Medical Association, and Congresswoman Hilda Solis (D-CA), chairwoman of the Congressional Hispanic Caucus Health Task Force, will include presentations by Surgeon General Richard Carmona and other national health care experts, and will be attended by about 100 community leaders, health providers, congressional, federal, state and local officials, business leaders, and advocates, where they will discuss policy options to improve health care coverage, access, and quality for Hispanics.