Just as Yelp enables people to find and rate restaurants willing to deliver Chinese food at 2 a.m., several technology vendors are helping health care providers and their patients find local resources such as food banks and housing agencies and evaluate their effectiveness. The platforms developed by companies like One Degree and NowPow also serve as electronic bridges between health care and social service providers—enabling them to share information with one another. The data these companies and others have collected are helping to identify neighborhoods where demand for social supports outstrips supply. These tools may also help researchers evaluate the impact of social service interventions on health outcomes and health care spending.
Rey Faustino created One Degree—an online resource for people looking for help with housing, employment, education, jobs, and other support—out of frustration. Faustino had been working for a San Francisco Bay Area nonprofit that helped low-income students complete high school and pursue a college education. He often found that the barriers to academic achievement were social ones—problems like homelessness and hunger that made it hard for kids to succeed. Finding resources to help them was a persistent challenge. "Here we were right down the street from Google and Facebook and all these other amazing technology companies, and I was relying on a dusty paper binder to find information: phone numbers were often wrong, organizations had closed. I wanted to build a system that would empower people to find resources on their own," Faustino says.
In 2012, with many volunteers and a budget of $24,000, most of it supplied by foundations, Faustino began to build a database of local social service organizations and programs. They found more than 8,000 in the Bay Area. "That's the beauty of One Degree. We can quantitatively show the number of resources in our community in a way that has never been done before. One of the things we see is a plethora of after-school and summer programs for children but, on the flip side, only one diaper bank in a county that has 40,000 low-income young mothers."
---
One Degree's platform allows users to search for support for a variety of medical and nonmedical needs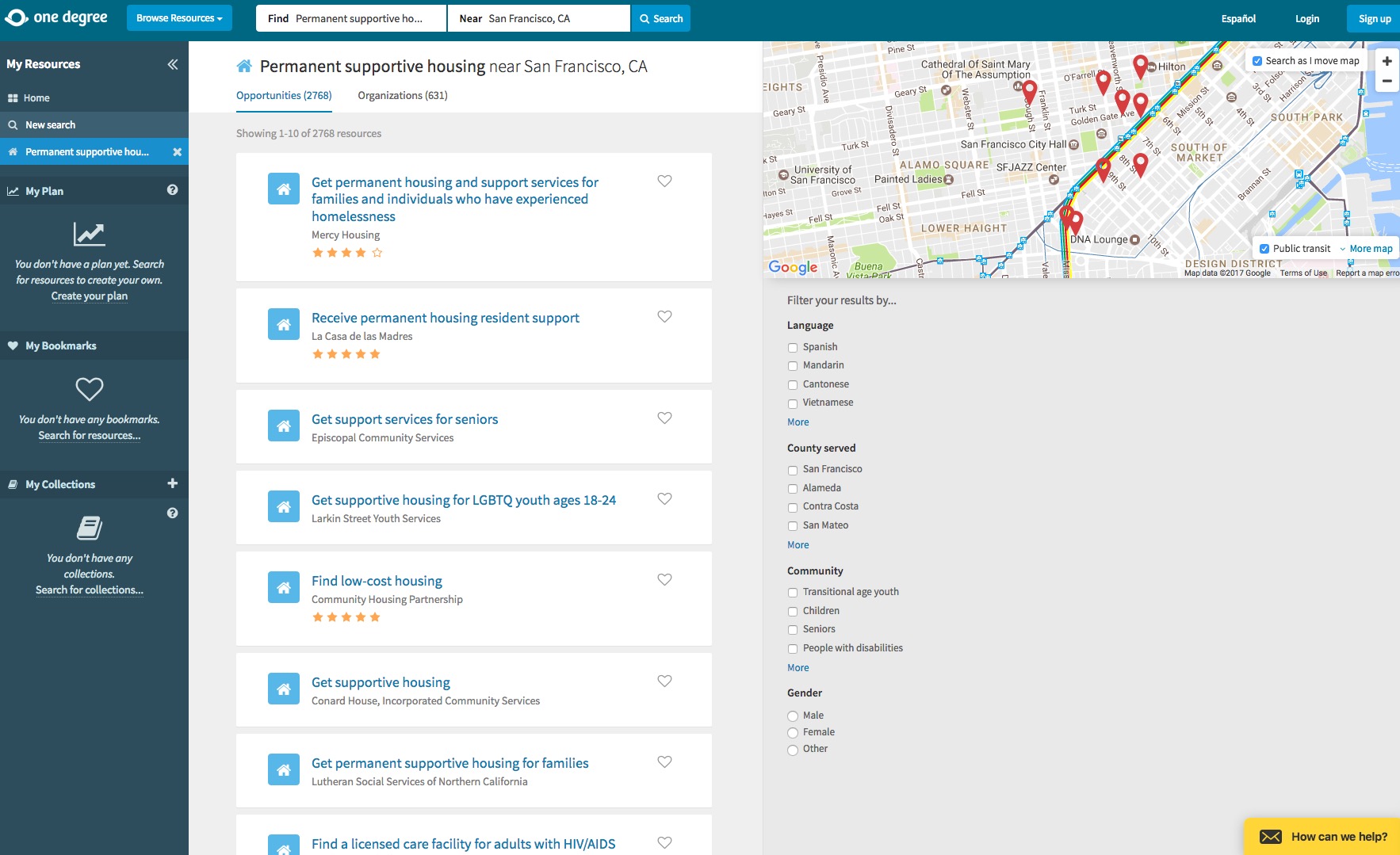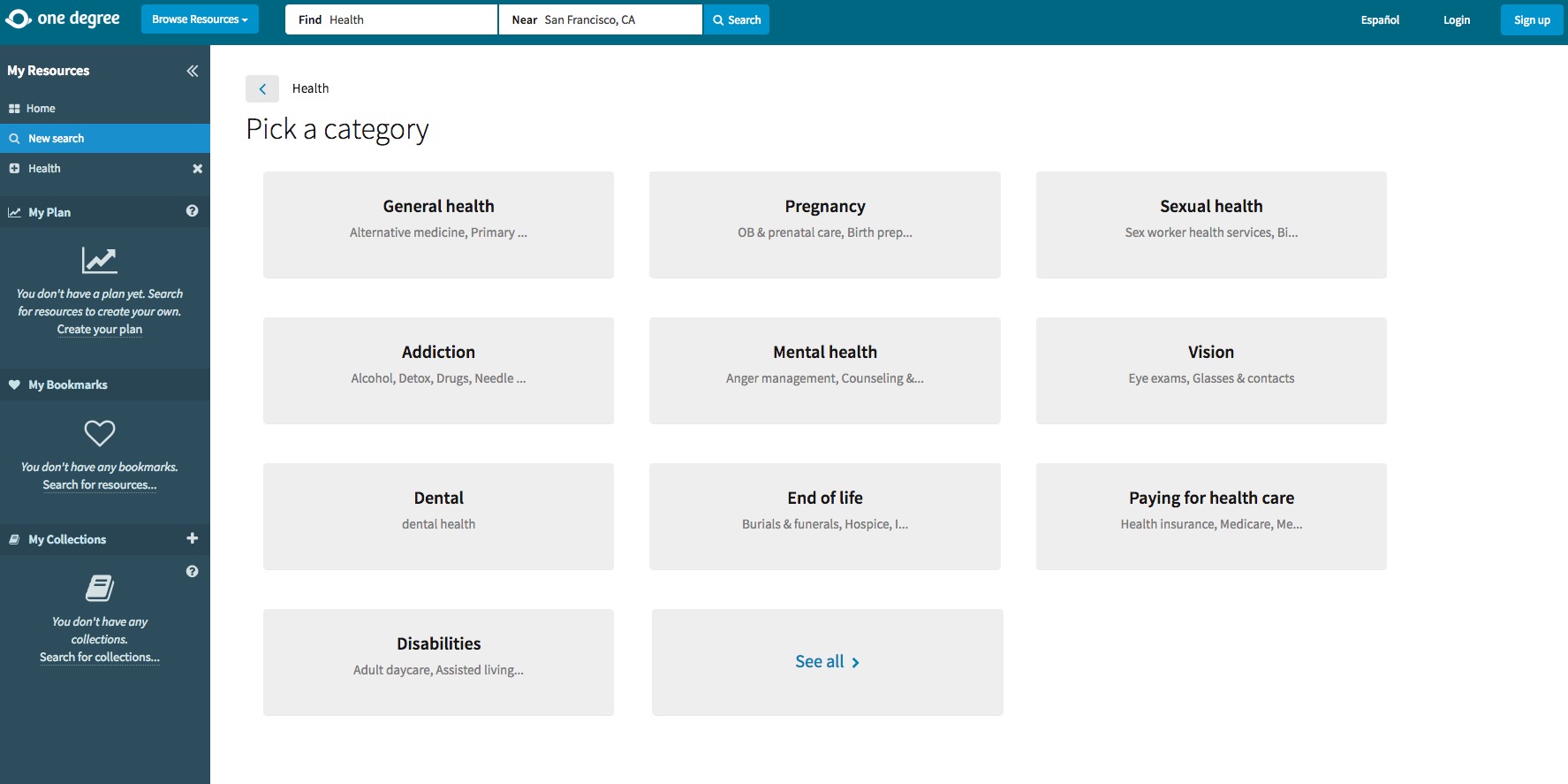 To date, 200,000 people have used the platform, half in the last year. The vast majority (85%) are the end users of services. Social service agencies in Los Angeles County will begin using the platform, its screening tools, and case management functionality to make and track referrals from health care settings to social service organizations. Anyone in the county will be able to use it.
Similarly, NowPow, a digital platform developed by a Chicago startup, is enabling large health systems like that city's Rush University Medical Center to find and make referrals to community organizations. Many of NowPow's clients have entered into risk-based contracts and understand that addressing social needs may help them improve health outcomes and lower health care spending for their patients.
Designed to be integrated into electronic health record (EHR) systems, NowPow's platform culls information from health records including social risk assessments and clinical diagnoses to make recommendations. Mold abatement and pest control services may be suggested for a patient with asthma, for instance, while healthy eating and exercise classes may be suggested for those diagnosed with diabetes or hypertension. Providers can curate the recommendations, tailoring them to patients' priorities, preferred language, and financial circumstances, and then write a prescription for services—dubbed a HealtheRx. "The recommendations are based on what an expert would say this person needs to do to practice self-care when they go home," says the company's CEO Rachel Kohler. Its algorithms focus on 30 conditions, including Alzheimer's disease, sexually transmitted diseases including HIV, and congestive heart failure.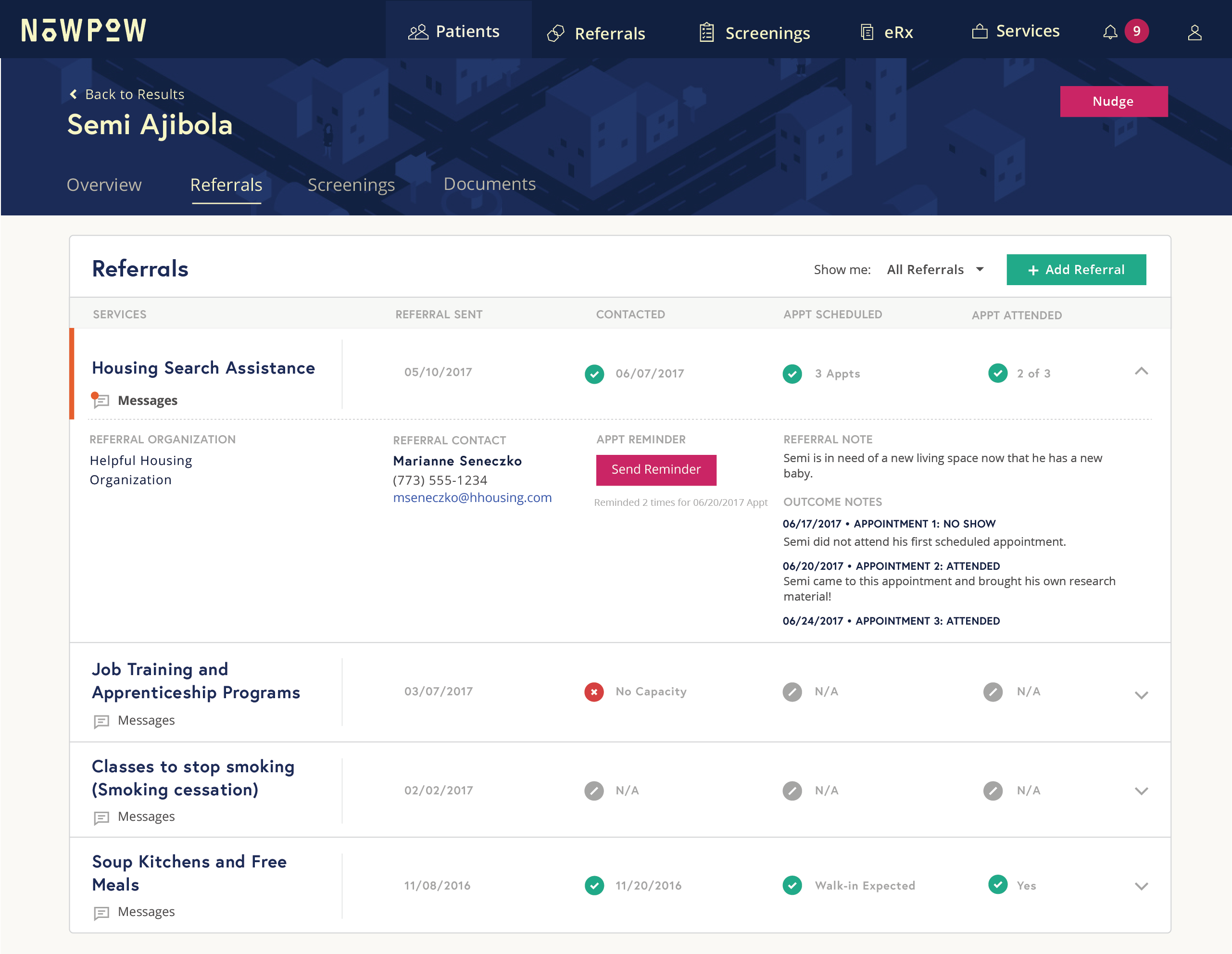 NowPow offers providers a detailed description of services—including hours of operation, primary contacts, and required documents among other things—so a provider can easily find a food pantry that is open in the evenings and within walking distance for a patient without a car. They can also track referrals and see whether a patient followed through and, if not, send a reminder.
---
The algorithms are based on input from clinicians and research conducted by the company's founder, Stacy Lindau, M.D., as part of a Center for Medicare and Medicaid Innovation (CMMI) grant. Clinicians at the University of Chicago and some 30 other sites including federally qualified health centers issued more than 250,000 prescriptions for support services during the demonstration; some of the most frequently prescribed services were referrals to food pantries, classes on healthy eating, and individual counseling.1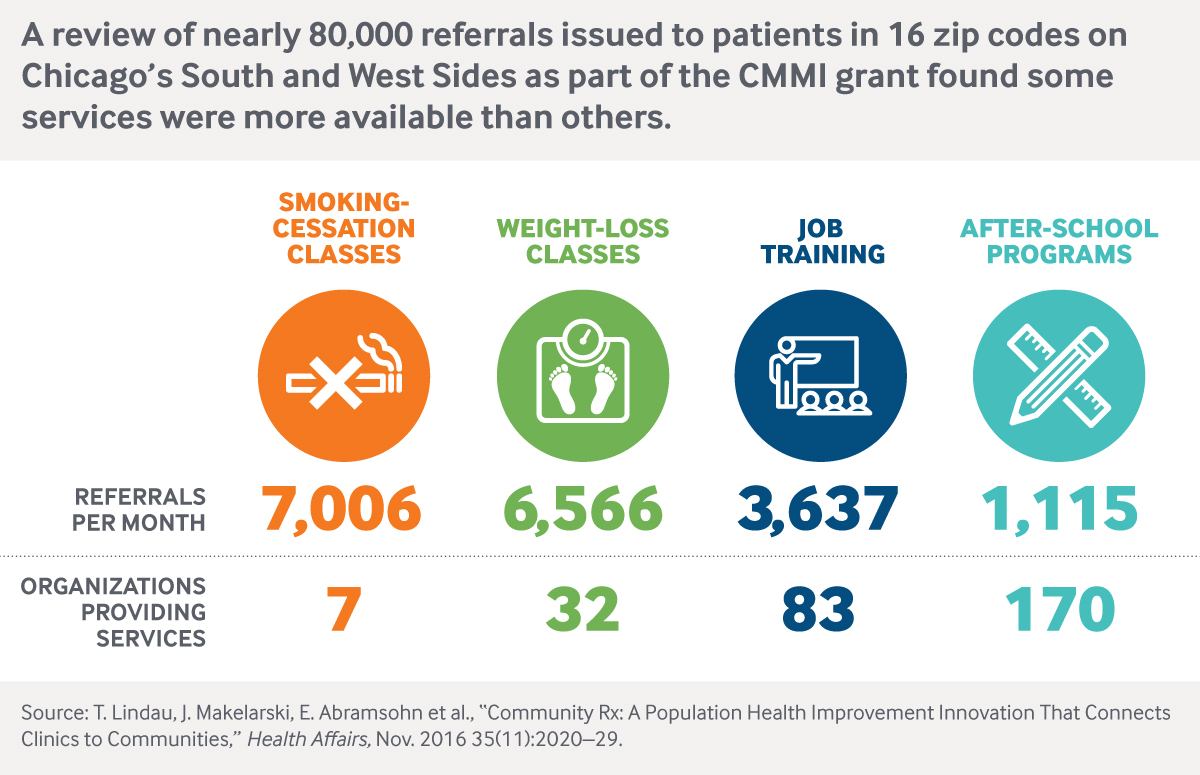 Health systems are interested in using NowPow data to identify unmet needs and identify successful methods of engaging patients. "They want to know what the most referred resources are, whether it is better to text or email the patient, and which populations are most responsive to those interactions," Kohler says.
Health Leads, a Boston, Mass–based nonprofit that has been a national pioneer in the field of health-related social needs screening and interventions, has developed screening tools for assessing patients' unmet needs related to food, transportation, and employment among other issues. Social service referrals are overseen by navigators (e.g., community health workers and volunteer college students) who not only link patients to community services but track the results of their referrals in a case management system. In 2013, the organization launched Health Leads Reach, a cloud-based tool that helps health care providers find resources. Built on a Salesforce platform, it too can be integrated into an EHR system.
By aggregating and analyzing the data, health systems can begin to identify community-based organizations with which they have the most effective partnerships and instances where the availability of resources or restrictive eligibility criteria for services limit efforts to help patients. "This is where the power of the data comes alive," says Zach Goldstein, principal of innovation at Health Leads. "We can help health systems navigate what is often a complex resource landscape and better identify the organizations offering the services that best align with the needs of the patient population."
---
Note
1 S. T. Lindau, J. Makelarski, E. Abramsohn et al., "Community Rx: A Population Health Improvement Innovation That Connects Clinics to Communities," Health Affairs, Nov. 2016 35(11):2020–29.