Digital health innovators have begun leveraging telehealth tools as well as chatbots and other forms of artificial intelligence to engage Medicaid beneficiaries with behavioral health conditions — a group that accounts for a disproportionate share of spending. We describe how these digital tools are being deployed to retain patients in treatment, customize services to their needs, track outcomes, and provide feedback to physical health care providers.
---
Many digital health innovators cater to fitness and wellness buffs, leaving behind people coping with chronic conditions, those who have difficulty accessing services, and/or those who can't afford the latest gadget. Many of those left behind are enrolled in Medicaid. This is in part because of the misconception that Medicaid beneficiaries don't want or use technology, and because it's easier for tech developers to market directly to consumers than state Medicaid programs and the myriad plans that serve them.
But this is starting to change. The vast expansion of the Medicaid program, the spread of private managed care plans (which now cover two-thirds of beneficiaries), and pressure on states to contain spending have sparked interest in using digital health tools to increase beneficiaries' access to care and improve services. Health plans and health systems that assume financial risk for the care of Medicaid beneficiaries also have motivation to use digital health tools to generate insights about patients and connect them to needed services.
In this issue of Transforming Care, we look at how technology is being used to make services more convenient, customized, and responsive to Medicaid beneficiaries with mental illnesses and substance abuse disorders, who account for a disproportionate share of spending: about one of five beneficiaries has a behavioral health diagnosis, but this group accounts for nearly half of all Medicaid spending. And while having Medicaid coverage may provide people with better access to services than having no coverage, many beneficiaries still struggle to find treatment because of shortages of behavioral health clinicians who accept Medicaid reimbursement, particularly in rural areas.1
The companies we profile — drawn from a crowded field of behavioral health innovators — are leveraging telehealth tools and using machine learning, chatbots, and other forms of artificial intelligence to engage more patients and better match them with existing resources or offer complements or alternatives to traditional treatment. "While these tools are not substitutes for human contact, they extend the reach of the current workforce and enable us to monitor patients," says John Torous, M.D., M.B.I., director of the Division of Digital Psychiatry at Beth Israel Deaconess Medical Center, which seeks to build the evidence base for digital mental health. "Eventually, these kinds of tools might help us identify what does and doesn't work for particular individuals and customize our approaches."
For more on the potential of technology in behavioral health — as well as the threats to patient privacy and other pitfalls — see our Q&A with John Torous, M.D., M.B.I., director of the Division of Digital Psychiatry at Beth Israel Deaconess Medical Center.
When I think about the Medicaid population, access is the number-one problem in behavioral health today.
Behavioral Health Tech: Emerging Use Cases
Some state Medicaid agencies, managed care plans, and providers have begun using digital tools to engage and retain patients in behavioral health treatment, customize services to their needs, track outcomes, and provide feedback to physical health care providers. The tools may help overcome the stigma of treatment and reach people who otherwise would not be willing to take part.
On-Demand Treatment for Opioid Use Disorder
One of the more pressing problems is expanding access to medication-assisted treatment (MAT), which has proved lifesaving for many people coping with opioid use disorder. As we described in a recent issue, a handful of states are using hub-and-spoke models to encourage more primary care clinics to offer it. But many people still live far from MAT providers, and others drop out of treatment because the regimens — which often entail frequent medical visits plus counseling — don't mesh with their other responsibilities. And some don't seek help at all because of the stigma of walking into a rehab facility or confiding in their primary care clinicians.
Boulder Care seeks to reduce these barriers by offering on-demand MAT — partnering with pharmacies to deliver buprenorphine (one of the medications used to treat opioid use disorder) to people's homes and using chat and video messaging to provide support. The platform was developed by three women: addiction medicine physician Amanda Wilson, M.D., who founded the Clean Slate addiction treatment centers; M. J. Darby, a nurse with experience in chronic care management; and Stephanie Papes, a venture capitalist who saw the limitations of scaling brick-and-mortar facilities. "One of our key performance measures is the time between when a patient decides they are ready for treatment and when we can get a prescription to them," says Papes. "We're aiming to make that at most 24 hours. Say someone overdoses and winds up in the ED, or we hear from a worried primary care doctor: we can engage with someone right away."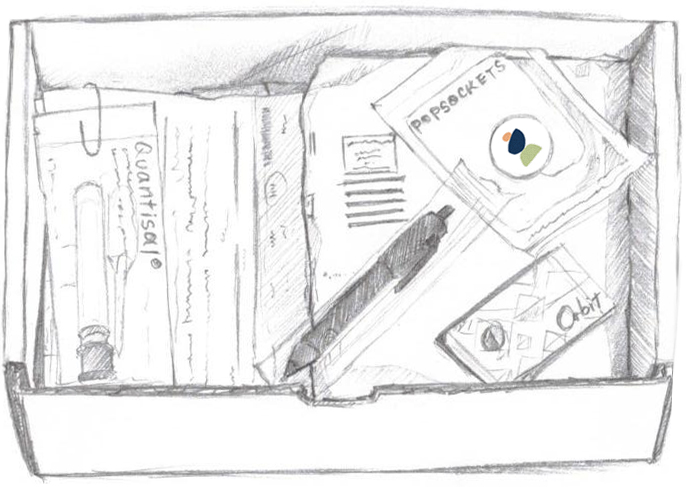 Boulder Care's model is now being piloted in New Hampshire and Oregon, with clinicians seeing patients once before they begin using the virtual platform. In October the Drug Enforcement Administration will promulgate a new rule allowing prescribers to forgo an in-person exam before MAT induction, enabling Boulder Care to scale its model without having clinicians in the same location as patients. Trials of home induction for MAT, with remotely provided support, have found it can be as effective as office-based approaches.
Patients can reach out to their Boulder Care team — a prescribing physician, nurse, and certified peer specialist (someone with experience in addiction and recovery) — using video and chat tools; providers check in often during the first few weeks then adjust the intensity of services based on patients' preferences and progress. To demonstrate compliance with their regimen, patients videotape themselves using saliva test swabs, which also can detect their buprenorphine levels and whether they're using illicit substances. "Today, patients get called in for a drug test or know they'll have one during a clinic appointment, and they can modify drug use a couple of days before," says Papes. "Instead, we ping a patient to say it's time for your test today. In a 24-hour period, the patient goes on video to take the saliva test. We watch the swab change color and watch them put it into a bar-coded tag and seal it on camera."
Boulder Care's peer specialists work with patients to help them find counselors and social supports, but these activities are not a requirement for treatment; the immediate goal is to stabilize patients and then empower them to make changes. "There has been a lot taken from these patients," Papes says. "We work to remind them that they are more than capable of finding a job, going to school, and otherwise taking back their lives."
Closing the Loop on Behavioral Health Referrals
Health care providers often struggle to refer Medicaid beneficiaries (and other patients) for behavioral health care; this is particularly a problem in hospitals, where care managers may spend hours faxing or calling to find help for people who turn up in emergency departments in crisis. There are shortages of dedicated beds for psychiatric patients as well as shortages of outpatient programs, particularly ones that accept Medicaid patients; there is also a bewildering array of treatment programs and often a lack of clarity about quality or results.
Several tech companies are trying to streamline behavioral health referrals by making it easier to assess patients' needs and identify available and appropriate programs. One platform, OpenBeds, focuses on behavioral health referrals and coordination; it was founded by Nishi Rawat, M.D., who as a critical care physician in a small Baltimore hospital struggled to find treatment slots for patients with behavioral health problems.2
OpenBeds offers decision support tools to help clinicians as well as case managers assess patients' acuity and particular needs. "Many physicians don't know much about behavioral health," Rawat says. "We don't know what kinds of evidence-based treatment might work for a particular patient and we don't know the right level of treatment." The system then generates a list of recommended facilities; users can make digital referrals and receive responses from the facilities. They can also use the platform to track whether patients are engaged in treatment.
Delaware is one of two states (the other is Indiana) that have implemented the platform statewide; four other states are in the process of doing so. The state requires all behavioral health treatment providers that accept Medicaid to use its Delaware Treatment and Referral Network (DTRN) and also has made it available to emergency departments (EDs), primary care clinics, departments of correction, and youth services departments. ED care managers, in particular, have been enthusiastic; in over half of cases, they have been able to complete referrals in less than 30 minutes. Since the network went live in September 2018, some 42 providers have made nearly 11,000 referrals.
An immediate goal of DTRN is to reduce the number of people with mental health problems who are "lost to follow up": "We don't give people having a heart attack a list of cardiac surgeons," says Elizabeth Romero, director of the Division of Substance Use and Mental Health at Delaware's Department of Health and Human Services. "These are people in crisis and we need to empower someone to actually help them."
The state also has begun to analyze referral patterns to monitor capacity and identify bottlenecks. It has found, for example, that when facilities decline to accept patients, it's usually not because of insurance denials as anecdotal accounts had suggested, but rather because there's a mismatch between patients' needs and available bed types. For example, many facilities are ill prepared to support patients who have medical needs (e.g., help changing colostomy bags) along with mental health issues. The state hopes to leverage DTRN to help its network of Medicaid providers more accurately and efficiently triage patients — to make sure those with less acuity don't take up resources for those with more complex needs, and to give each patient the best chance of receiving the support they need.
Putting Evidence-Based Therapies in People's Pockets
Another crop of tech companies is creating platforms that offer therapy, education, and coaching delivered via algorithm-driven programs that complement or serve as alternatives to traditional talk therapy. One platform, myStrength, part of the Livongo company, is being used by Medicaid managed care plans to engage members who appear to have unmet behavioral health needs. First-time users answer a series of questions about their well-being, social supports, and life experiences and are then directed to a suite of interactive resources based on cognitive behavioral therapy, motivational interviewing, mindfulness, and other evidence-based counseling approaches. Someone coping with depression, for example, may be guided through strategies to help them feel better, while someone with anxiety may be offered tools to reduce panic and prevent future instances when they feel out of control.
"The platform is helping people figure out for themselves what feels most important — a key distinction from placing them into a particular counseling program," says Abigail Hirsch, Ph.D., myStrength's chief clinical officer. For example, MyStrength asks members about their religious or spiritual preferences and whether they'd like them to be part of their support. A majority say they do, yet this question is not often asked in therapy, Hirsch says.
Along with health plans, some health care providers are using myStrength to track how patients are doing day to day. For example, Atrium Health, a health system in North and South Carolina, has made the tool available to its primary care clinics, where health coaches use it to identify people whose behavioral health conditions may be worsening so they can prioritize their outreach activities.
A similar platform, developed by Pyx Health, monitors people who have moderate-to-severe mental health issues or are at risk of developing behavioral health problems because of their life circumstances. "Think of someone we'll call Janet," says Cindy Jordan, founder and CEO. "She is 57, works as a substitute teacher, and suffers a stroke. Despite her best-in-class care, she ends up in the hospital, then a SNF. Then she ends up losing her job, suffering from food insecurity, and doesn't want to tell friends because she is embarrassed. She is starting to get depressed. More than anything, she's feeling isolated."
The face of Pyx Health is Pyxir, a friendly chatbot — a type of artificial intelligence that simulates human conversation. Pyxir prompts people each day to indicate how they're feeling using an "emoji wheel" and, every two weeks, walks them through surveys that detect depression, anxiety, or loneliness. Based on this information, Pyxir offers tailored support: gentle nudges, words of encouragement, or even jokes or silly gifs. According to the company, most users (88%) say they turn to Pyxir first before asking another person for help.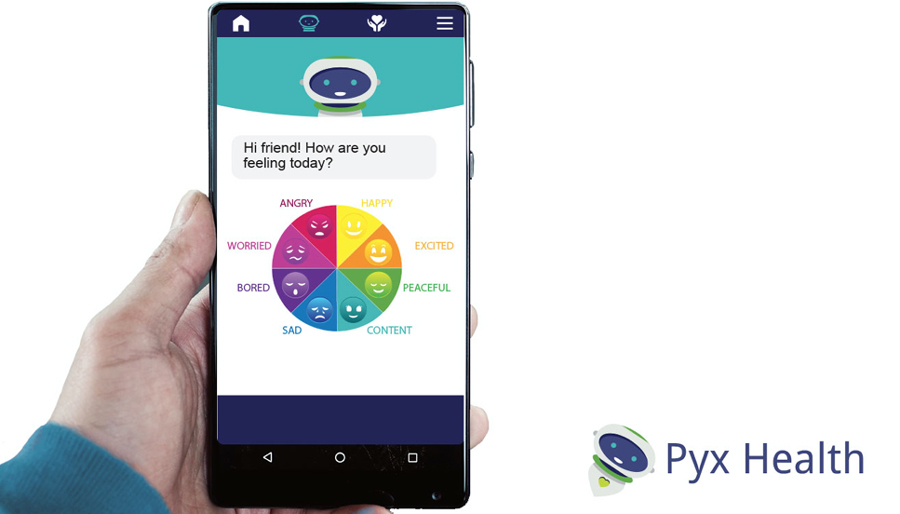 The platform also leverages people's natural supports; users can choose to have family members or friends notified if they appear to need help. "We don't say Christina is not doing well. Instead, we give suggestions on how to interact with Christina," says Jordan. "Just like how you would think of engaging a family member in group therapy with a patient."
Pyx Health also seeks to leverage the trusting relationships users develop with Pyxir to ask about their social needs and offer an immediate response — connecting them with a nearby food bank, for example, or other supports from a curated list of resources.
Lessons
Given gaping holes in access, the behavioral health field is ripe for disruption. As these examples illustrate, innovators are finding ways to leverage technology to make behavioral health services more convenient and responsive — and more of them are targeting the underserved Medicaid market. These examples notwithstanding, experts say there is a lot of redundancy in the field as is typical of early-stage innovation, with many tools targeting low-hanging fruit (e.g., people with moderate conditions rather than serious mental illnesses).
While savvy developers recognize that those with low incomes or unstable lives may be open to using technology, they must also remain cognizant of the unique needs of low-income users. Pyx Health, for example, purposefully doesn't use video because users may avoid content likely to gobble up their limited data plans. (Read this for more on how developers can match digital tech to patients' preferences.)
States, managed care plans, and providers need support in vetting and implementing new tools. States like Delaware and North Carolina are taking a top-down approach: deploying new technology as part of broader efforts to improve services for Medicaid beneficiaries, and then using both incentives and mandates to encourage health plans and providers to adopt it. The nonprofit tech incubator Adaptation Health runs Medicaid Innovation Challenges in which they invite Medicaid agencies and plans to define their problems and invite vendors to present solutions. "States and health plans don't have the time and capacity to engage with vendors," says David Kulick, Adaptation Health's cofounder. "But a buyer's-side market is necessary so that you are creating better market fit. That cascades down to better solutions, better products, better pilots, and less waste."
Organizations such as the Center for Care Innovations and the recently formed HealthTech4Medicaid also are working to call attention to market opportunities and promote collaboration among developers, states, health plans, and patient advisory panels. "There's not a lot of end-user research around this population. We want to shed light on what the Medicaid population needs and how they need it," says Adimika Arthur, M.P.H., HealthTech4Medicaid's executive director.
Tech developers need to demonstrate meaningful results. There's a lot of hype in the digital health field, with developers touting metrics such as the number of downloads rather than the number of active users. Some companies have partnered with health systems or plans to track the downstream impact of their tools and found they have led to better management of behavioral health conditions and reduced emergency department or hospital use. But experts point out that these studies are often self-funded or have small sample sizes and other design problems.
Some experts say that randomized control trials (RCTs) of digital behavioral health tools may not be necessary. "A lot of start-ups will spend time investing in this kind of quasi-RCT such that they can persuade potential clients," says Dan Gebremedhin, M.D., partner at Flare Capital Partners, a venture capital firm focused on health technology and services. "If I were to found a start-up today I don't know that I would invest in that. Instead, I would make sure that the type of intervention is one that activated and engaged patients and reduced the friction for utilization." The value proposition for some digital health tools is that many people are going without treatment — driving up overall medical and societal costs — and it's worth trying to engage them in some way.
But better evidence of digital health tools' effectiveness is clearly needed and randomized controlled trials could enhance the credibility of the tools and spur their adoption. To mitigate their financial risk, some clients are only paying digital health companies when their tools achieve results ("pay for success" models). Other forms of risk-based contracting, such as capitation or shared savings, may spur further development, says Gebremedhin, because they allow developers to invest in technology and services that might not otherwise be reimbursed. Boulder Care's model of at-home substance use treatment is predicated on receiving per member per month payments, which may range from $900 to $3,500 per member per month.
Technology might be part of comprehensive solutions to help those with the most complex needs. Not only does technology have the potential to provide continuous support and monitor how well people are doing day to day, it may offer policymakers and program leaders a much clearer picture of Medicaid beneficiaries' needs and preferences and help them identify effective treatment approaches. The key is to be able to act on this information. But not all health plans and providers are prepared to respond to daily alerts that patients are in distress.
Gebremedhin says that provider groups like CityBlock and Galileo are increasingly taking on this oversight role by taking financial risk for discrete populations of Medicaid beneficiaries, including those with serious mental illnesses and/or struggling with substance abuse, and creating bespoke care models to meet their clinical and social needs. Those that are successful will use technology as part of efforts to create new ways of delivering care. "You can't just invest in technology," he says, "you need to invest in businesses that are transforming delivery and payment models in health care that are broken."